Arsenal FC: Why Tomas Rosicky Is Still a Very Important Player for the Gunners
September 26, 2011
Julian Finney/Getty Images
A player who turned in some fantastic performances for Arsenal last season, and has yet was frequently criticized, was Tomas Rosicky.
I'd go as far as to say he was the most underrated player of 2010/11 for Arsenal.  The guy has often been maligned by the supporters, who really need a dose of reality.
I shall provide some examples of great passes made by Tomas, which created chances that were so easy to convert that even an amateur player would have buried them.
Walcott vs Blackpool-—Walcott was sent clear by Tomas twice. On both occasions he made the wrong decision, even though he had clear goal sight on both occasions
Arshavin vs Bolton—The simplest one-on-one chance was created by Tomas with a sublime outer-foot-pass. Arshavin somehow managed to miss it!
Fabregas vs Wolves—Tomas delivered a brilliant ball to Fabregas which saw Cesc with only the keeper to beat. Cesc puts the ball wide after creating an impossible angle for himself!
Vela vs Tottenham—A supreme cross by Rosicky from the left for Vela, which should have been a simple goal scoring opportunity for most strikers. Somehow, he missed it!
Arshavin vs Leeds—Rosicky played a great through ball after a silky smooth first touch to send Arshavin clear. Arshavin typically shot straight at the keeper
Chamakh  vs Chelsea—Tomas came on as a sub and had an instant impact, providing an inch perfect cross for Chamakh from the left side—only for the striker to head wide
Bendtner vs Sunderland-—Again introduced by Wenger as a sub, Tomas provided a cross which just needed a simple headed touch to send the ball into the goal. Unfortunately, Bendtner put his effort straight at the keeper. Even the on-rushing Djourou could not believe he had missed such a great chance!
Song vs Fulham—Tomas raced down the right and provided a simple tap in pass to Song, which the midfielder pus wide
Fabregas vs Everton—Cesc was sent though by a great Rosicky through ball. Alas, the Spanish playmaker put the ball wide
Arshavin vs Orient—Tomas placed a one touch pass to Andrey; who raced forward only to hit the ball straight at the post!
Arshavin vs Huddesrfield—Again an accurate pass by Tomas, but Arshavin finished poorly to put the ball wide.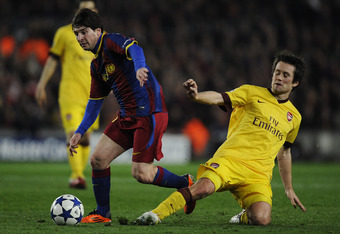 David Ramos/Getty Images
Overall, 12 sitters were not converted after passes from Rosicky. 
Although he's not had the goal scoring form that I had hoped he would, his overall form was very good last season.  He was easily the Man of the Match in more than six games for Arsenal. Add to this, he showed skill when it came to defensive tackles and awareness.
He is a true leader; which is shown by the fact that he is the captain for the Czech Republic—as well as for Arsenal on many occasions. Not a bad achievement at all! At a time when we need experience; we can't let go of a player of his calibre.
People say Rosicky has not reached the heights of his 2007/08 form. However, it's important to note that he has really developed his team game since the injury. Earlier, he never had so many assists and pre-assists!
He's never contributed so much to a game as he does now. His selfless game has really flourished. Proof of that is the five assists, nine pre-assists and further five goals created by his drive and energy!
All in all, he was involved in 19 Arsenal goals. If you add to that the missed chances on his passes, he then surely leads Arshavin by a long way as the most effective playmaker for Arsenal over the last season.
Rosicky won 63 percent of his aerial duels, the highest by a midfielder for Arsenal. Also, his pass completion rate was 88percent, which is commendable considering he had to force the team forward every time!
Worth noting here is that it was better than Fabregas, Van Persie and Arshavin. Not many of them were backward/sideward passes; which shows how he drove the team forward.
Not many people are aware that the penalty against Sunderland, which Tomas missed, was created by his own intelligent play and pass.
Even in the Carling Cup final last year, Tomas created three scoring chances and he himself had three shots on goal.
Many say that Wenger has lost faith in him. If so, Wenger would not have started him in crunch encounters against Manchester United and Barcelona, especially when he had almost fully fit squad in the latter. In fact, Wenger used him intelligently.
Tomas had played a lot of football after December; so he was bound to be fatigued. Add to it the international fixture list, for which Rosicky had to play almost the entire 90 minutes.
However, his constant injuries are a shame. An example  is the game last year against Stoke City, where Wenger knew Tomas would make an impact, but he delayed his introduction. Rosicky came on and BANG! Seconds later, he created the goal for Robin Van Persie. Many thought Wenger introduced Rosicky late but, as it turned out, Rosicky somehow managed to injure himself in that short cameo of 12 minutes.
Tomas deserves more than to be a bench warmer at Arsenal. He might not be able to play all the games for the club but, with careful management, he has a lot to offer to the team.
If he really is as bad as people have projected him to be, then he would not have created so many scoring opportunities for Arsenal. Also, he was the leading chance creator for a majority of the time at the Euro qualifiers, along with Iniesta.
The truth is that people just look for a scapegoat to blame and, unfortunately for Tomas, he always seems to find himself in the firing line.