Victor Ortiz: Ray J Collaboration Sorry Attempt to Stay in Spotlight
September 26, 2011
Ethan Miller/Getty Images
Victor Ortiz was a steadily-growing star in the sport of boxing even before his fight with Floyd Mayweather Jr.
Now, after a taste of the major spotlight, Ortiz doesn't want to leave.
At 24-years old, the Kansas native has already held three different belts including the WBC World Welterweight Title.
His career momentum slowed down a bit between his loss to Marcos Maidana in 2009 and his draw with Lamont Peterson in December of 2010, but his likable nature and aggressive boxing style always kept him relevant. 
He was given a shot at the WBC Welterweight Title and defeated Andre Berto by unanimous decision just last April.
That belt now belongs to Floyd Mayweather Jr.
The fight itself proved exciting for the first three rounds before ending with a controversial fourth round knock-out that may or may not have been a cheap shot from Mayweather.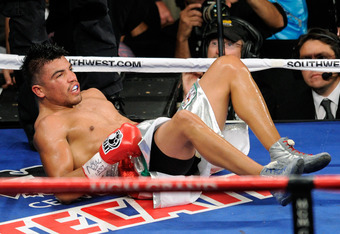 Ethan Miller/Getty Images
But even in defeat, Ortiz has now gained a share of some worldwide attention that typically follows Mayweather wherever he goes. Along with a big pay check, it appears all the attention has caused Ortiz to seek more opportunities to stay in the spotlight.
The all-knowing, all-seeing and all-hearing TMZ has obtained a cut of a new song from DJ Ian Carey featuring Ray J singing and a short collaboration from Ortiz.
Ray J, a 30-year old musician who is best known for his home video appearance with Kim Kardashian, is a step down in class from Mayweather in every sense of the word. 
Ironically enough, Ray J was featured in Mayweather's camp during HBO's "24/7" series about the build up to the fight.
Now, he has Ortiz in the booth with him as they both look to capitalize on added exposure still holding over from the controversial knockout. 
If this is Ortiz's best attempt at staying relevant as the boxing world waits on a Manny Pacquiao-Floyd Mayweather fight, it will won't help him much.
Ray J's relationships - Kim K, his sister Brandy and cousin Snoop Dogg - have always earned him more publicity than his actual talents.
Unfortunately, now it seems that Ortiz is heading that same ill-fated route by joining forces with him.
The song, apparently titled, "Baddest Girl" can be heard on the TMZ update with Ortiz entering the fray at about the 2:02 mark.
Lets hope Ortiz clears his head soon and gets back in the ring rather than wasting time with clowns like Ray J. 
A rematch with Berto is likely his best option, and people are more intrigued to see him fight again than hear him spit lyrics on a bad rap song.