Faith Honors Late Husband by Volunteering at Every PGA Tour Event in 2011
October 1, 2011
East Lake Golf Club, Atlanta, GA—Faith Tanner is at the end of a journey that started last winter at the Tournament of Champions in Hawaii.  She was determined to volunteer at every PGA Tour event this season to honor the memory of her husband Larry who died after losing a battle with brain cancer.  Before his death, they had a goal of volunteering at every PGA Tour event. After his death, she was determined to complete the journey that they intended to take together.
Tanner's not independently wealthy.  She's just a determined grandmother. After nearly nine months, she's gained recognition for her husband's memory, which was her goal: Her story's been on CNN and in the New York Times.
This week, PGA Tour Commissioner Tim Finchem presented her with a one of a kind memento:  Badges from each tournament autographed by the winner of each tournament. 
"We thought that when she goes home and wants to think about this year, it would be kind of cool if she had those autographs, so we asked the players who won those tournaments, all of them, to sign the badges," Finchem explained.  "She certainly because of that embodies the spirit of volunteerism that we see week in and week out every year, every week on the PGA Tour."
While Tanner has volunteered for a variety of organizations since she was a young girl, she and her husband began volunteering after attending the 2007 Buick Open a tournament that was held for more than 50 years until the demise of the old GM.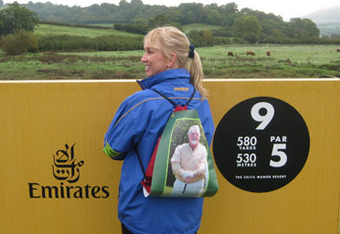 They were volunteers for the 2008 Buick Open, and that began a trend.  She applied to volunteer at the 2008 Ryder Cup and worked as a cashier in the merchandise tent, where she did such a good job that someone noticed.  That person's husband was head of the marshal's group for the 2012 Ryder Cup. 
They thought their journey was launched.  But neither one knew the heartache that they would face in 2009, that Larry would die from a tumor.  
She decided to carry on in his memory, and this year, 2011, she volunteered for every PGA Tour event.
"She has traveled over 35,000 miles, the vast majority of it by car, to do that, to accomplish that feat," Commissioner Finchem explained this week.
Now the journey is over and she concludes her blog at www.pgavolunteers.com and as she wrote this week: 
"Today is my last day volunteering at The Tour Championship, and immediately after it is completed I will jump into Snowball my lovely car, program Genie my GPS, and armed with Tommy the Turtle who will remind me to be careful and not speed, I will drive the 17+ hours to beautiful Suttons Bay, Michigan. Once I return to my cozy home I will take a nap then I will definitely get you caught up and bring the blog to a finish."  --  Faith Tanner
Kathy Bissell is a golf writer for Bleacher Report. Unless otherwise noted, all quotes were obtained firsthand or from official interview materials from the USGA, PGA Tour or PGA of America.
Photos courtesy PGA Tour.