Can the St. Louis Rams Upset the Baltimore Ravens?
September 24, 2011
Grant Halverson/Getty Images
On Sunday, Sept. 25, the St. Louis Rams will welcome the Baltimore Ravens to the Edward Jones Dome in hopes of capturing their first victory of the year.
Here are three keys to the game for the Rams:
Containing Ray Rice
Ravens running back Ray Rice is the player the Baltimore offense relies on more than anyone else, including quarterback Joe Flacco. When Flacco has a rough day, Rice will often pick the team up and put it on his shoulders. However, when Rice struggles, so does the Ravens offense.
The Rams won't be able to stop Rice, but they can hope to contain him. If they can do that, as well as keep pressure on Flacco, then the St. Louis defense can keep the game close. It's a tall order, but it's possible.
Protect Sam Bradford and the football
The Rams have struggled to protect quarterback Sam Bradford thus far, and it's not going to get easier against the tough Baltimore pass rush. The Rams may even need to use max-protection at times against the Ravens' defense. However, if the Rams can keep Bradford upright, then he'll be able to make some plays against the Baltimore secondary.
The Rams have also been plagued by turnovers in both of their games this season, and they are playing a team that forced seven Pittsburgh turnovers in week one. The Rams have to avoid putting themselves in that situation if they are going to have a chance at winning the game.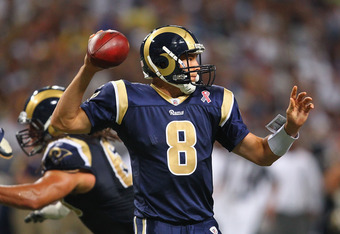 Dilip Vishwanat/Getty Images
Air it out
Yes, the Rams need to establish their running game, but if the Ravens have a weakness, it's against the pass. Despite Bradford's off night against the Giants (22 for 46 passing), he was finally able to get receivers Mike Sims-Walker and Danario Alexander involved in the offense. The Rams should look to continue that trend this weekend and force the Ravens to stop them.
I can't tell you how much of a relief it was to see Bradford actually throw down field last Monday. The team hasn't had an offense this aggressive in years.
If the Rams' receivers can get open, I think Bradford will be able to pick apart the Ravens' secondary. I know that sounds crazy, but after watching Tennessee do it last week, I know it can happen.
Conclusion
I believe the one thing the Rams need to do more than anything against Baltimore is to protect Bradford. If they can protect him, they have a chance; however, there's a reason that Baltimore is considered a Super Bowl contender. Their skill on both sides of the ball will make it very difficult for the Rams to accomplish any of the keys I'm talking about.
That's why I have Baltimore winning this game. The Ravens are just too talented for the Rams.
Prediction:
Baltimore Ravens 24 St. Louis Rams 10