No. 2 LSU Tigers Tackle Doubters Claws First
September 23, 2011
Ronald Martinez/Getty Images
Just prior to the beginning of the 2011 football season at the SEC Media conference in Birmingham,  LSU was ranked second in the SEC West to Alabama, who was favored by a margin of 3:1 to win the championship hands down.
In other words, in the eyes of the so called SEC media experts, LSU was given almost no chance to beat the mighty Crimson Tide, and as further proof of the media's biased, they selected only one LSU player to the All SEC first team while giving Alabama five first team selections.  
But, as the season drew close, the national media experts saw LSU as a major challenger to Alabama and they were even selected by two national polls as the favorites to win the BCS Title.  
As LSU entered their first game against the mighty Oregon Ducks in the Cowboy Classic in Dallas, LSU was ranked fourth and Oregon was ranked third.  
However, after this game LSU overwhelmed the national experts with their dominating defense and efficient offense, and LSU jumped over Alabama and moved to number two in the AP poll.
During the last two weeks LSU and Alabama have flip flopped in the rankings, but at this point LSU is now ranked number two. 
Most media experts are calling LSU's defense the best and most dominating defense in the entire country and ESPN's Reece Davis calls them " The Big Bad Bayou Bengals ".  Only fud dud's like Lou Holtz and Stewart, the former West Virginia Coach, are favoring West Virginia.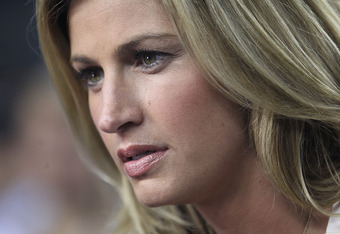 Ronald Martinez/Getty Images
West Virgina has really played no one that could match up to LSU or even most SEC schools, but experts like numbers and so they think West Virginia's offense will throw all over LSU and because of the crowd they will be able to maybe beat LSU. 
As if LSU doesn't play in front of the most rowdy and boisterous crowds in all of college football almost every week in the SEC.     
How soon they forget how LSU's defense dismantled and dominated Oregon' s offense, which was considered to be the best offense in America, and next they just throttled No. 24 Mississippi State's offense which was the top rushing offense in the SEC at the time.
After the game, coach Dan Mullen of MSU said LSU will probably win the NFL East after it wins the SEC West.   
West Virginia has played Marshall ( and struggled to win), and then Maryland and had to hold them off to win the game.  These two were their biggest foes, but only Maryland can be considered as a possible challenger in the ACC 
To justify their positions, both Holtz and Stewart kept bringing up last year's LSU vs WVU game and saying how close it was.  LSU totally throttled WVU's offense as Noel had 34 yards rushing, and Smith had 10 yards rushing.
The only reason that game was close was due to Jordan Jefferson having only 31 yards passing and an interception that put WVU on the LSU goal line.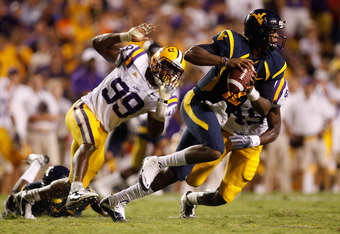 Chris Graythen/Getty Images
In short, LSU's offense was simply pathetic that night but that was typical game like several others that LSU won with good defense and special teams play.    
I think everyone can see how much more versatile and effective this year's LSU offense is under Jarrett Lee's leadership. 
This offense will only get better every week as coach Miles has been bringing Lee along slowly to this point, and he will continue to feed him more each week.
This LSU team will certainly do whatever it takes to win and West Virginia will soon find out about this LSU defense personally.  
So, I guess the doubters and the Les Miles detractors will continue to under rate LSU as a team with only a good defense, until they finally match up with Alabama in Tuscaloosa. 
This is a determined and very competitive LSU football team and I won't be surprised to see them back in New Orleans playing in the BCS National Championship Game.