Notre Dame Football: Is Notre Dame About to Become the Next Harvard or Yale?
September 23, 2011
Gregory Shamus/Getty Images
Notre Dame is one of the most storied programs in college football. They have had seven Heisman winners and 11 national championships. They are fourth in all-time wins. While many might attribute that high ranking to the fact that they are also one of the oldest football programs, they back up that win total by also being ranked second in win percentage. For decades they were among the best and most feared programs in the county, but since 1994 they have slowly slid down the college football hierarchy.
Over the past 17 years they have finished the season in the top 10 only one time—in 2005 when a 9-3 record earned them the ninth spot in the final poll. In 10 of those 17 years they didn't even finish the season among the top 25. Prior to this 17-year stretch they had an average ranking of 6.4 in the final poll from 1987-93. They are on the verge of becoming the next Harvard or Yale.
Once upon a time these were the two top programs, yet they are now decades removed from being relevant on the college football landscape. Harvard has 12 championships and is eighth in all-time wins. Yale has 17 championships and is second in wins, yet neither of these schools has won a championship since 1920. Both have still put together decent seasons but have dropped off the nation's radar.
Notre Dame hasn't been relevant for a long time. Now, most programs go through a spell where they are down for a couple of seasons. Michigan has been going through one the last three seasons, Florida State appears to be coming out of the fog they went through and the list could go on. It happens to every program. It is rare though to find one that has stretched for nearly two decades as the Notre Dame fall is nearing.
If not for NBC signing a much-too-long TV contract or Regis Philbin talking about his alma mater on his show, then Notre Dame would rarely see national TV time. After all, how many teams playing only a little above .500 over a 17-year stretch get any air time? What other team with five losing seasons in that same time frame would have every home game televised?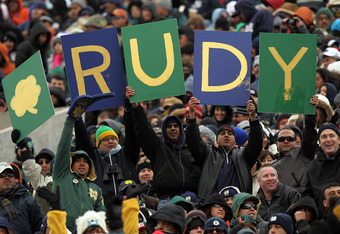 Ronald Martinez/Getty Images
Notre Dame has held out from joining any conference, despite every other major program doing so. For many years this was due to an extreme arrogance that they were above such deals. With the advent of their own TV contract in 1991, they did not need the financial boost a conference would give. However their TV ratings have dropped in recent years. Conferences such as the Big Ten and SEC have league TV deals that allow them to distribute more money to each member than Notre Dame is able to bring in from their solo deal. In 2015, when the current deal is up, one would be hard-pressed to see why NBC would offer any deal, let alone one near their current pay out.
The BCS, for all of its horrific flaws, is the pinnacle of college football right now. Notre Dame currently has a special provision allowing them an automatic BCS berth if they finish in the top eight. Now recently such a lofty status has not been a concern for them. With the recent conference moves and the possibility of "super conferences," Notre Dame will be quickly excluded from such privileged status. These new, larger and even more powerful conferences are not going to carve out some niche for some school that used to be important.
So what is Notre Dame to do? They need to join a conference. The Big Ten has offered an invite numerous times, but Notre Dame has always declined. At this point the Big Ten doesn't need them and shouldn't bother with them. Also Notre Dame needs to go to a conference where they have a chance to be among the elite. Based on the past decade, they would be looking up to well over half the conference.
The ACC is rumored to also being interested in Notre Dame. Although not as strong as the Big Ten, Notre Dame would still fall too far down the roster in that conference. They need to be near the top. The Big East would be a possible option. They are losing Pittsburgh, Syracuse and possibly Connecticut. They were already the weakest of the BCS conferences, and even with TCU joining next season Notre Dame would still be in a decent position in this conference. While not near the top, they would have a better chance of contending here
Another option is the former Big 12 conference. Now that it appears that Oklahoma and Oklahoma State will not be leaving, there is a need for another school here. Texas and Oklahoma are the top teams there, and with Nebraska gone there is an opportunity. Notre Dame would match up with the northern end of the conference and would have a richer recruiting ground than if they joined the Big East.
Regardless of which option they choose, they must pick one quickly. In their current state they are irrelevant, and it is only their history that keeps them alive. There are only so many times that images of Knute Rockne, the Gipper or Rudy can be brought up to keep the team going. When the kids that they are recruiting were not alive the last time the school has won anything or even contended then the school is a "has been."
Any other school with their recent history would be off the national radar. Notre Dame is barely clinging on, and it is only due to their history. The time is now—will Notre Dame continue down their path and become the next Yale or Harvard, or will they be able to resurrect themselves and return to being a meaningful part of college football?
Source: http://www.aolnews.com/2009/06/15/as-notre-dames-tv-money-dwindles-so-too-should-its-independenc