Power Soccer: Team USA Prepares for Another World Cup Championship
September 23, 2011
If I told you that Team USA was the defending World Cup champion, you'd write me off as delusional.
However, I did just say that, and I am of perfectly sound mind—because the United States National Power Soccer Team did indeed win the 2007 World Cup in Tokyo.
Of course, by now you're wondering what is power soccer?
According to the returning Team USA coach Chris Finn, "Power soccer is similar to outdoor soccer only for people who use power wheelchairs.  Instead of using our feet, we use our wheelchairs and foot guards to push and spin kick the ball."
Two teams of four play on a regulation basketball court in a fast-paced and sometimes very physical contest that has been spreading rapidly across the world.
There will be 10 countries from four different continents meeting for the World Cup in Paris this November. Team USA is, of course, hoping to come out on top again.
Power soccer is indeed a very competitive sport and, by hearing from some of the athletes, I think that you will hear a little bit more as to what this international competition means.
Jordan Dickey explained what the World Cup championship would mean to him.
"Every athlete at any level dreams of representing their country, I get that opportunity and I plan on making my country proud."
Although she was never a sports enthusiast, Kendra Scalia-Carrow found her sport and the thrill that playing for Team USA gives her.
"I love playing power soccer, whether with my local club, Team USA or a pick-up game. When you love doing something so much that you want to become the best you can be, having the opportunity to do that one thing is all that matters."
These two athletes are making this journey for the first time. 20 athletes were chosen to attend the selection camp to try out for Team USA, and only 12 were chosen. According to Dickey, "Tryouts were nerve wracking, because you want to impress the coaches so much."
Out of the chosen 12, five of them had been on the 2007 team.
For returning athlete JC Russo, this journey has not become any less exciting or challenging.
"I was excited to be able to continue with Team USA. It will be quite an accomplishment to win two World Cups. When we won the [first] World Cup, it was truly a surreal experience. It is hard to describe the emotions that come with a World Cup. It is truly a speechless moment."
Of course, this goal will not be achieved without overcoming challenges.
For one thing, a victory in 2007 does not guarantee a victory in 2011. Just as much as Team USA has been improving and developing in preparation for this competition, the rest of the world has been working hard as well.
However, another difficult reality that Team USA will have to overcome is a financial one. According to Coach Finn:
"The toughest challenge facing the team and association is financial resources.  In the last two years the team has contacted over 500 companies and applied for many grants only to be turned away.  We have been lucky to receive two smaller sponsorships and donated jerseys, which amounts to less than 5 percent of the total budget for two years of training and attending the World Cup.  The cost of attending the World Cup alone is over $100,000. All the staff, athletes and members of the Association are volunteer and required to pay their own way for training and competition pending receiving funding.  It's a $25,000 commitment over the period of two years.  It's extremely difficult especially for some of the people participating who are living off of $800-$1000 a month."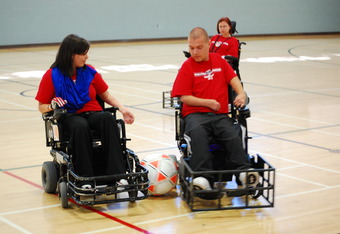 Nevertheless, none of this is going to stop Team USA because power soccer is more than just a sport for so many of these athletes. According to Scalia-Carrow:
"Power soccer is a way of life. It provides me with an outlet to be competitive, independent, a leader, a team player and an individual. When I play power soccer, I am an athlete."
Dickey also noted that his entire family has been impacted by power soccer.
"Some families are considered football or baseball families. Well, my family is a power soccer family. My sister, Katie, is also on Team USA and we also play together on the Arizona State University power soccer team. Also my brother, Zach, just started playing on a team in Indiana."
Russo summed up his experience with power soccer in a slightly different way.
"It's hard to say what power soccer means to me because it's such a huge part of my life.  Before I played power soccer, I didn't really do a whole lot. I played a lot of video games and watched TV. Power soccer gave me a chance to express myself in a way I never knew how. Without it, I would never have experienced adrenaline or the dynamics of a team sport. I think power soccer has helped shaped who I am as a person."
Team USA is in the home stretch now. With the World Cup within two months, the final preparations are coming together. The team is finally getting ready to finish the mission. When asked what three words he would use to describe power soccer, Coach Finn responded with his motto, "You Are Able."
That is really what it is all about. These athletes are able to compete at an incredibly high level and are dreaming of bringing that trophy home to America. They are not going to let any obstacles slow them down.
For more information on Team USA, check out their website.