Texas Rangers and Jon Daniels in the Final Analysis
September 21, 2011
Ronald Martinez/Getty Images
Jon Daniels wasn't highly thought of when the Texas Rangers first hired him. He seemed like a young kid that just played around with numbers. Of course, that is how most of the new breed of general managers have been viewed until recently.
When the Texas Rangers advanced to the World Series last year, Daniels suddenly stopped being a joke.
The Rangers are ready for another postseason this year and they did it without Cliff Lee. Offensively, the Rangers are so loaded that it is almost embarrassing to watch.
Daniels' big signing, Adrian Beltre, is poised to clear 100 RBI in spite of missing almost six weeks to injury. Michael Young has surpassed 100 RBI. Nelson Cruz and Josh Hamilton have been monsters when healthy this season as well. Not to mention Mike Napoli, who has an OPS over 1,000, and Ian Kinsler, who has nearly 30 home runs as a second baseman.
Key Statistics
Team Payroll: 92.3 (13th)
Lineup: 15.8
Rotation: 18.1
Bullpen: 20.0
Composite: 18.0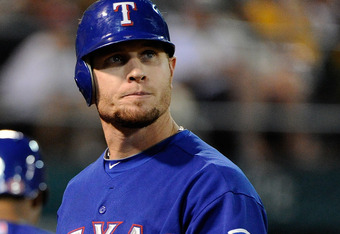 Thearon W. Henderson/Getty Images
Analysis Score: -5.0
Lineup
When looking at the lineup, we have to remember that most of these numbers are based on past performance. Included in that past performance are numbers that normalize statistics to make them run neutral. Ameriquest Field is an extremely hitter-friendly ballpark, so some of the Ranger numbers look more impressive than they actually are.
Moreover, many of the players have enjoyed tremendous years. Michael Young hasn't been this good in half a decade. Mike Napoli has never been this good. Josh Hamilton, over the last two years, has gone nuts. Even Nelson Cruz has burst onto the scene.
These things couldn't have been predicted. At least, not all of them could have been predicted to happen at the same time.
Rotation
Losing Cliff Lee was a blow, but the club kept moving forward and did so by moving young Alexi Ogando into the rotation. While he did not perform nearly as well as Cliff Lee, he was still a better-than-average alternative that no one in the winter considered.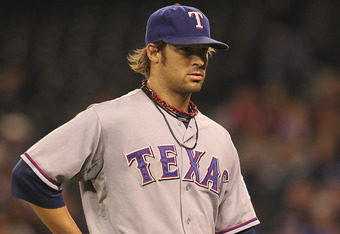 Otto Greule Jr/Getty Images
C.J. Wilson, Colby Lewis and Derek Holland were durable all season. Matt Harrison joined the rotation to give the Rangers the most stable rotation that they have had in years.
Only two other pitchers made a combined five starts. That means the Rangers had the most stable starting rotation in all of baseball.
A lot of that can be attributed to luck as well.
However, many believe you make your own luck and that maybe there is something to the way the Rangers condition their pitchers that keeps them healthier.
Bullpen
The bullpen was the Achilles heel this season as Neftali Feliz went through a difficult stretch at the beginning of the year. Some people suggested they pick up Joakim Soria, and around the deadline there was a lot of buzz around Heath Bell.
Instead, Daniels acquired Mike Adams, Koji Uehara and Mike Gonzalez in separate trades. None of them are closers, but all of them are accustomed to pitching late in games.
The additions turned a potential weakness into a potential strength.
Response to Crisis
Jon Daniels' decision to get three solid relief pitchers instead of one really good one was certainly debatable. Feliz has not been reliable and getting an established closer would certainly be the sexier choice.
However, it might be better in the long run to provide Ron Washington with more late-inning options as the club moves closer to the playoffs.
Analysis Score: -5.0 (23rd)
The Final Analysis
This analysis score is not indicative of the job Jon Daniels has done. The Rangers are poised to go to the playoffs for the second season in a row. Furthermore, they may maintain a stranglehold on the division for another couple of years. The Rangers do have more young pitching on the horizon, so they should be stocked for quite a while.