Floyd Mayweather, Manny Pacquiao: Is 150-Lb Sergio Martinez a Threat?
September 21, 2011
Sergio Martinez, boxing's current number three pound-for-pound fighter, has stated he's willing to go down to a 150-pound catchweight to score a fight with Manny Pacquiao. For true fight fans, this is a major piece of news. Martinez, the reigning Ring magazine Fighter of the Year, has been the most exciting fighter in the sport over the past two years, but has cleaned out the junior middleweight and middleweight divisions—with most top competition having already lost to him, or avoiding him in favor of other, less-threatening opponents.
But would Martinez—who faces undefeated British middleweight Darren Barker on HBO on October 1—be a threat at 150 pounds? This is where the interest lies. As reported earlier by Justin Tate, in an interview with Boxing Scene's Carlos Irusta, Martinez seemed clearly aware of the difficult demands such a drop in weight would place on his body:
"It would be below the junior middleweight limit of 154 lbs [69.850 kg.]. 150-pounds is 68 kilos. It's an incredible effort for my body. I walk around at 78 or 79 kilos, with a maximum of 3.2% body fat. I have very little body fat and I'm very muscular.To go down to that weight can be fatal for my health. But it can be done. With enough time, I think it's possible to do. What's better than saying, 'we'll fight you anywhere you want, the date you want and the weight you want.'

"He always said 150, and I respect his position, because he is a little fighter even at 150. But it's going to play to his advantage because I'll be almost ten kilos lighter in my body."
So clearly Martinez is aware of the difficulty of the task ahead of him, but it very well could be his best choice. He is "too good for his own good," as fight fans used to say of the constantly-avoided Charley Burley. In spite of all the available talent at 154 and 160 pounds—Miguel Cotto, Antonio Margarito, Alfredo Angulo, Saul "Canelo" Alvarez, Felix Sturm—Martinez is having trouble landing good fights, and must feel a sense of urgency at 36 years old to score some major fights.
I personally would love to see a match between Sergio Martinez and either of the two guys standing in front of him in the pound-for-pound rankings—Manny Pacquiao and Floyd Mayweather, Jr. I admire the confidence and self-awareness of Martinez to realize that he would have to come down substantially in weight to sweeten the deal, and to be willing to do so.
But would he be a threat to Pacquaio or Mayweather at this weight?
I think so. That's why I would love to see the fight. It's clear that Martinez at 150-lbs would be the clear underdog versus either of those two fighters, but he is perhaps the best-conditioned athlete in the sport, and expresses remarkable discipline in the gym that has allowed him to improve consistently over the years.
He also has a penchant for making exceptional boxing matches happen—his first fight with Paul Williams was a 2009 Fight of the Year candidate, and his second-round knockout in the rematch was easily 2010's Knockout of the Year. A fight earlier this year with Sergei Dzinziruk appeared lopsided (Martinez won in the 8th round via TKO after his fifth knockdown of the top-ranked Ukrainian), but was actually a tremendously exciting, action-packed fight that looks far better when compared to Pacquiao and Mayweather's most recent efforts.
But coming down 10-lbs is never easy, and even if you're the best-conditioned 36-year-old in the sport, age still makes the task even more difficult. However, Martinez seems aware of the task that would be required of him to make this fight, and I think a Pacquiao-Martinez or Mayweather-Martinez fight would be an excellent boost for boxing. Sergio Martinez is one of the few great, honest fighters left in the sport, and deserves the opportunity.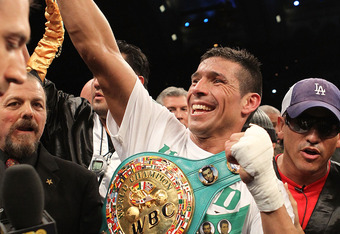 Al Bello/Getty Images
The Argentinean southpaw is quick, muscular, and possesses a thrilling, athletic style reminiscent of a prime Roy Jones, Jr. He is seeming to become more powerful with age, and would vastly outshine Shane Mosley and Victor Ortiz as an opponent for the sport's other great fighters. I think Martinez can make a strong claim to being pound-for-pound number one or two (even though Ring magazine feels content to have Pacquiao and Mayweather locked in those positions), so I think this adds further urgency to making this matchup happen.
The next best option for Martinez would be to wait for the Showtime's Super Six tournament final between Andre Ward and Carl Froch on October 29th, and move up to Super Middleweight (168 lbs.) and start taking on some of the top stars in that division—Ward, Froch, Lucian Bute, Mikkel Kessler, Arthur Abraham and even Glen Johnson. Another decent option would be to wait for the conclusion of the famous rematch between Miguel Cotto and Antonio Margarito and to publicly challenge the winner. However, this wouldn't even approach the excitement that a Martinez-Pacquiao or Martinez-Mayweather matchup would have.
Obviously, everyone's first choice would be a Pacquiao vs. Mayweather bout, but after that happens (or if that fight falls through), then the best fighter available for either of those opponents would be Sergio Martinez, even at a drained weight of 150-lbs. Martinez has all the tools, and he, Pacquiao, Mayweather and Nonito Donaire stand miles ahead of the sport's other fighters as boxing's true elite.
How much respect does Sergio Martinez deserve for this offer?
A tremendous amount. In a day when most fighters are trying to manipulate the most minute details in order to align all the conditions of a fight in their favor—see Erik Morales' insistence on neither he nor Pacquiao being able to use Grant gloves in their fight, or Mayweather's drug-testing bonanza with Pacquiao—Sergio Martinez knows what a huge fight this could be, and is willing to put himself at a tremendous disadvantage to make the bout happen. That's the admirable spirit of a true prizefighter, and in a time when honor among boxers seems to be at a low ebb, an offer like the one Sergio Martinez made deserves substantial respect. I wish him the best of luck in booking this fight.