Haloti Ngata: Credits Reggie White and Teammates, Signed a 5-Year Extension
September 21, 2011
Al Messerschmidt/Getty Images
While the NFL lockout was pressing the hearts and minds of millions of football fans across the country wondering if there would be a 2011 season, Baltimore Ravens defensive tackle Haloti Ngata spent quality time with his family and worked out in Whitefish, Montana and Sun Valley, Idaho.
Prior to the lockout, the Ravens placed the franchise tag on Ngata—which guaranteed him a payout of $12.4 million. Ngata was never concerned about a big payday with the team, as the Ravens organization is known for taking care of their own. 
However, if there were any questions surrounding a new deal, the Ravens put those to rest, signing one of the NFL's top defensive players to a five-year extension on Tuesday.
According to Adam Schefter of ESPN, Ngata's agent Mike McCartney reported the five-year veteran will receive $40 million in guaranteed money in the first two years of the $61 million deal. 
Tuesday was the deadline for NFL teams to sign their franchise tender players to a long-term deal.
"This is another commitment from [owner] Steve Bisciotti making sure we keep our best players," Ravens general manager Ozzie Newsome stated. "Haloti's re-signing is significant as we push to win consistently and battle for championships. His leadership is not only integral to our defense, but also the entire team.
"He is obviously instrumental to everything we do on defense," Newsome continued. "He's a player who commands an offense's attention every single play, and his presence allows us to play a variety of effective defenses. Teams have to prepare for Haloti every week. Opposing coaches game-plan on Tuesday with Haloti in mind. They know he can dominate, and they know he is going to play at a very high level.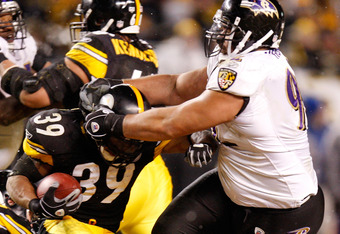 Gregory Shamus/Getty Images
When asked in his weekly Monday press conference about the possibility of a surprise deal with their star DT on Tuesday, Ravens head coach John Harbaugh truthfully stated his non-involvement with the contract of his All-Pro defensive tackle.
"I'm worried about football right now, so I'm not involved in contract negotiations," said Harbaugh with a smile. "But thanks for asking."
Nevertheless, the season needed to be played, and Ngata remained focused on helping his Baltimore Ravens reach the Super Bowl.
Apparently, each NFL player had idols they looked up to growing up, and Ngata, as great as he is, is not exempt.
"Growing up, one of my idols was actually Reggie White, No. 92," Ngata said. 
White, also known as the "Minister of Defense," finished his Hall of Fame career as the NFL's all-time sack leader with 198. In 2003, Hall of Fame defensive end Bruce Smith surpassed White as the all-time sacks leader and ended his career with 200.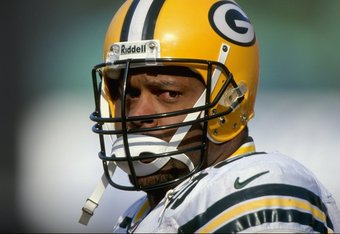 Todd Warshaw/Getty Images
White passed away in 2004 after suffering from a fatal cardiac arrhythmia (irregular heartbeat).  White is regarded as perhaps the greatest defensive end in NFL history and one of the greatest human beings, especially in Ngata's eyes.
"Growing up and watching him play a big D-lineman, who was really fast for his size and was really quick," said Ngata.  "I always tried to do the same thing.  I was pretty big as a kid growing up and I always wanted to be like Reggie White. 
"Be fast, move quick, make plays, be a great person off the field and not only on the field, but off the field.  He was a great guy to look up to and I still think he is."
The perception of the public for the arrival to stardom for a professional athlete is by way of signing a multi-million dollar deal, making them a major player in their profession.
Ngata is a blessed individual, and long before he signed his deal Tuesday, the 27-year old lineman can not say if it hit him as being a 'player' in the NFL.  Nevertheless, Ngata credits his success for his former and current teammates.
"It's…I don't know if it really hit that I can be a player in the league," said Ngata.  "But having guys in the locker room like Ray Lewis, Ed Reed and Kelly Gregg, Jarrett (Johnson), Pryce (Trevor).  Those guys pushing you everyday, making you realize your talents and bring it out. 
"You can never go wrong being around guys like that, you can't," he continued.  "Everybody looks at Ray Lewis.  Everybody looks at Ed Reed.  So I can just come out and just play, basically…I feel I could always play my game because of players like that.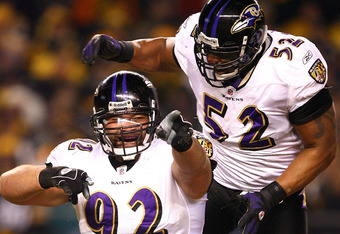 Al Bello/Getty Images
Deservedly, Ngata received the contract that pushed him to elite status, which will carry him to the age of 31 with more playing years ahead from there. 
Clearly, the big man in the middle has been focusing on one thing – winning a Super Bowl.  For many, signing a huge contract is their Super Bowl, while for some, winning a title is their ultimate goal. 
For Ngata, holding up the Lombardi Trophy will be his greatest accomplishment.
"That's every NFL players' (dream) in this league accomplishment," said Ngata.  "They want to get a ring.  For me, I always seen it as a kid, seeing that trophy lifted up in the middle of the field.  How happy and proud those guys were to get that trophy.
"It's something I've been chasing since being in the league."
Note: Ravens quarterback Joe Flacco and running back Ray Rice are due extended contracts after this season.  Expect them to continue their careers as Ravens, as well.    
All quotes from Haloti Ngata were from first-hand.