Rise of the Superconferences: Why College Sports Is Headed for Calamity
September 20, 2011
College sports used to epitomize the fullness of athletic competition for the sake of...well, athletic competition. What was once amateur athletes, attending classes free of charge, competing for the pride of their school and respective cities has now become a shell of it's former self.
Don't get me wrong, college sports hasn't totally changed. The annual NCAA men's basketball tournament is a good example of the wholesomeness I'm referring to.
You win, or you lose. If you win, you bring glory, attention and excitement to your campus and the adoring fans of your school, as well as the individual glory and recognition from professional sports franchises. And if you lose, well, there's always the inevitable "you'll get 'em next season."
In recent years, however, the landscape of college sports has changed dramatically. Athletes accept benefits that compromise their amateur status, head coaches and athletic directors fail to report misdoings within their organizations, and colleges turn to shady figures to help with their recruiting of high school athletes.
In terms of recruiting, some colleges prefer to use their illustrious or notorious histories within their conferences, or college athletics as a whole, do it's work, and some schools use clever marketing and state of the art equipment and techniques attract impressionable high school athletes. And some universities cheat, because they need to make more money.
Whatever the case, college athletics has certainly evolved. "What's really at play here?" you might ask. Mostly, it's greed.
I understand that football is a major fundraiser at most universities nationwide. Obviously, other college sports make money, but football is by far the most profitable of all college athletic programs, however their needs to be a line that is drawn between what is fair and what is foul.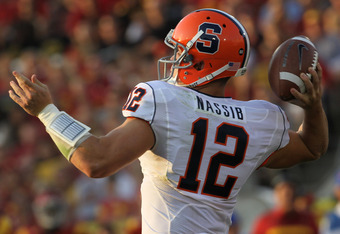 Stephen Dunn/Getty Images
More and more, athletic directors and college coaches are finding increasingly complex and creative ways of breaking the rules. A more clear and concise rulebook may help in the doing away of this problem.
From the controversies that have plagued many of the high ranked football programs, most notably North Carolina and more recently, the Ohio State University and University of Miami football programs, to the recruiting scandals at LSU and Oregon, the pride of competing for one's school is becoming less than satisfactory for some athletes.
A new phenomenon is at play as well, the rise of the "superconferences" within college sports.
When the University of Miami and Boston College left the Big East in 2004 and 2005 respectively, for the somewhat greener pastures of the Atlantic Coast Conference, many said that it was a deliberate attempt to damage the conference.
More recent examples of college football programs jumping ship is the recent departures of Nebraska, Colorado and Texas A&M from the Big 12.
It's appalling that we live in a world where the NCAA and fans of college athletics collectively shake their heads and wag their fingers disapprovingly at athletes who receive improper benefits, which frankly, amounts to fractions of what these universities make off of the athletes themselves.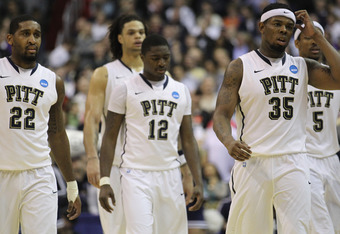 Nick Laham/Getty Images
Yet, when overcome by their own greed, these same schools jump conferences and leave the rest of the teams in their conferences high and dry in a cloud of dust.
Athletic directors and  presidents of universities complain that conferences don't provide "financial stability" when they are the very ones causing the financial instability of the conferences.
Suddenly, schools like Iowa State who've invested money into the advancement of the Big 12 find themselves in quite a bit of a pickle when they realize that most of the big name schools within the conference, that provide the smaller schools within the conference some semblance of a return on their investment, have left them out in the cold.
This greed is seemingly endless, and with the recent departure of Pittsburgh and Syracuse from the Big East it appears that the conference as a whole is on it's deathbed.
Let's be honest, this isn't Notre Dame or West Virginia leaving the conference, this is Syracuse, the big daddy of the conference itself.
Isn't it unbelievable that the first commissioner of the Big East, Dave Gavitt, died one day before the two schools declared their intentions to move to the ACC?
Let's be honest, the rise of these superconferences and the changing of the entire layout of college athletics isn't making the NCAA better, it's slowly killing it. Smaller schools without a prayer of competing in the ACC, SEC, Big 10 or Pac 12 are left to die, and as a result, college athletics becomes less exciting.
Greed is what is driving this change, the worst news in all of this is NCAA President Mark Emmert is powerless to stop it, the conferences are ultimately the be-all and end all of "where the chips fall".
Change in college athletics is coming whether you like it or not. This change is violently approaching, and the unintended consequences it leaves in it's wake will be destructive, if not catastrophic.
I for one, pray that the college sports world comes to it's senses. Knowing how addictive and powerful greed is makes my wish less and less probable.