Fantasy Football Week 3 Waiver Wire Dexter McCluster: Pick Him Up Now!
September 20, 2011
Peter Aiken/Getty Images
With news that Jamaal Charles is done for the season, owners and those just looking to capitalize on grabbing another feature back may have their eyes set on picking up Thomas Jones. But upon further examination it's Dexter McCluster who will be the real waiver wire gem.
For starters, McCluster is leading all Kansas City Chiefs running backs with 93 yards rushing. This may not seem like such a big deal but keep in mind that he's done this on only 12 carries! Thomas Jones has had 14 carries and was only able to produce 43 yards. That's 50 yards less! Scan ESPN's list of the NFL's top rushers so far and you will see he is number 26. He is only 10 yards behind Ahmad Bradshaw who has had 16 more attempts. He is also ahead of LeGarrett Blount, Shonn Green, and Chris Johnson, all of which are the feature backs for their respective teams. McCluster is listed as the third back on the Kansas City Chiefs depth chart.
McCluster is also an asset in the passing game and with Charles gone he will see an even greater role in pass catching duties out of the backfield. For PPR leagues this can turn out to be fantasy gold! In week 1 he caught all five of his targets for 25 yards and in week 2 he caught 4 of 5 targets. That number should go much higher given that Matt Cassel will need to dink and dunk as much as possible.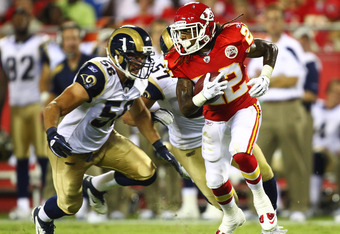 Dilip Vishwanat/Getty Images
If there's one negative for McCluster it's his size. At 5' 8" and 170 pounds he's not likely to be the every down back. But is explosiveness more than makes up for this and while he mile only be a 15-carry guy he may be a 19 or 20 touch back when adding in receptions.
Finally age is a factor. McCluster is 23 years old and has plenty of spring in his step and is one move away from a big play. Jones is 33 years old and has visibly lost a step.
In some leagues McCluster is listed as just a wide receiver but in Yahoo leagues he is listed as both wide receiver and running back. If you can use him at running back to help with a deficiency in the RB2 plug him in. If he's listed as only a receiver us him as WR3 or a flex spot, as you are sure to see an increase in points going forward.