Jeff Symonds Interview: Triathlete Reflects on 2011 Ironman World Championships
October 4, 2011
Canadian triathlete Jeff "Diamond" Symonds, who turned 26 on Saturday, stunned the field at last month's 2011 Ironman 70.3 World Championships at Lake Las Vegas, running a 1:13.33 final leg to land in third place.
Aside from being a career launching pad for a part-time triathlete who was relatively unknown prior to the performance, it was even more impressive because he shared the stage with two legends (Craig Alexander and Chris Lieto) in their late 30s, despite Symonds being the second-youngest pro male in the entire field.
Symonds—who races throughout North America, but is based in Penticton, British Columbia, Canada—now finds himself as a recognized face among the sport's elite.
A few days prior to the 2011 Ford Ironman World Championships in Kona, Hawaii (in which Symonds will not be competing this year), I caught up with the sport's new golden boy to talk about his predictions for Kona, his reflections on his breakout performance, some training tips, a new nickname and his career plans—including his thoughts on a possible move up to Ironman's 140.6-mile distance in the near future.
_____________________
Bleacher Report's Dave Carlson: What are your thoughts on this week's World Championships in Kona, Hawaii?
For the past four years, the men's field has been dominated by Australians Craig Alexander and Chris McCormack. Do you expect more Australian dominance, or will this be the year we finally see a North American or European atop the podium again?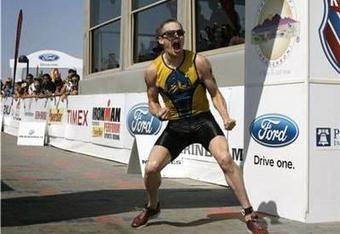 Symonds: I'm patriotic, so I am going to pick Mike Neill, the lone Canadian in the race.
It's his final Ironman as a pro, and I am sure he is going to make the most of the opportunity. He's a great guy, and our sport is lucky to have him.
If I had to bet a lot of money I would pick a dark horse—Andi Boecherer. He is on great form coming off a win at the European 70.3 Champs and the Cancun 70.3. He's strong on the bike, and I think he'll get away with Lieto and has enough in him to stay away on the run.
In Lake Las Vegas, you had a pretty memorable finish-line celebration that made it into several videos.
Describe your first feelings in crossing the finish line third at the 2011 Ironman Triathlon 70.3 World Championships, and how you feel about it now that you've had a little while to rest and process things.
Symonds: That whole moment was so surreal.  Running through the final few hundred meters, I couldn't believe that I could actually be on the podium at World Championships so early in my triathlon career.  I sprinted all the way to the line, because I kept thinking it was too good to be true—that somebody was going to go by me.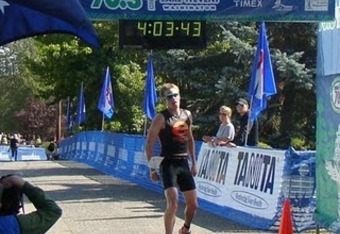 It wasn't until I hit the line that I realized that it did happen and the excitement took control of me. Looking back, I am not surprised that I was able to swim, bike and run the way I did. I was more surprised by how that would stack up against the best in the world. 
At what point in the race did you know that things were going well?
Did you ever actually realize that you were on your way to a third-place finish before you crossed the finish line?
I knew things were going well coming out of the water. 
When I came out with Craig Alexander right beside me I knew I could have a good day, but it wasn't until halfway through the run that I knew that the day could be a great one. 
What has been the most surprising change since landing on the podium at Worlds? Do women flock to you on the streets? Do friends and family seem more convinced that this is more than just a hobby?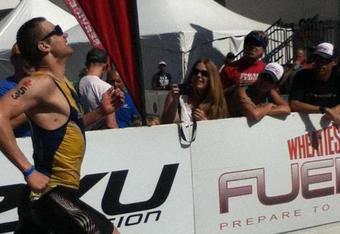 (Laughs) Yeah, when I was in Vegas, guys were literally handing me cards of girls who wanted to meet me. Ha!
But seriously, the biggest change was that people in the industry were recognizing me walking  through Interbike.  It was really cool to see all the people from different companies and magazines that I have respected, approaching and being excited about my race and my future in triathlons. 
I am very close with my family and everyone is super excited, and for the first time my grandma didn't ask when I was going to get a "real job".
A great part of it was being able to look back and appreciate all the people that have helped me get here. I think I have sent off about a hundred thank you emails to people, and every one of them has helped me in some way. 
How about sponsorship deals? Has anything new opened up?
A lot has opened up. I am receiving a lot of offers and I have already made a few major verbal commitments with several amazing companies.
I am building a dream team, and I'm glad that so many amazing companies are excited to be a part of that—although I'm always looking for more! [Laughs]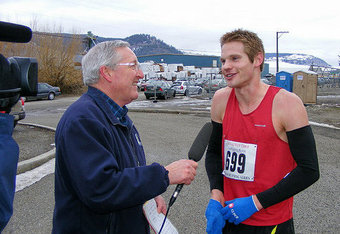 What is really awesome is that potential sponsors seem just as excited about the result as they are about the finishing photos and interviews that exemplify my passion and dedication for the sport.
Do you think you'll be able to make the move from part-time to full-time pro after this performance? Any plans to expand your brand in response to your breakthrough performance?
Being able to train full time is the goal so that I can achieve my full potential. The hard part about the sport is that you have to train full time to reach your full potential and get the sponsorships, but how do you train full time without first getting the sponsorships? It makes the sport tough to break into. 
Hopefully, I'll keep the brand expanding by getting a website set up and increasing my online presence, but I need to remember what got me here and commit myself even more to my training and race preparation. 
Who do you credit most for your newfound success? Are there any pros you looked up to or who helped you on the way up?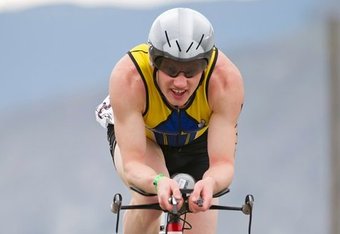 I wouldn't call it "newfound" success—it's more that I was able to have success on a larger stage.  The success is something that didn't come quickly—it has evolved over a period of four years. 
For the past four years, I have dedicated myself completely to the sport.  
I have been fortunate enough to live in Penticton, surrounded by an amazing support network.  My coach Kevin Cutjar of www.enduranceplanner.com has been huge in getting me here, as have local pros Jonathan Caron, Tom Evans, Jordan Rapp, Olly Piggin and Jill Savage.
However, I would have to say my family has been my biggest support system. There was an informal poll at the 70.3 World Championships, and my family and friends were voted the best cheering section. 
What's next for you? A move up to full Ironman length, or will you stick with 70.3 for a while longer? What's your goal for the next 12 months?
We'll see. I have a lot of great options available to me right now, and I need to weigh them out. I will definitely be back to go for the top spot at next year's race.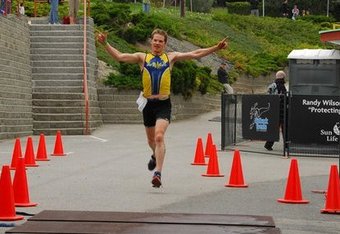 How about some psychological tips for racers seeking to push themselves to the next level: How did you keep yourself focused while running in third in what most consider the race of your life up to this point? How did you avoid becoming overcome by "the moment"?   
I am a big believer in mantras. I repeat the same things over and over again as I run. I say "Relaxed and flying. Your Pace. Negative Split." 
I think these mantras are not only important in keeping me focused but also in keeping me positive throughout the race. In a four-hour race there are definitely times where you are going to feel like a bag of rocks, but you need stay positive and work through those moments.  
And how about the other side of things—when things weren't going as well—you were on the bike and you had mentioned becoming frustrated with some of the other riders in your group? How did you respond to that?
You can't get too excited about that.  I have a pretty laid-back personality, and whenever things around you are going bad, you have to look inward and focus on what you can control.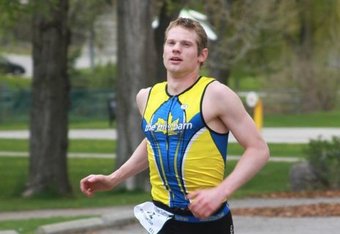 What's your training regimen like? How long do you rest after a big race before you start training again? 
My coach, Kevin Cutjar, lays it all out for me, and it is all based on long-term focus.  The goal for my training is to maintain consistency through the season and over the years, to keep me improving and staying healthy and injury-free. He also adjusts things to account for my work schedule. 
This is achieved by including a lot of rest, especially after hard races. A typical off-week involves around nine hours of riding, five hours of running and six hours of swimming.  
How about diet? Any special new dietary practices you have been following? How do you manage your food intake prior to, during and after the race?
I am not super strict with my diet, but I do try to stay away from dairy as much as possible.  I have found that it doesn't sit that well with me. 
I also make sure that I eat some carbohydrates within 30 minutes of every workout, in order to make sure I am ready to go for the next session. 
Was your training for this race any different from past races? How did you prepare for the hot, dry conditions of Las Vegas?
Race prep wasn't any different for this race except for the fact that Ironman Canada happened during a peak training week.  I had to spend a lot of extra time working at The Bike Barn and wasn't able to have the time needed to complete my usual workouts. 
As far as acclimatization goes, Penticton has been fairly hot, so that gave me a good baseline of preparation, but I also spent some time riding the windtrainer in my basement.  Without the wind hitting you, your body really starts to sweat.  
This simulated the race-day conditions and made my body efficient at sweating, dealing with and removing heat. 
Tell me something interesting that triathlon fans may not know about you.
I know everything there is to know about any sport at any time in the world. I am a huge sports fan and kick ass in sports trivia. I also have a Commerce degree in Marketing from the Sauder School of Business at UBC.
Also, my girlfriend is an Ironman and I am not, so I am totally jealous.
Any last words? Advice for young part-time triathletes looking to take their game to the next level?
I am a young part-time triathlete, but for the other guys out there, dream big and, like Journey says, "Don't Stop Believing."
OK, last thing before you leave. Some people on the SlowTwitch message boards mentioned your frequently-mispronounced last name rhymes with "diamonds," people said you gleamed in interviews, and you just went from being a diamond-in-the-rough to a true contender on the world's stage.
It's just a matter of time before someone makes it official. How about a new nickname: Jeff "Diamond" Symonds?
[Laughs] Awesome! It's not quite Bryant "Big Country" Reeves or Nick "The Promise" Ring,  but I think it could stick. 
People will still continue to mispronounce my name, but hopefully this might help put them in the right direction. However, I do kind of like being known as the guy that was really given'r out there. 
Haha, alright. Thank you, Jeff Symonds, for taking some time out of your training regimen to answer these questions for us. Congratulations again on your breakthrough third-place finish at Worlds, and best of luck in the near future as you continue to move up the ranks!
Thanks Dave, I appreciate you taking the time to interview me. 
__________________
For more on Jeff Symonds, check out the following articles: