Patriots-Chargers Notes: Tom Brady Joins Short List, Vince Wilfork is an Athlete
September 19, 2011
Jim Rogash/Getty Images
Tom Brady threw for 423 yards against the San Diego Chargers Sunday afternoon in Foxboro, Massachusetts. Only seven players have ever thrown for over 400 yards in back-to-back weeks. Amazingly, Cam Newton joins Brady on this list after only his second NFL start.  
Newton threw for 432 yards, one touchdown and three interceptions in a loss to the Green Bay Packers. The Panthers rookie quarterback's first two games represent perhaps the best start ever to an NFL quarterback's career.
Interestingly, when Jim Nantz listed the NFL players that had thrown for 400 yards or more in back-to-back games, he left Newton off the list. Nantz did mention Brady and his broadcast partner Phil Simms as among the seven quarterbacks that had accomplished the feat.
Brady is the first player in NFL history to throw for 500 yards and 400 yards in consecutive games. Brady also set the record for most passing yards in the first two games of a season at 940.
Here are some other thoughts on the Pats-Chargers game:
BenJarvus Green-Ellis showed some nice hands on a bullet by Brady and held onto the ball despite getting quickly drilled by a defender. Green-Ellis appeared to have more of a burst than last year and had an impressive16-yard touchdown run in the fourth quarter.
The Chargers attempted the pop-up kickoff in an attempt to pin the Patriots deep in their own territory, but the ball only traveled to the 15-yard line. As kickers perfect this kick, we could see a lot of teams starting drives close to their own end zone.
Brady just threw the ball up to tight end Aaron Hernandez for the first touchdown of the game, taking advantage of the mismatch in size between Hernandez and Chargers safety Bob Sanders. Brady's approach with Rob Gronkowski and Hernandez is reminiscent at times of his connection with Randy Moss, which often involved Brady just putting the ball out there for Moss to track down.
One thing was apparent after Chad Ochocinco's pair of receptions in the game: the New England crowd is rooting for him. Ochocinco got loud ovations after both catches.
The Patriots' no-huddle offense was effective at slowing down the Chargers pass rush and keeping the defense off-balance. Several Chargers defenders started laying down on the field with injuries as the Pats continued to move the ball with the hurry-up offense. Brady did not appear to believe the injuries and hovered over the Chargers defenders as they lay on the turf.
Devin McCourty took on the Chargers' fullback, collapsing the block and allowing linebacker Jerod Mayo to slide into the hole and make the stop on Mike Tolbert. This may have been the best play of the day for McCourty, who was continually beaten by wide receiver Vincent Jackson, who had 10 receptions for 172 yards and two touchdowns.
The Patriots had a 99-yard drive for a touchdown for the second week in a row. This drive only took five minutes and 25 seconds.
The loss of Malcom Floyd to injury was a big one for the Chargers. He had made several big catches before leaving the game with a groin injury in the second quarter.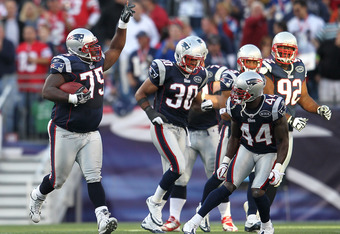 Jim Rogash/Getty Images
Vince Wilfork's interception was hilarious and beautiful. Wilfork looked about as athletic as a man that size could as he tipped Rivers's pass into the air and caught the ball on the run. McCourty's block in the back on the return was blatant and appeared to be an attempt to save Wilfork from getting stripped from behind by Tolbert. A sideline shot showed McCourty explaining the play to Wilfork and he appeared to be saying something to that effect.
The Wilfork interception evoked memories of offensive lineman Dan Connolly's kickoff return last year versus the Packers. There is something amazing about watching big, fat guys run for their lives with a football.
How Tom Brady escaped injury on that play in the first half where a Chargers defender leapt at his knee and twisted his leg at an awkward angle, we will never know. Patriots punter Zoltan Mesko injured his knee a short time later on a similar incident, which was likely a factor in Bill Belichick's decision to go for it on 4th-and-4 from midfield in the fourth quarter.
Rob Gronkowski is uncoverable. Brady has never had such a wide range of receiving talent at one time, and has never looked so sharp. There could be a number of passing records that fall this year.
For further insight and NFL podcasts check out DrunkenSportsmen.com.