Penguins Training Camp: Intensity Grows, Neal, Dupuis Impress
September 18, 2011
Bruce Bennett/Getty Images
Defense was the theme of the second day of Penguins training camp. The team once again opened the doors of CONSOL Energy Center to fans, who crowded the lower bowl of the arena for a second straight day.
The roster of more than 50 was broken into three squads once again, with a mid-day scrimmage headlined by the Sullivan-Malkin-Kennedy line taking on a group including Pascal Dupuis, Matt Cooke, Arron Asham and Craig Adams.
Here are day two's groups:
Group A: "Team Crosby"
Forwards - Sidney Crosby, James Neal, Jordan Staal, Chris Kunitz, Dustin Jeffrey, Nick Johnson, Steve MacIntyre, Keven Veilleux, Joe Vitale, Ben Street, Tom Kuhnhackl
Defense - Kris Letang, Brooks Orpik, Joe Morrow, Brian Strait, Philip Samuelsson, Carl Sneep
Goaltenders - Marc-Andre Fleury, Scott Munroe
Group B: "Team Malkin"
Forwards - Evgeni Malkin, Steve Sullivan, Tyler Kennedy, Richard Park, Jason Williams, Eric Tangradi, Paul Thompson, Brian Gibbons, Geoff Walker, Dominik Uher
Defense - Zbynek Michalek, Paul Martin, Simon Despres, Joey Mormina, Alex Grant
Goaltenders - Brent Johnson, Patrick Killeen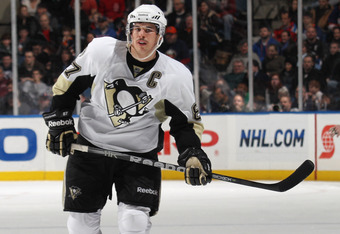 Bruce Bennett/Getty Images
Group C: "Team Dupuis"
Forwards - Pascal Dupuis, Mark Letestu, Ryan Craig, Matt Cooke, Craig Adams, Colin McDonald, Arron Asham, Zach Sill, Bryan Lerg, Brandon DeFazio
Defense - Ben Lovejoy, Deryk Engelland, Matt Niskanen, Alexandre Picard, Scott Harrington
Goaltenders - Brad Thiessen, Scott Munroe

As mentioned, defense was the theme in Sunday's session. Saturday's scrimmage ended with a 5-1 blowout on behalf of Kennedy, Malkin and Sullivan.
In Sunday's scrimmage, only two goals were scored—one in the final minute of the session—and a shootout was needed to decide a winner. Both groups were much more stout defensively, as the Malkin line was the only group to consistently create pressure off the rush.
The hitting also picked up in all drills. Engelland and Dupuis laid the heaviest hits of the day, and nearly every hit was an instance of a veteran or NHL'er laying wood to one of the camp's youngsters.
Skating continued to be another theme. Sticks could be found resting on knees all over the ice, as Dan Bylsma and his staff ran the players ragged.
Bylsma's brand of hockey is predicated on skating. Like Saturday, Sunday's session was designed to help discover who could hang with the system and eventually weed out those who can't.
Scrimmage: Team Malkin vs. Team Dupuis
The scrimmage between Groups B and C offered another look at Malkin's presumed top line, as well as potential third and fourth line combinations offered by Cooke, Adams, Dupuis, Asham and Letestu.
For the second time in as many days, Malkin's unit was the best on the ice. Steve Sullivan looked more comfortable with his linemates, replacing Kennedy as Malkin's favorite target during rushes. On several instances, Malkin and Sullivan came close to connecting on pretty passing plays.
The top line was the only group to create offensive zone pressure with each shift. Eric Tangradi, Richard Park and Jason Williams played on a line once again, also.
On the other side, Pascal Dupuis had a standout session. He assisted on Zach Sill's opening marker, which came off Zbynek Michalek's terrible turnover behind the net, and put the shootout winner past Patrick Killeen.
Brandon DeFazio pressured Michalek into coughing up the puck, fed it to Dupuis in the slot, and Sill buried the rebound. Shades of Tampa Bay.
The scrimmage also pitted young defensemen Simon Despres and Joe Morrow of Team Malkin against Scott Harrington of Team Dupuis.
Despres and Morrow, both former first-round picks, had decent sessions Sunday. Morrow continued his composed style of play in the defensive zone, while Despres laid a number of good hits and played strong below the goal line.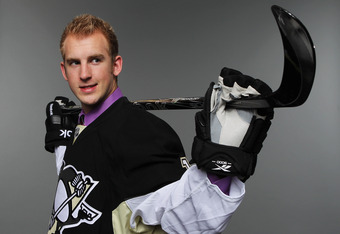 Nick Laham/Getty Images
Harrington made an excellent play during a 2-on-1 break, in which he slid to break up a cross-crease pass and kill a scoring chance. He also displayed an offensive side, getting deep into the offensive zone on one occasion.
None of the three will make this team out of camp, but each is brimming with potential. One can begin to see what Shero saw when he took Morrow and Harrington with his first two picks in the 2011 draft.
Eric Tangradi had another rough day of drills, but atoned for it by scoring the extra-attacker goal in the final minute of the scrimmage on a feed from Jason Williams.
Malkin assisted on the goal.
Overall, the defensive play was much improved from Saturday's scrimmage. The open men in the slot who victimized Fleury on Saturday were hemmed up Sunday, and only a few genuine scoring chances were had.
Crosby practicing hard
Crosby took the ice in the late session, running drills alongside Chris Kunitz, James Neal, Jordan Staal and Dustin Jeffrey.
For the second straight day, Crosby appeared to be moving at full speed. He outskated all those around him, moved hard to the boards and never eased up through his hour-and-a-half on the ice.
After the session, Crosby reported no recurrence of symptoms, per the official team site.
As noted by Seth Rorabaugh of Empty Netters, Crosby did not take contact, but moved into all of the high-traffic areas of the ice without hesitation. It was an area of the game he made a point of working on.
"I had a lot of trouble with (playing in high-traffic areas) early on," Crosby said. "It's nice to be out there with bodies moving around and moving around faster than they had before and being able to handle that. It was good to go through that today."
Steve Sullivan Settling In
Sullivan looked much more comfortable in his second day of practice, going stride-for-stride with the fleet-footed Malkin and contributing to the few scoring chances that were had on the day.
Saturday, Sullivan mentioned that he was only trying to chip in on the work of Malkin and Kennedy, who have played together for four seasons.
"I think you can see them on the ice that they read each other very well," Sullivan said of Malkin and Kennedy after Saturday's session. "...I just tried to stay out of the way and made sure I let them do their things."
He appeared to be settling in Sunday, which found him in the thick of a number of good offensive zone possessions.
The James Neal Snipeshow
Neal looked excellent during the final drill session, though he did not partake in the scrimmage. He converted on better than half of his shots on goal, picking his spots at will and blowing them past goaltenders Marc-Andre Fleury and Scott Munroe.
Lost in his inability to score goals last season was Neal's physicality. Listed at 6'2", Neal is one of the bigger players on the team, and he skates and hits with purpose.
Watching him fly around on open ice was a reminder of the physicality he brings.
As with Saturday's practice, Neal was teamed with Jordan Staal and Chris Kunitz during line rushes. His highlight goal came during a 3-on-2 offensive zone drill, where he got Fleury to bite low and popped the water bottle with a violent wrist shot.
Various Day 2 Notes
-Despres, Morrow and Harrington are impressive young defensemen, each bringing something slightly different to the table. Despres has the makeup of a number one defenseman. Morrow is solid and plays with a style reminiscent of Brooks Orpik, while Harrington brings offensive flash similar to Kris Letang. In a few years, these three will headline Pittsburgh defensive corps.
-There are a number of players who won't make the roster out of camp, but to no fault of their own. This may be the deepest Penguins team in the Crosby era, in terms of having options on defense, in net and with their forwards.
-Richard Park is chief among those players who may not make the cut despite his merits. Park has wheels, and did not look like an AHL player during Sunday's drills.
-Brooks Orpik took part in the Group A drills. He looked fairly comfortable in his recovery from offseason hernia surgery, and should be a close decision to make the season opener in Vancouver.
-In keeping the Staal and Malkin lines consistent, it doesn't appear the coaching staff is anticipating Crosby will be on the opening day roster. Until he receives clearance from his doctors to endure contact, they'll have no reason to assume he'll play.
Catch up with a recap of Saturday's opening practice here. Follow James' work at Slew Footers, or follow him on Tweeter @slewfooters.