NBA Rumors: Monta Ellis Better Than Dwight Howard for Kobe Bryant and LA Lakers
September 22, 2011
Jed Jacobsohn/Getty Images
Kobe Bryant and the Los Angeles Lakers are clearly in need of at least one substantial addition to their rotation in order to maintain or regain championship contender status, and Dwight Howard may not necessarily be the answer.
Howard has been the apple of Los Angeles' eye for quite some time, having been considered a target of the Lakers for months now, yet is that really a route the Lakers take to exploring at this point?
Compared to Andrew Bynum, Howard is a clear upgrade, but in order to obtain him, Los Angeles will have to relinquish at the very least both Bynum and Lamar Odom. Most view this as an acceptable price tag for Howard and his 22.9 points, 14.1 rebounds and 2.4 blocks per game; however, while the Orlando Magic center is a clear upgrade over Bynum, the Lakers would be left with a strong need for a solid role player.
Odom may be 31 years old, but he averaged 14.4 points and 8.7 rebounds per game last season, continuing to be an asset on both ends of the floor. That being said, it has become common knowledge that the acquisition of another superstar is going to require that Odom become collateral damage. Lakers fans may struggle to accept it, but it is a reality.
This being the case, though, why should Los Angeles give up Bynum too? He is a capable big man who can both defend and score, and while his development has progressed slower than anticipated, he is still growing. It would be better if the Lakers could somehow substantially upgrade their roster in a way that doesn't still leave them with a visible hole.
Enter Monta Ellis.
Back in June, the San Francisco Chronicle reported that the Golden State Warriors had Ellis-related trade discussions with the Lakers. Many have deemed this a bad move, citing both players' need for the ball as the reason that a backcourt of Ellis and Bryant wouldn't work.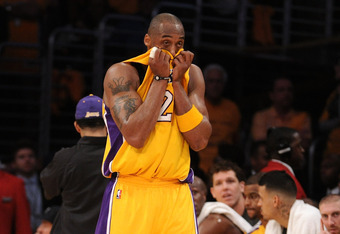 Harry How/Getty Images
I say otherwise.
Ellis is extremely versatile and equipped enough to handle the point guard duties. He averaged 5.6 assists to go along with his 24.1 points per game last season, no small feat. Ellis, admittedly, does tend to handle the ball too much, but this would be a non-issue with the Lakers.
In Golden State, Ellis constantly keeps the ball in hand because there is no clear leader who commands otherwise. Stephen Curry seems ready to assume that role, but we cannot be entirely sure of that until next season. And do we really believe Ellis is going to butt heads with one of the greatest of all time?
He may be ignorant, but no one is that ignorant.
Additionally, in Ellis, the Lakers would have not only a star in place, but one in place who could assume Bryant's role once he is ready to retire. Bryant is incredible in ways Ellis never will be, but Ellis' quickness and scoring abilities make him a solid successor.
Let's also not forget that in the proposed trade, both Pau Gasol and Bynum are off-limits, more likely than not meaning Odom alone would be the centerpiece to any deal, and his departure seems inevitable anyway.
Ellis is not a dominant seven-footer, but he's an offensive powerhouse who ensures the Lakers are not sacrificing any facets of their game in favor of another. While Bynum will never hold a presence on the court quite like Howard, his skills do rival him defensively, and with Ellis on board that's all the Lakers would need.
Bryant is not going to be around forever, so Los Angeles needs to start thinking about the future. The truth is that trading for Howard provides it with a superstar for the future, while obtaining Ellis yields the possibility of two stars for the future, in addition to Bryant right now.
You do the math.