Washington Redskins and Baltimore Ravens Fans Battle for Maryland Supremacy
September 16, 2011
Rob Carr/Getty Images
This issue has been irritating me for several years now. Maryland, the old line state, has been a state in love with football since the dawn of the game. Now more than ever, there is a new line being drawn in the soil and the Chesapeake Bay throughout the free state.
The battle for supremacy in Maryland among its football fans is reaching a fever pitch. While the players may not care about a rivalry between the Ravens and Redskins, the fans surely seem to hold strong opinions on it, including myself. You would not believe the excitement over a lucky Tyrod Taylor led comeback in the preseason, I thought my news feed was going to explode.
Johnny Unitas, Sammy Baugh, Sunny Jurgensen, Raymond Berry, John Mackey, John Riggins, Don Shula, Joe Gibbs, Art Monk, Ray Lewis, Darrell Green, Ed Reed and Sean Taylor are all historical and somewhat mythical football figures in the state of Maryland.
Back in the good old days, if you were from Baltimore, you loved the Colts and Orioles. If you were from Washington D.C., you loved the Redskins and Senators. After years of both cities having teams in each sport, the Senators and Colts moved on from the great cities. The Senators went to Texas and the Colts snuck away to Indianapolis in the middle of the night.
Now we have a problem. D.C fans are rooting for the O's and some in Baltimore (while they will never admit) probably watched the Redskins with a rooting interest. With fans natural ability to jump on and off bandwagons, they were cheering for the Redskins.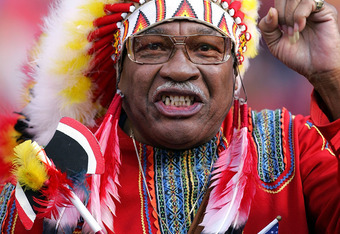 Jamie Squire/Getty Images
Fast forward to 1991, I am five years old. The Orioles are getting ready to open Camden Yards, and the Redskins are winning Super Bowl XXVI, their third title in the last nine seasons (1982-1991). The Ravens do not exist! Cal Ripken Jr. and Darrell Green are my childhood heroes. Believe it or not, I grew up and still live right in the middle of the two cities, in Columbia, Maryland. I can get to either stadium, Camden Yards or FedEx Field, within 25 minutes. They are my teams, and will forever remain that way.
Here is my biggest problem! How do you cheer for the Washington Redskins as a child, and then all of a sudden adopt the purple of the Ravens in 2000? That would be the year the Ravens/Browns won their first and only Super Bowl, thrashing the Giants 34-7. I was happy at the time that the Giants (an NFC East foe) lost the game. Now, not so much.
Maybe I am way too addicted to sports, and my loyalty runs too deep. Or maybe I am just loyal enough to see the fragile underbelly of the Ravens fan base. The Orioles have stunk since 1998 and I still wear my Orioles hat proudly around both towns. When the ravens went 5-11 in 2007, the Ravens fans at Salisbury University were admittedly hiding and disappointed. "I took the Ravens sticker off my car," and "my Ravens Xbox cover has been thrown away." Come on guys and gals, it was one bad season! The purple disappeared on the eastern shore for a short time. It just so happened at a time the Redskins actually made the playoffs for only the second time since 1999.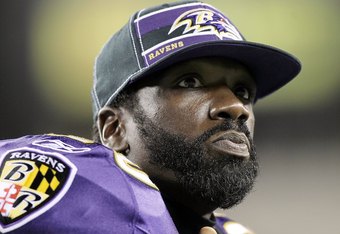 Jim McIsaac/Getty Images
Because of that season, I cannot stand Ravens fans. Sure, many of them are my close friends and I party in Federal Hill, Canton and Fells Point all the time. I love the city of Baltimore, crabcakes (one word), natty bohs, The Wire and yelling "red tops" any chance I get.  I really don't care for going out to D.C. that much. People in Baltimore are laid back and unique, you never know what you're going to get or see.
Many of them bailed after a bad year only to reappear the next season like it never happened. The Ravens modeled their franchise after their arch rival, the Pittsburgh Steelers. Great defense, great running game, intimidation and excellent player personnel decisions have made the Ravens a perennial playoff contender.
Now in 2011, their fan base has never been stronger. Fathers send their sons to school in purple clothing on Fridays and the tailgate in Baltimore is pretty awesome.
While Redskins fans have suffered through 20 years of futility, horrid ownership, pathetic drafting and in season management and still Redskins nation lives. From South Carolina to Maryland, the Redskins are beloved by many. They have sold out games for 30-plus years and had to endure Norv Turner, Jim Zorn and Steve Spurrier.
Despite the recruiting efforts of young women all over Maryland and John Harbaugh to cheer for the Ravens, they will not conquer this great state.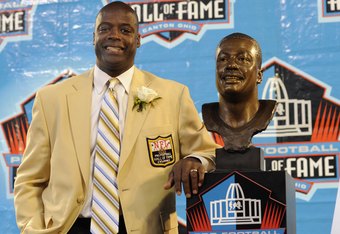 Al Messerschmidt/Getty Images
I was recently told to just accept that the Ravens are better and that I should cheer for them. This person obviously does not know the love that real Redskins fans have for the Burgundy and Gold. It has been passed on from generation to generation. It involves the murder of the aforementioned Sean Taylor. It involves the time that Cowboys stars crossed the picket line, only to lose to Joe Gibbs and a bunch of replacement players. Loyalty.
As we all know, the world is a vicious cycle and almost everything is cyclical. In the future, there will be a time when the Ravens are not a perennial playoff team. That will be the time, which Ravens fans will be tested. It could not be easier to cheer for the Ravens. They have drafted, probably five Hall of Famers in only 15 years. Pretty darn good Ozzie.
But, when that day comes, I hope that all you traitors stay in your purple Friday gear. When they finish 4-12 after losing to the Bengals, we will all see what Ravens fans are made of. It is going to happen.
Being a Redskins and Orioles fan prepares you for life. Cheering for the flavor of the month will only get you to the next lap dance.
For anyone under 20 in the D.C./Baltimore region, they can't understand how I feel. Go ahead, cheer for the Ravens all you want. But for those born between 1980 and 1990, you have yet to convince me.