NHL Commentary: Is the Winnipeg Jets Franchise Jinxed?
September 15, 2011
Glenn Cratty/Getty Images
The Winnipeg Jets could very well be jinxed.
The team (formerly the Atlanta Thrashers) had very few things go their way while in Georgia and that trend could be following them to the great north.
The NHL is about to start their training camps for the new season and several questions still haunt the newly transplanted Winnipeg Jets franchise.
The team lost new acquisition Rick Rypien who committed suicide shortly after signing a new one-year contract worth $ 700,000.
Rick Rypien was just 27 years old and was projected to be a tough agitating type of player every team needs on its roster.
Winnipeg also received the unpleasant news that All-Star defenseman Dustin Byfuglien may be facing criminal charges from an encounter with police during a boating excursion with friends near his home in Minnesota.
ESPN.com reported that Big Buf passed a breathalyzer test but refused to provide a urine sample prompting the police to arrest him and bring him up on charges which could result in a maximum sentence of one year in jail.
In addition there have been numerous reports that Byfuglien will report to training camp drastically overweight after just signing the largest contract of his career.
Buf could also have further complications if convicted, moving back and forth across the border from Winnipeg to US destinations.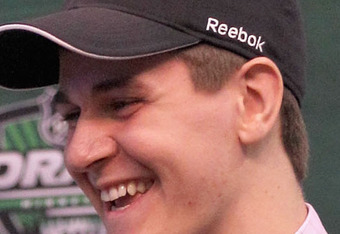 Bruce Bennett/Getty Images
To make matters worse, restricted free-agent defenseman Zach Bogosian begins the season under pressure after briefly holding out before finally signing a two-year contract worth $5 million.
Bogosian must demonstrate the potential that made him a high first-round draft selection or face wearing the title of "draft bust."
Bogosian has had back to back lackluster performances in his sophomore and third year in the league but was holding out for a better offer from the Jets.
Bogosian, many will remember, was drafted right after All-Star defenseman Drew Doughty in the 2008 NHL Entry Draft.
In junior hockey Doughty and Bogosian were considered talented top prospects and there was even some early speculation prior to the actual draft which defenseman would be selected first.
Doughty also has raised some eyebrows turning down lucrative offers by the LA Kings and sparking rumors that he may be signed and traded to another NHL team.
The question marks surrounding two of the Jets' defenseman can only give the Winnipeg franchise "hockey heartburn."
The teams' total on-ice product is almost the same as it was in Atlanta last year. Several columnists blasted the job Rick Dudley and Craig Ramsay did with the team, but Winnipeg has made no home improvement moves themselves.
The addition of Eric Fehr, Kyle Wellwood and Tanner Glass probably will not move the team up a few notches in the playoff hunt.
The Jets need the same thing the Thrashers needed: a quality center.
There was also some speculation that the Jets should have gone for a forward in the draft to improve the number of players who can put the puck in the net.
While Mark Scheife is acknowledged to be a solid prospect he was rated lower than Forward Sean Couturier of Drummondville and Dougie Hamilton, a highly regarded defenseman out of Niagara Falls. 
The team also faces potential stamina problems since they will remain in the Southeast division and therefore will have to travel more air miles than any other NHL team.
Still the team has several solid players who will only improve. Ondrej Pavelec, Bryan Little, Toby Enstrom, Evander Kane, Zach Bogosian and  Byfluglien are all capable of having career seasons. If for some reason several of the named players up their play, the Jets' luck could change dramatically.
Yes training camp will be interesting for the Thrashers…I mean the Jets.
The looming question is will all of the season ticket holders want to re-up after they watch Winnipeg miss the playoffs in their inaugural season?