Luke McCown: What to Expect from Jaguars Quarterback vs. New York Jets
September 14, 2011
Streeter Lecka/Getty Images
It's no mystery that the Jacksonville Jaguars' success on Sunday versus the New York Jets will largely depend on the performance of Luke McCown.
The only mystery is how well he will perform.
McCown has never faced a Rex Ryan defense, neither while Ryan has been head coach of the Jets (since 2009) or in his time as defensive coordinator of the Baltimore Ravens (2005-2008).
There is one matchup in McCown's past, however, to which Jaguars' fans can look for reference
In 2004, McCown, then a rookie with the Cleveland Browns, started a week 13 matchup against the eventual Super Bowl champion New England Patriots. The Patriots, also a 3-4 defense, were similar schematically to the aggressive scheme likely to be employed by Ryan on Sunday. Both defenses also mix and match personnel to confuse offensive blocking schemes and to create favorable match-ups in blitzing situations.
While the Patriots dominated an inferior Browns team 42-15, McCown was the Browns' only bright spot. Despite a rushing attack that gained only 46 yards and a defense that allowed 412 total yards to the Patriots, McCown threw for 277 yards, hitting on 20 of 34 attempts. This included two touchdowns and two interceptions.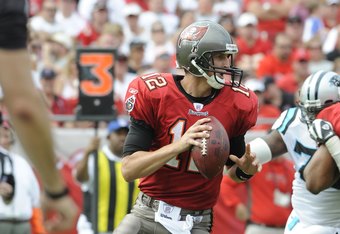 Al Messerschmidt/Getty Images
McCown actually has a history of playing well, despite primarily losing efforts, in his limited opportunities to start NFL games. Since 2007, McCown is 123 of 186, for 1,306 yards, 5 touchdowns and 3 interceptions.
His best two games both came in 2007 as a member of the Tampa Bay Buccaneers, the eventual NFC South champion. Taking over in week 13 for the injured Jeff Garcia, McCown threw a late touchdown pass to Jerramy Stevens to guide the Bucs over the Saints, 27-23. McCown was clutch throughout the game, going 29 of 37 for 313 yards, with two touchdowns and only one interception.
Despite Tampa Bay losing the next three games that season, McCown played well. In fact, he closed the regular season in a loss versus the Carolina Panthers by going 21 of 28 for 236 yards, with two touchdowns and one interception.
In short, Luke McCown is capable of playing well, even in important games. In nearly all of the games McCown has lost as a starter, the blame could be easily placed elsewhere. He was often victimized by a poor complimentary rushing attack, poor defense, or both.
The Jaguars can expect McCown to play well, because he has a history of doing so despite the competition. However, he isn't the type of quarterback you can expect to dominate the Jets defense Sunday. McCown must be complemented by a solid rushing attack and a defense that gets off the field on third down. 
Most importantly, he needs an unsung group of receivers to make a few plays in the passing game. Otherwise, look for Rex Ryan's defense to crowd the line of scrimmage and bottle up Maurice Jones-Drew.
While McCown's play may be workmanlike, look for it to be efficient enough to give the Jaguars a reasonable chance to compete in New York.