Rafael Nadal vs. Novak Djokovic: Mental Fortitude Carries Djokovic to Open Title
September 13, 2011
Clive Brunskill/Getty Images
By all accounts, Rafael Nadal is one of the premier shot makers in the history of tennis. He often isn't the most graceful player on the court, but his ability to squeeze shots in from impossible angles is uncanny.
That ability has put him into the conversation when discussing the greatest players of all time.
What is it, then, that makes those abilities vanish when Nadal plays Djokovic?
Nadal defeated Djokovic in last year's US Open final, but since then, Djokovic has been a monkey on his back. That continued Monday in the 2011 US Open final as Djokovic handily beat Nadal 6-2, 6-4, 6-7, 6-1.
During Djokovic's incredible 2011 season, he beat Nadal six different times in tournament finals.
Granted, part of that is the fact that Djokovic has been playing better this season than arguably any player ever, but you can't argue that Nadal seems flustered and unsure of himself when he plays him.
Take Monday's US Open final for example.
Nadal got up 2-0 quickly in the first set, but then promptly dropped the next six games to drop the set. Nadal then lost the second set after being up 2-0 once again.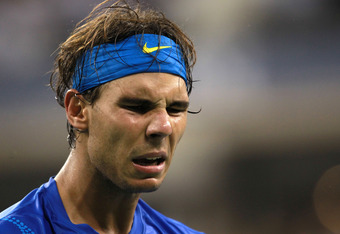 Nick Laham/Getty Images
Nadal was missing shots he normally makes and maybe worst of all, he was losing points on extended rallies, which is normally a strong suit of his.
Beyond the on-court struggles, Nadal just seemed unfocused and bothered at certain times. At different points of the match, Nadal seemed more focused on the wind, the crowd noise or the reflection on the doors of the suites in the stadium than he was on his tennis.
Those may all be legitimate gripes, but if he was playing confident tennis, I doubt that those would have been issues for him.
Nadal is still in the game. He is clearly still more than capable of winning a Grand Slam event and he is the consensus second-best player in the world. If he is going to get back his No. 1 ranking or win multiple Grand Slams in a single year again, however, he will have to find a way to beat Novak Djokovic.