PGA Tour: The Right Caddy Can Make a Difference
September 12, 2011
Andy Lyons/Getty Images
There has been a lot of Caddy drama this year on the PGA Tour. World's #1 Luke Donald fired his caddy/brother Christian after eight years on his bag. Freddie Couples, playing a reduced schedule on the Champions Tour, advised longtime caddy Joey LaCava to find a young stud and make some real money. Joey wound up with Dustin Johnson. Then there is the whole Tiger Woods/Adam Scott/Steve Williams love/hate triangle thing. It all sounds like it could be a drama series on a cable network.
The player has to hit the ball right? What is so important about the guy toting the luggage?
The cardinal rule for all caddies is: show up, shut up and keep up. The right caddy, however, can be the best or worst decision a pro golfer will ever make. Caddies must know how their player reacts in every situation. A good caddy knows what to say and when to say it and, most importantly, when not to say anything. He can help his pro rebound after an awkward shot or keep him calm and focused after a good run of birdies. Part valet, nursemaid, psychiatrist, friend, confessor, mother, father and brother, a caddy is an unusual mix of personalities who all the while stays in his player's shadow, a modern day Poncho to Don Quixote. Unless you are Steve Williams, and then you can be the reason your guy won all those tournaments for over 13 years.
Stephanie Wei (www.weiunderpar.com) wrote a particularly interesting article about an exchange that she witnessed between Dustin Johnson and his caddy Joey LaCava at the Barclay's FedEx Cup Playoff event last week.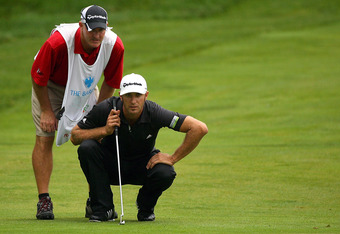 Hunter Martin/Getty Images

During Friday's second round of the rain shortened 54-hole event, Dustin Johnson pulled his 3-iron approach shot into the narrow hazard that encircles the green on the par-5 12th hole.
He walked into the hazard with a wedge and took some practice swings. Johnson stared down at his ball with a hesitant but eager look in his eyes, taking his time to contemplate whether or not he should hit it.
It was obvious he wanted to go for the risky shot instead of taking a penalty stroke and a drop. He didn't have a terrible lie, his ball was propped up in the grass; problem was he didn't have a back swing. He would have had to swing straight-up and straight-down, which probably wouldn't have turned out well. Checking other options, he looked to the left of the pin where he would have a little more room to take the club back.
"It's easier if I hit it left," Johnson said, looking up at his caddie Joe LaCava, who just started working with him earlier this year at The Players after looping for Fred Couples for over twenty years.
LaCava was standing above the hazard near the green and the line where DJ's ball had crossed into the hazard.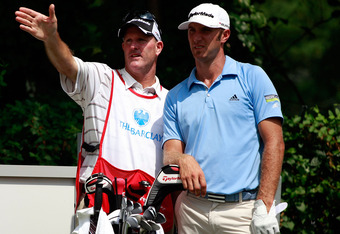 Scott Halleran/Getty Images
"You can make the same score from here," said LaCava, who is roughly 20 years older than his boss. "You're not going to get it close if you go left."
Johnson stared down at the ball again, but this time he was considering what his caddy had said.
"Do you want to see where you would be if you drop it?" said LaCava, as Johnson still stared at his ball in the hazard.
Finally, Dustin said, "OK, I'm just going to drop it."
This exchange gives us tremendous insight into what can make or break a player/caddy relationship. LaCava has the knowledge and probably the cooler head. Dustin, being young and aggressive, wanted to make the ultimate up and down, while at the same time bringing double- or even triple-bogey into the equation. The tournament is not won on Friday, but it can be lost. Take your medicine, make the drop, take your bogey and move on. LaCava didn't tell Dustin what to do, he simply asked if he wanted to explore the drop option and offered an opinion to his player on the possible outcome of his actions. Dustin eventually came to the decision on his own with a little help from a wise veteran.
If DJ would have had Joey on his bag in 2010 at Pebble Beach in the US Open or at the PGA in Whistling Straits, Johnson may have two major championship trophies sitting on his mantle instead of two major headaches.
On Saturday, Dustin went on to shoot 19 under par and win the first leg of the Playoffs, edging out Matt Kuchar by two shots and taking over the lead in the FedEx Cup points race.
Player Johnson and caddy LaCava did quite well. LaCava knows it's a marathon, not a sprint. All in all, this could be the beginning of a beautiful friendship.
Access more at WeiUnderPar.com: http://www.weiunderpar.com/post/an-interesting-interaction-between-dustin-johnson-and-caddie-joe-lacava#ixzz1WcoLqXti