Nebraska Huskers Football: Victory Despite Lackluster Play on Defense
September 11, 2011
Eric Francis/Getty Images
The Cornhusker's stunk it up against Fresno State and trailed 17-14 at the half.  However the emergence of the Nebraska passing game saved the day as the Huskers beat the Bulldogs 42-29.
While the offense accumulated 438 yards, the supposedly vaunted defense of Nebraska gave up 444 total yards. To give you perspective, Nebraska only gave up that much yardage to two of the top offenses last year, Oklahoma and Oklahoma State.
While Fresno State is known for their mentality of "anyone, anytime and anywhere," they have not been giant killers for quite some time.
Fresno State is a good team, but for a team that is supposed to contend for the Big Ten title, Nebraska should not have been trailing at halftime.
Offense
Nebraska's offense did not exactly set the world on fire during the first half, but they did manage to make some key adjustments to win the game.  Such as:
Not running on every down except 3rd
Taking Brandon Kinnie out of the game
Get the tight end involved
Getting the freshmen the ball
The third down passing was obvious when you run the ball on first and second and still need yards.
Kinnie had at least four drops and basically was not effective the entire game.
Tight ends Reed and Cotton had 61 and 20 yards respectively
Turner had 63 yards receiving
Bell had 43 yards receiving
Enunwa had 16 yards receiving and a touchdown
Ameer Abdullah had a 100 yard Kickoff return TD
And the two biggest playmakers were great
Taylor Martinez had 219 yards passing with one TD and two INTs with 166 yards rushing and two TDs.
Burkhead added 55 yards with two TDs.
Offense did great in the second half with adjustments, the defense not so much. 
Defense
I do not know what Pelini, both Bo and Carl, see in Justin Blatchford.  Every time that Fresno State needed yards they would pit their receiver against Blatchford and there you go. Lather, rinse and repeat.  The guy is terrible and if Nebraska wants to keep using the dime package they need a much better player at that spot.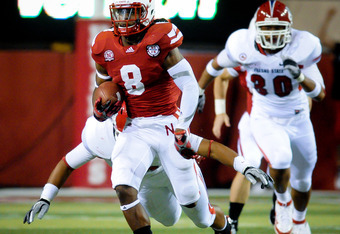 Eric Francis/Getty Images
The defense got almost zero pressure on Fresno State's QB Carr.  They had no interceptions and no sacks.  The punt coverage team also gave up a punt return that gave Fresno State all of the momentum in the first half.  They did nothing well.  They gave up 169 yards rushing to one running back, and gave up 254 yards passing.
The big playmakers for Nebraska basically made no noise.  Crick, Meredith and David did not make any big plays.
If Nebraska plays that kind of defense in the Big Ten conference play, its going to be a rough ride.
Special Teams
Gave up a punt return for a touchdown, not good.  Ameer Abdullah managed to get a 100 yard kickoff return for a touchdown, giving Nebraska a credible return threat.  Abdullah had 211 total yards on kickoff, just an awesome player.
Overall
Nebraska played bad, plain and simple, and we need to fix some major holes.
The defense needs to lock down the secondary; maybe it gets better when Dennard comes back, however I still think Blatchford needs to be benched.  Washington will destroy the secondary unless they fix that.  They also need to get pressure up front.
On offense, its obvious that Nebraska needs to play their talented freshmen in the skill positions.  Kinnie and Marlowe were basically non-existent during the game and they are supposed to lead the receiving corps.  Both Kinnie and Marlowe should be benched in favor of Bell and Turner.
I still think Nebraska can have a great year, but this game showed we really need to step up.