Notre Dame Football: Why Michael Floyd Will Be a Pro Bowl WR in the NFL
September 11, 2011
Jonathan Daniel/Getty Images
I have never been a Notre Dame Fighting Irish fan, nor am I very familiar with their football program. But as I stood in my kitchen Saturday night cleaning the counters and sweeping the floor, I found myself particularly enamored with the stellar performance of one of their players. It was such a performance that I had no choice but to do my research, only further solidifying my initial prediction of the rest of his career. 
Michael Floyd will be a Pro Bowl-caliber wide receiver in the NFL.
I might sound crazy predicting such a prolific career after seeing only one game, but the way he goes about getting open and catching passes is prototypical for the standard top tier NFL WR.
In the first half of Notre Dame's Week 2 game against the Michigan Wolverines, Floyd simply dismantled the defense. With seven first-half catches for 112 yards, the defense had no answer for the star-studded senior receiver. Whether it was man or zone coverage, Floyd found ways to beat the defense to the ball. And his annihilation of the Wolverine defense continued, as he finished the night with 13 receptions for 159 yards.
Even though Notre Dame took a loss in the end, Michael Floyd had yet another stellar performance.
What stands out most to me about Michael Floyd is how he picks apart the D without lightning-quick speed. Though he shed some pounds from seasons prior, Floyd is not by any means a speedy receiver. As a result, he uses his 6'3", 224-pound frame to bully corner backs off of the press and make sharp cuts to open spots in the defense. And his quarterback, Tommy Reese, always knows where No. 3 is on the field.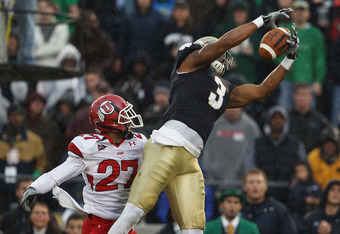 Jonathan Daniel/Getty Images
Michael Floyd has his fingerprints all over the Fighting Irish record book. In Week 1's loss to South Florida, Floyd caught 12 passes, giving him 183 career receptions, passing Jeff Samardzija for the most career receptions of an Irish player. He also caught two touchdown passes, giving him 30 and adding onto the record he already owned. But it doesn't end there.
Against the Wolverines, Floyd shattered former Irish WR and current Seattle Seahawk Golden Tate's record for most receiving yards in school history with 2,852—a number that will be exponentially greater come Conference Championship Week. And just when you though it was over, he also tied Tate's record for most 100-yard receiving games in school history at 15—a record that all of Las Vegas is betting Floyd will break before his time with Notre Dame is up. 
A player who will most likely be entering his name into the 2012 NFL draft, any team would kill to have a receiver of Michael Floyd's stature on their team. If he can continue to produce at the rate he does, which I have no doubt that he will, Floyd will become one of the best wide receivers in the NFL.