Baylor, TCU Stress out About the Dance: Realignment Rumba, Parts 3 and 4
September 10, 2011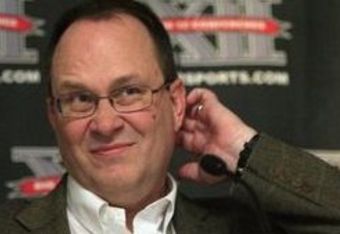 The Storm before the Calm
In the first part of these chronicles on realignment, I wrote that Texas A&M would leave the Big 12 for the SEC and set off another round of conference realignment.  As I detailed there, the stickiest part to fulfilling this prophesy was the SEC's fear of being held culpable in potential litigation. 
Evidently, last Friday afternoon, the Big 12 presidents held a conference call and unanimously agreed to let the Aggies' SECede.  So, Tuesday night, when the SEC's presidents and chancellors voted unanimously to accept Texas A&M, it seemed that my rhetorical question—"Who will be the SEC's 14th member, and speculatively, its 15th and 16th members?"—officially lost its "rhetorical accent" and began to speak to a loud and clear reality.
Major conference realignment had begun.
However, the next morning it appeared that things had changed or at least had been slowed.  The SEC had put A&M's acceptance on hold.
The reason?
According to Big 12 Commissioner Dan Beebe, there was confusion on behalf of the SEC.  Beebe now contended that the September 2 letter sent to SEC Commissioner, Mike Slive, informing him that the Big 12 and its members had agreed to waive the right for legal action against the SEC, applied only to the Big 12 Conference and not its individual member institution.  Tuesday, Beebe wrote in an email, "If you seek waivers by the individual institutions, you must receive them from those institutions directly. I regret any confusion on this issue."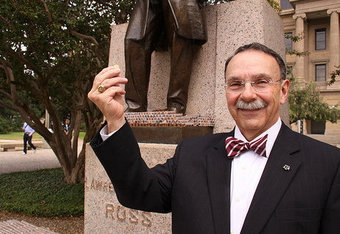 Confusion?  Hadn't the Aggies gotten the individual waivers on Friday with the unanimous vote of the Big 12 presidents and chancellors?  Didn't the presidents and chancellors of the Big 12 act in accordance with directives of their respective governing boards?  Evidently Dan Beebe thinks not...and now, neither do the five members of the Big 12.   (Oklahoma, Texas and Texas Tech have each waived their institutional rights and Oklahoma State will follow suit.)
On Wednesday, an angry Texas A&M president R. Bowen Loftin spoke to these issues.  "We asked for such a statement.  They gave it to us freely," referring to Beebe's first letter.  "It says here unanimous vote was taken and yet when we look at Beebe's letter last night it says: 'No we didn't really mean that,' and I find that to be rather difficult to digest."
So what happened between Friday and Tuesday to have the Big 12 seem to renege on its promise?  The answer in a word—Baylor.
During Friday's Big 12 conference call and evidently after the unanimous vote to release the SEC from culpability over the departure of A&M, Oklahoma president Boren said his school would explore the possibility of a new athletic conference affiliation. 
I detailed the possible effects Oklahoma's announcement will have on the Big 12 in part 2 of these chronicles.  There I speculated that the Sooners would be: joined by Oklahoma State, Texas and Texas Tech, heading west to create the Pac-16 and leaving the Big 12 in a dissolved state.  If the Big 12 were to disband, the promise that Missouri, Kansas, Kansas State and Iowa State would all land on their feet in another BCS conference is likely.  However, no such prospectus is seen for Baylor.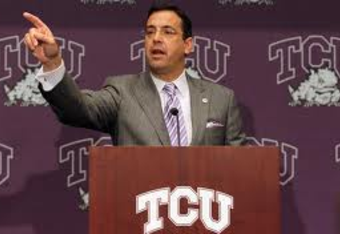 When Arkansas left the old Southwest Conference in 1992, the SWC began its long four-year decay to dissolution.  It was clear then that Texas and Texas A&M would be fine, but the other six members had dubious futures ahead. 
Fortunately for Texas Tech, they had help.  At the time, there were powerful Tech alumni in positions of influence within the state government of Texas.  They threatened the funding of the Longhorns and the Aggies should their action in changing athletic conference affiliation not be in concert with the best interests of the Red Raiders. 
Then governor of Texas, Ann Richards (a Baylor alumna), said she would back the wishes of the powerful Tech alumni provided Baylor's interests were also addressed.  So when the Big 8 expanded, it was Texas and Texas A&M, along with Texas Tech and Baylor that were added to form the Big 12 conference.
Governor Richards passed away five years ago. Current Governor Perry is an A&M alumnus.  This time around, Baylor, a privately endowed institution, finds no political leverage to threaten any public school's funding and no prospectus from a new BCS conference.
It's hard to be upset with Baylor president Ken Starr.  He is doing what is in the best interest of his school.  However, Loftin is not subscribing to that camp.
On Wednesday, Loftin's ire with Baylor came to a boil.  "Clearly for quite some time, one school has been specifically trying to bring pressure on us politically...even calling members of the board of the SEC directly and the commissioner of the SEC directly and speaking to them and leaving voice mails for them."
Surely, president Loftin is aware that President Starr will continue kicking his feet, rattling his saber and tilting at windmills until Baylor receives some sort of guarantee on its future.
The Calm before the Storm
The Baylor-Texas A&M-Big 12-SEC narrative is not one of senseless vengeance nor jealousy, but one of security.  Missouri, Kansas, Kansas State, Iowa State and Baylor all have rightful concerns about their athletic program's health, should the Big 12 follow the SWC into antiquity. Texas Christian athletic director Chris Del Conte was recently asked to give his thoughts on the Big 12 situation, conference instabilities and the general uncertainties roaming the current college landscape.
"The uneasiness is we don't know what everyone's going to do," Del Conte said. "Say there's five remaining schools in the Big 12. Where do they go?" 
TCU joins the BCS Big East Conference in July of 2012 when it becomes that conference's ninth football member. It has been reported by The New York Post that the conference has reached out to Missouri, Kansas and Kansas State about possible conference memberships should the Big 12 disappear.
"You just don't know what the cascading effects are going to be," Del Conte continued.  "Right now we know who our [Big East] members are.  We know what has happened.  We know all the moving parts.  What makes you nervous is the unknown.  What's the ripple effect of these things?"
In addition, Yahoo reported that Baylor and the Big East have had discussions about a union should the Big 12 explode.
"You want the conference to stay as a BCS conference," Del Conte asserted.  "You don't know who your members are going to be.  You don't know how the Pac-12 is going to react, the Big Ten, the ACC.  It's unstable because of the cascading effect."
For me, these comments gave rise to a lazaretto of thought...
To Del Conte's first point:  Where would the Big 12 castoffs go?  So what if they move to the Big East.  How would moving from an eight-team non-automatic qualifying conference (Mountain West), to a 12-team, automatic qualifying conference (Big East) with a football championship game,  create an "uneasy" outlook for TCU's athletic future?
To his second point:  What about the future uncertainty of Big East membership due to the realignment "ripple effects?"  It seems Del Conte here is suggesting the potential of current Big East members "cascading" to other BCS conferences.  Are these "informed concerns" or simple vicarious reflections upon others dilemmas?
Finally, Del Conte's last point:   Will  the conference stay as a BCS conference?  With TCU's inclusion for 2012, the Big East has guaranteed—based on the BCS criteria for a four-year sliding scale—its continued BCS status.  The only way this status could change is if its current membership changed.  What is the TCU AD suggesting?  That the threats of some Big East football schools jumping ship before the 2012 season are currently in motion?
In the end, it is perhaps the Big East itself that revealed their current vulnerabilities best.
Offering the homeless trio of Missouri, Kansas and Kansas State conference membership is prudent.  As well, rounding out the football schools to 12 and establishing a conference championship game is a tell-tale sign of nothing more than astute management.  But, the Baylor and/or Iowa State addendum is peculiar.
Without a dynamic component of change to the current Big East membership, the AND would mean going to 14 football schools and 22 basketball, while the OR would mean an odd number of schools (13 football and 21 basketball) for both sports.  This offer would only make sense for the conference if Del Conte's "cascading effects" means a reduced current membership, making the reloading of schools before TCU activates its membership necessary.
Or, maybe this is all just the paranoid ravings of a former cheerleader who has been tossed in the air and dropped one too many times or...maybe it's not?