Never Forget: Check out the Patriotic Opening Day Gear
September 9, 2011
This Sunday the NFL season kicks off on the 10th anniversary of the darkest day in American history, 9-11.
Ten years.
Crazy, it feels like the nation just watched the World Trade Center towers collapse last year. It's a shame how that tragic memory will be forever burned in our minds and hearts, but some players in the NFL are doing their best to make Sundays remembrance a heartwarming one.
Players like Matt Hasselbeck, Lance Briggs and multiple San Diego Chargers have received patriotic cleats and gloves from Reebok. The red, white and blue gloves will have the inscription "Never Forget" set in the palm with the date of the attacks. The cleats that the players will lace up are the same colors, with "Never" on the left heel and "Forget" on the right.
The big controversy with this brilliant commemoration is that the NFL could fine offenders for this tribute as it conflicts with the NFL's uniform policy. From a league that lets players deck themselves out in pink for Breast Cancer Awareness Month, it would be odd to see them come down on players about such a sensitive issue.
If fined, Lance Briggs stated that it would be "by far the best fine I will ever have to pay."
If fined by the league, it would cause a stir. However, if they use the fine money for the right cause, it could make sense. The NFL and NFLPA have already made plans to donate $1 million to charities and memorials for 9-11, and that number could grow if they use the fine money to go to the organizations.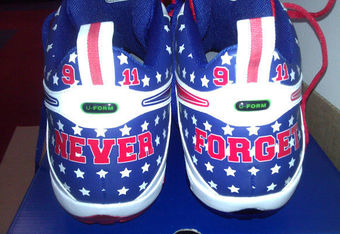 If they do decide to charge players for honoring their country, they should make it different than the form of a "fine." It just sounds too harsh. Instead, the NFL can say that the players can wear the gear if they promise to donate to charities. If this happens, the players will not just bring remembrance to the game, but also help heal the wound with their own money.
It would make sense for the players to pay to wear the gear, but only if that cash is going to families and organizations that deal with 9-11. I hope the NFL makes the right move on this wonderful tribute, or it will just be a headache that will over shadow a heartfelt moment.
Let's make this Sunday one we will never forget, just how we will never forget the days the affected our country.
Update: The New York Times reports that these players will not be fined this weekend.