Albert Pujols Watch: What His Free Agency Has to Do with the Chicago Cubs
September 9, 2011
Dilip Vishwanat/Getty Images
The hottest free agent prize in nearly 10 years hits the market following this year's World Series. As an added bonus, the man happens to be my favorite player in MLB. He wears my jersey number, how can I not love him?
Well, according to the strict rules, I'm not supposed to.
See, he plays for our hated rivals. A team that has consistently owned the Cubs at every turn. Even going back to the trade deadline back in '04 when the Cards ended up with Larry Walker and the Cubs...well, let's not talk about that. I've heard fellow Cub fans say that he'd look great in a Cub uniform.
I don't agree. At all.
I wasn't blasted in the head with a chair. I was not chased down the street by an angry Brandon Phillips or attacked by Nyjer Morgan, or karate kicked by Johnny Cueto. It's simple logic. Three reasons Pujols doesn't belong in a Cub uniform:
1: He wants way too much money.
Albert Pujols is the best player in baseball. Anyone who disagrees is kidding themselves. He's easily the No. 1 player in the world. But as you might have noticed, Tribune Corp, formerly one of the richest companies in the world, no longer owns this team. We used to whine about what would happen when we got a real owner. Well, we got our real owner. And we got exactly what we deserved.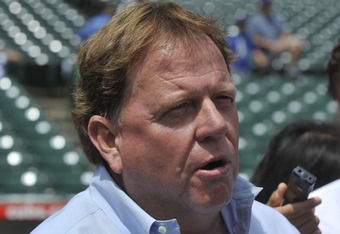 David Banks/Getty Images
Tom Ricketts, the owner of the Chicago Cubs, is a fan. When he purchased the team, we envisioned a George Steinbrenner type, one filled with bombast and willing to do whatever it took to win.
Instead, we got a Tom Yawkey type, one who decided to listen to his baseball men even when they were leading the team into the abyss known as the bottom of the NL Central. Now, with Jim Hendry finally shown the door after a lost season that none of us can pretend to be happy about, Ricketts is in a bind of Hendry's making.
Pujols wants $230 million and, I believe, a no-trade clause. There are only a handful of teams that can pay that to one player. They are the Yankees, the Red Sox, the Cubs, the Cardinals and possibly the White Sox (The Angels may sit this one out.)  Pujols is not signing with the Yankees or the Red Sox. Both teams are filled nicely at first base, which is Albert's best position, and anything else is also filled.
The Cubs giving that money to Albert would not be a good decision. Even if Al is on the back end of his prime, even if he loves killing the ball in Wrigley Field, he would be in his late 30s by the end of the deal. If that.
As we've seen, Alfonso Soriano has two or three years remaining on his deal. Soriano has not lived up to the check he cashes, to say the least. Now, with Ricketts in dire financial straits, is he really going to make such a signing? No? Thought not. Worse, he would command $23 million-a-season money that could be used to get mid-to-upper tier free agents who could help bring the team to respectability.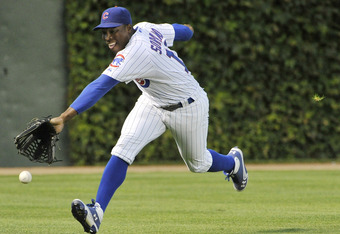 Brian Kersey/Getty Images
2: Team turmoil.
Randy Bush is the acting GM of the Cubs. Yep. That Randy Bush.
Why is he the acting GM? Because Jim Hendry had to be fired because of his ridiculous-beyond-all-proportions coddling of Carlos Zambrano, because of his reluctance to test Tyler Colvin, who needs to play to justify his draft status (drafted by Mandrake The Magician, so named because he made a winning team appear and disappear) and because he had grown stale in his job, in a way guys like Brian Cashman don't.
Of course, I have a personal vendetta against Hendry because he chose The Black Hole of Humanity, Milton Bradley, who destroyed the Cub clubhouse, over Adam Dunn, when he was still good, and Bobby Abreau, when he was aiming for Comeback Player of the Year status.
He gave bad contracts to players who had no chance of living up to them. It's easy to second-guess every GM when a deal doesn't work out. The problem is, NO ONE thought the Soriano deal was any good. I hated Bradley, and I was one of the few people who never wavered on that. 
This is a bad team giving good playing time to guys like Tony Campagna and Bryan LaHair. Now let's be honest. People are down on Aramis Ramirez, and he's one of the guys delivering this season. Really, it's quite sad. It's a team full of headcases. And the one guy who is delivering is being called a dog and worse.
Being a Cubs fan is a lot like being an actor in the Nightmare on Elm Street series: Unless you're Heather Langenkamp, it's pretty much a foregone conclusion you're going to die screaming. Watching the Cubs over the last two years has induced the blood-curdling screams I'm referring to. So, in my opinion, why on Earth would Pujols come here? To be screwed with by the defeat and constant failure of this team?
There is absolutely no reason they should be in the AP sweepstakes. None. Pujols wants to continue to win. So why come here to a team that has very little chance of winning?
This team should hire Kim Ng and let her rebuild the roster. Instead, some retread goof is going to come in and NOT fire Mike Quade, who probably shouldn't have been hired, sadly, and the Cubs will slump along, playing just well enough to not be the Pirates.
Reason 3: They don't need him.
No, this isn't going be some dumb reasoning. It's simple. Pujols is the kind of player you get to get yourself deep into the postseason.
Look at that Cub lineup. Now mentally remove Carlos Pena and insert Albert Pujols. Do you see any improvement? No. Because the team is still horrendous. And getting Albert would just make the horror watchable. As a Cub fan, I'd rather he just stayed in St.Louis. Because I guarantee it: If he signed with the Cubs, he'd go downhill faster than Charlie Sheen with money, because that's what EVERYONE who signs with the Cubs does that's any good. Let St. Louis worry about that.
Hire Kim Ng. Make a positive difference. Stop being an also-ran and aim for being worth a damn.