Roger Federer vs. Jo-Wilfried Tsonga: Repeat or Reversal of Fortunes?
September 8, 2011
Matthew Stockman/Getty Images
In Wimbledon, Jo-Wilfried Tsonga and Roger Federer produced a stunning quarterfinal ending with Tsonga coming out on top after being down 2-0 in sets. 
At that stage, he faced a more than daunting task. No one, not Rafael Nadal, not Novak Djokovic, not Marat Safin, had won against Federer in a slam after being 2-0 down in sets. In fact, Federer had won 178 Grand Slam matches after winning the first two sets.
Tsonga demolished that stat by a mixture of bold groundstrokes, impeccable volleys, massive forehands and first and foremost, an untouchable serve. In the last three sets combined, the Frenchman allowed Federer but one break point, which Federer then failed to convert.
Tsonga, on the other hand, broke Federer once every set and sealed victory. 
Two months later at Rogers Cup in Montreal, Tsonga beat the maestro one more time, just to prove he didn't get lucky at Wimbledon. This time, he won the third set convincingly 6-1 after two tight first sets. Incidentally, Tsonga beat Federer at the exact same tournament back in 2009 after trailing 5-1 in the final set. 
Now, once more, Federer has had the misfortune of running into Tsonga as early as the quarters. It's not an overstatement to say that Tsonga is the hardest opponent any of the big four is facing in the quarters, let alone the previous rounds.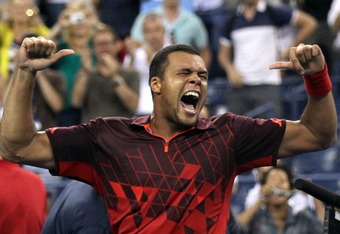 Nick Laham/Getty Images
The Frenchman is one of the few players out there who can beat absolutely anyone when he's playing well. We saw it at Wimbledon and we saw it in the Australian Open back in 2008, when he blew Nadal of court in a 6-2, 6-3, 6-2 smoking.
Federer hasn't exactly had a great year. He's won but one tournament and he's playing third wheel in the battle of tennis supremacy. However, as we saw against Juan Monaco, Federer is still capable of taking us to those tennis heights where he used to reside all the time.
The key to the match for Federer will be the return of serve. Traditionally, he's good against the big servers like Andy Roddick and Ivo Karlovic, but when the big serve is combined with some big hitting and some excellent athleticism as in Tsonga's case, the task becomes a lot harder.
Both players love pace, but Federer is able to mix it up more and throw in some tricky slices. He will need all the tricks in his arsenal plus a head start to get past Tsonga.
Tsonga, on the other hand, is starting to realize that when he's injury free, his game is actually good enough to gun for the biggest prices. That makes him all the more dangerous. He claims to be playing best, when he doesn't think, but just plays on instinct. That's another area where the two players have something in common.
While Federer might be thinking vaguely about strategy at all times during a match, he also has that zone of his, where he just attacks the ball on instinct and plays fast and effortless. We saw it against Monaco and we saw it at last year's World Tour Finals. 
Whoever finds his zone first and for the longest time should come out victorious. Federer, on his part, should avoid trading too many baseline blows with the powerful Frenchman. But both players will seek to end points quickly, coming to the net and making extravagant winners. 
Here's to a great new classic between two of the most attacking players on the men's tour.