Texas A&M and SEC Expansion: Why Is the SEC Afraid of Baylor?
September 9, 2011
Kevin C. Cox/Getty Images
The college football realignment process has slowed down to a snail's pace as everyone tries to figure out exactly what is going on in the Big 12. After signing a document pledging to give up the right to sue the Southeastern Conference if Texas A&M left, Baylor reneged and now no one knows how this is going to end.
The question that comes to mind is, why is the SEC afraid of a lawsuit from Baylor? A tortious interference claim is almost impossible to prove, especially in a case like this when A&M followed the agreed upon procedures to leave the conference.
We are talking about a conference that survived having one of its major members punished by the NCAA, while already on probation, for buying a defensive lineman. An SEC team won the national title for a fifth year in a row while starting a quarterback who most believe was "purchased" for $200,000.
The SEC is used to dealing with scandal and always coming out on top.
Why would a baseless lawsuit from Baylor worry them?
It is only logical that one would avoid litigation if at all possible, but reality is that nothing is going to come easy in this day of frivolous lawsuits. Why would the SEC allow itself to be held hostage by one of the peons of the college sports world?
While all of the Baylor alums are high-fiving each other because their school is finally generating national news not related to David Koresh or basketball scandals, the rest of the college football world is trying to sort out where this realignment train is headed.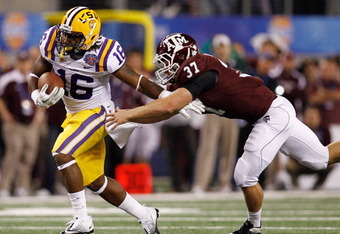 Chris Graythen/Getty Images
If the SEC is going to make it so easy for anyone to block the addition of Texas A&M to the conference by requiring a waiver almost no one will sign, then A&M needs to consider other options.
The Aggies need to consider the Pac-12 and the B1G conferences. Larry Scott has the foresight to take a conference with a mediocre product and bring it to the forefront of the the collegiate media world with a new conference network and regional networks for each member schools.
The B1G Conference already has their own conference network and a long distinguished history of excellence on and off the athletic field.
Both conferences would seriously consider the addition of Texas A&M.
There is no doubt that the SEC is the best athletic conference in the country. However, if they are to be pushed around by a school like Baylor, why should any other school bother to apply? The SEC can take on the NCAA, but not a few Baptist lawyers?
The great irony in all of this is that by refusing to honor their previous waiver, Baylor may have dug their own graves.
No one wants to be in a conference with a school that takes a scorched earth policy when it does not get its way, much less one that does not honor its word.
Baylor is trying to keep the Big 12 together, but their actions over the past three days could be the very thing that pushes Oklahoma away and causes the collapse of the conference.
The Big 12 is not going to find a decent replacement for A&M because no one is going to want to be in a conference with Baylor. Texas A&M is not going to be competing in the Big 12 next year. Whether that means A&M will be in the SEC, Pac-12, B1G or independent is unknown.
What is known is that Baylor's actions have prevented them from ever being in a major conference. It also has to cause some of the power brokers at A&M to take a second look at the SEC.
Larry Scott would rightfully laugh at Ken Starr's histrionics. A&M has already experienced life in a conference with a weak commissioner with Dan Beebe and the Big 12. If Mike Slive is going to be held hostage by Baylor, maybe the Aggies should look elsewhere for a home for the next 100 years.