Baltimore Ravens: What To Expect from the Ravens in 2011
September 6, 2011
Rob Carr/Getty Images
The Baltimore Ravens have made many changes to the team this offseason. One could even argue that the Ravens have undergone the most changes for a single offseason in team history, and after an offseason where continuity should be highly valued due to the lack of offseason training activities, the biggest question is how the Ravens will handle all the changes they've made.
Fans want to know what the team is going to look like when they take the field against the Steelers on September 11th. The assumption is that the team will be improved from last season, since the Ravens have seemed to improve every year under head coach John Harbaugh, even though they have lost several big-name players. 
However, the team may have never experienced as much change as this offseason. Quarterback Joe Flacco has basically been throwing to the same two receivers, Derrick Mason and Todd Heap, since he started with the Ravens, and now both receivers are gone. Their answer to this problem is to rely on two rookie receivers, two second-year tight ends and a newly acquired deep-threat receiver formerly of the Buffalo Bills, Lee Evans.
The offensive line struggled to protect Flacco last season and had a hard time opening up holes in the running game. Flacco was sacked and pressured more than any other quarterback last season, and the running game was no longer able to dominate defenses and finish games.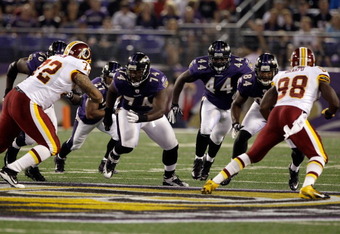 Rob Carr/Getty Images
On top of that, the Ravens lost their starting left tackle from 2008 and 2009, Jared Gaither, and two of their best backup players, Chris Chester and Tony Moll. It's typically not difficult to find backup linemen, but finding a good left tackle can be very hard.
Last season, Michael Oher, the team's first-round pick from 2009, struggled at left tackle, and even Harbaugh admitted that Oher doesn't have the ideal size to play on the left side. The Ravens' initial answer to the offensive line problem was to draft Jah Reid, a big right tackle prospect from Central Florida, and hope that Oher could improve at left tackle and Reid would catch on fast at right tackle.
Unfortunately, that plan failed in the preseason as it was clear that both Oher and Reid were unprepared and unable to consistently provide good protection to their quarterback. That prompted the Ravens to sign Bryant McKinnie, a gigantic 6'8" Pro Bowl left tackle formerly of the Minnesota Vikings, and most recently, Andre Gurode, a five-time Pro Bowl center formerly of the Dallas Cowboys. They also signed Vonta Leach, a Pro Bowl fullback formerly of Houston, to help the offensive line in the running game.
On defense, the Ravens lost Kelly Gregg, their long-time starting nose guard, and Josh Wilson, one of their best cornerbacks from last season, but managed to keep most of the defense intact.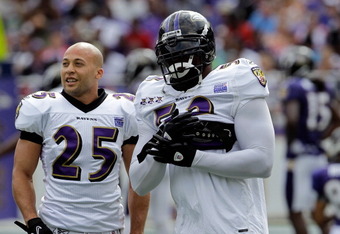 Rob Carr/Getty Images
The biggest question on defense is in the secondary, which was their biggest liability. Last season, the Ravens defense would often allow opposing quarterbacks to keep their team alive and make plays that ultimately led to losses or near-losses. The defense just couldn't seem to put away opposing offenses and would let them hang around all game. As a result, the Ravens defense ranked 21st overall in pass-defense.
Their answer to this problem was to draft Jimmy Smith, a potential shut-down corner from Colorado. They were also able to retain Chris Carr, who played very well when he was forced to start last season.
Now that we've addressed the Ravens' biggest questions this offseason and shown how they've tried to solve them, the only question remaining is about how those solutions will work once the season starts.
First, it's important to note that the Ravens have kept the core of their team relatively untouched, and even though we've spent this whole time talking about all the changes they've made, most of their key, veteran players are returning on both sides of the ball.
The offense is obviously the side where most of the changes have occurred, but there will still be several players returning. Flacco will obviously still be the starting quarterback, but the team also managed to retain Marshal Yanda, who may be their best offensive lineman right now. That means Ben Grubbs, Matt Birk, Yanda and Oher are returning on the offensive line.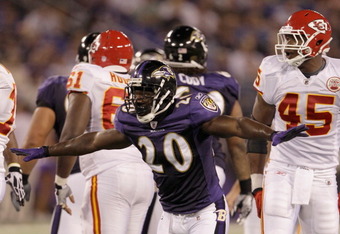 Rob Carr/Getty Images
On defense, the team is returning their current superstars, Ray Lewis and Ed Reed, along with their up-and-coming superstars, Terrell Suggs and Haloti Ngata. Those four players are the foundation of the Ravens defense and are the reason that the defense managed to finish as a top-10 unit despite the struggles in the secondary.
That being said, what can we expect from the Ravens in the 2011 season? As we've already seen, there is a lot that goes into that question, but the answer is quite simple. The Ravens should be an improved team.
It's easy to get caught up in all of the changes and wonder how they will work out, but the main point that we need to remember is that the areas where the biggest changes were made were already broken before the team started making those changes.
First, the Ravens receivers were extremely ineffective last season no matter what anyone says. They lacked speed, playmaking ability and any sort of deep threat. It was clear that they weren't able to get separation from even average defenses, and Flacco was forced to not only force balls into tight windows but also hold onto the ball and take sacks.
Second, the offensive line was a mess. They couldn't consistently block edge rushers or open up holes in the running game. Michael Oher was ranked as a bottom 11 pass-protector according to Pro Football Focus.
Third, the secondary was also a mess. They couldn't consistently lock down receivers and when games were on the line, they would often allow opposing offenses to march up and down the field.
Therefore, changes to these troubled aspects of the team should be welcomed. Obviously, not all change is good, but when the team is bringing in ex-Pro Bowlers and first-round talent to fix their problems and actively adding speed and youth to a slow, old receiving corp, fans should be optimistic.
Obviously, there are still questions…especially about the young players that will be relied upon this season, but the Ravens did a nice job assessing the areas of the team that were broken and bringing in the talent needed to fix those problems while managing to retain their core players. That's why there's no reason to believe that the Ravens won't be better in 2011.