Arkansas Football: Previewing the New Mexico Game
September 7, 2011
Kevin C. Cox/Getty Images
This Saturday, the Arkansas Razorbacks play host to the Mike Locksley-coached New Mexico Lobos at War Memorial Stadium in Little Rock.  The Lobos, who have won only two games in the last twp seasons, are coming off of a 14-10 loss to Colorado State despite the fact that they outgained the Rams 329 to 270 and had 22 first downs to just 12 by Colorado State. 
Part of the reason they lost is the Lobos had three turnovers and gave up 10 sacks.  Apparently, the 10-sack total didn't go unnoticed by Arkansas linebacker Alonzo Highsmith.  "Anytime you hear about a team giving up a lot of sacks, it makes you even more anxious to get out and play, pin our ears back and go get them, too," Highsmith said Monday. 
This week, Highsmith and the Hogs will get their chance.
Let's be honest.  This game isn't about New Mexico just as last week wasn't about Missouri State and next week won't be about Troy.  These games are all about the Razorbacks.  These games are about finding answers to questions. 
One of those questions is the running game and whether the Hogs can find a replacement for the injured Knile Davis.  Arkansas had only 135 yards on the ground against playoff subdivision Missouri State.  Bobby Petrino attributed that to the fact that Missouri State was loading up against the run, but even so, shouldn't Arkansas be able to overpower Missouri State?
Ronnie Wingo did seem to run harder and more straight forward more than in the past and De'Anthony Curtis showed good vision, particularly for a guy who has spent the last year in the defensive backfield.  Still, 3.1 yards per rush isn't going to cut it in the SEC.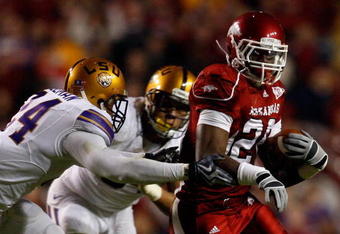 Chris Graythen/Getty Images
There is also the possibility that Coach Petrino and the Hogs didn't try that hard to establish the run because the Hogs have a frightening lack of depth at running back.  After Wingo, they are down to a converted cornerback and two freshmen.  Dennis Johnson is expected to miss his 13th straight game with an unspecified injury.
New Mexico only gave up 92 yards on the ground to Colorado State, so while they are not up to the caliber of defense the Hogs will see in a couple of weeks, they should provide a nice measuring stick for the Razorback rushing attack.
While fans usually focus on the running backs when talking about the running game, perhaps the more pertinent question relates to the Razorback offensive line.  Anytime the running game struggles, at least some of the responsibility belongs to the offensive line.  In addition to failing to clear holes for the running backs, the young Arkansas offensive line also gave up three sacks to Missouri State.  Arkansas will be looking for the offensive line to do a better job of asserting itself against an undersized New Mexico defense and do a better job of protecting Tyler Wilson.
Another area of concern for the Hogs is the recovery of Greg Childs.  Childs, who is back from a season-ending knee injury in 2010, caught just two passes for 29 yards in the season opener.  There has been some concern this preseason about Childs getting back to full speed, and while there is no reason to panic after one game, it is something to keep an eye on. 
Finally, while Arkansas special teams looked sharp on returns by Joe Adams, Zach Hocker missed an extra point, and the kick return coverage looked about as bad Saturday night as it did at times last year.  Look for the Hogs to make adjustments to tighten up those areas of their game.
Overall, look for more of the same from the Razorbacks.  The defense should be able to dominate up front, the passing game will be clicking regardless of who is taking snaps, and Hog fans will be watching for answers with regards to the running game and special teams.