Fantasy Football 2011: Updated Top 25 Overall Rankings; Michael Vick No. 1?
September 5, 2011
Bob Levey/Getty Images
There is so much debate going on about whether Michael Vick is worthy of being the No. 1 overall pick. It's simple—he was the No. 2 fantasy scorer in an ESPN standard scoring 10-team league (Arian Foster was No. 1).
Vick also missed basically five games—four he didn't play in at all—three of which were due to injury—missing the last game of the season to rest for the playoffs.
My point is this, if he has that much of an impact, missing as much as he did last season, he has to be worth the No. 1 overall pick. If he had played in just one of those games he missed, we would be talking about the No. 1 overall fantasy scorer for 2010.
Foster didn't miss a game and it STILL took him a 180 yard, two touchdown performance in Week 17 to be the No. 1 overall scorer. He outscored Vick by 13 total points (313 to 300).
We draft all of our players with the chance they are going to suffer injuries. Look at Foster this year already. He's tweaked his hamstring twice already, but it's like people don't even care.
If people aren't worried about Foster, then why worry about Vick? That injury is going to hinder Foster for at least the first quarter of the season and it may cause him to miss the first game.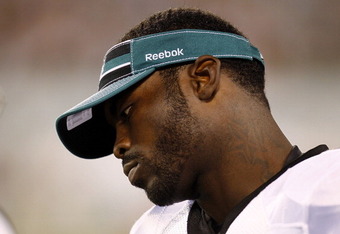 Jeff Zelevansky/Getty Images
It is a good idea to have some caution when drafting players that do have some injury concerns (Frank Gore), however, when it comes to Michael Vick, he's never really been a relevant fantasy scorer until last year—and he became very relevant.
You have to take that into consideration as well. Is having a potential No. 1 overall scorer on your team worth him maybe missing say three games? Judging by what he did last year I would say yes. Why? You can get yourself a solid backup quarterback to fill in.
We all look to get solid backups for the important positions anyway—because of injury concerns.
1.  Michael Vick: If you feel he's going to have the impact he had last year, you have to take him No. 1 overall.
2.  Jamaal Charles: With how the Kansas City Chiefs are built this year, expect Charles to be over 1,500 yards rushing and double-digit touchdowns.
3.  Adrian Peterson: Viewed as the safest bet as the No. 1 overall.
4.  Chris Johnson: He's finally back with the Tennessee Titans, but don't be surprised if you don't see quite what you have come to expect from him for the first couple of weeks.
5.  Ray Rice: Last year, Willis McGahee stole goal line carries from him. We'll have to wait and see about Ricky Williams' role.
6.  Arian Foster: Lingering hamstring injuries could really affect his numbers this year.
7.  LeSean McCoy: Having Vick stealing goal line touchdowns is an issue, but he should still have a big year.
8.  Aaron Rodgers: He does it all extremely well. You could make a case for Rodgers being not just the best fantasy quarterback, but the best quarterback in the league.
9.  Rashard Mendenhall: He has been very reliable for the Pittsburgh Steelers, since taking over as the starting running back.
10.  Calvin Johnson: Megatron should be the first receiver taken in every draft. Both 1,500 yards and 14 touchdowns are not out of the question.
11.  Maurice Jones-Drew: Some will draft him higher and some may even draft him lower. Wherever he gets drafted, know that he will top last year's five touchdown performance.  
12.  Michael Turner: Don't worry about all the babble surrounding him slowing down. He's still a touchdown machine and will still pile on the yardage.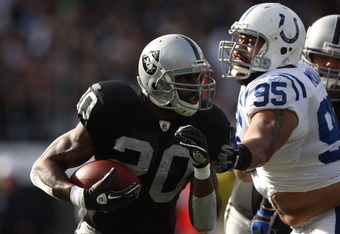 Jed Jacobsohn/Getty Images
13.  Roddy White: Putting up double-digit touchdowns in back-to-back years gives him the nod over Andre Johnson.
14.  Andre Johnson: Has yet to score 10 touchdowns in a season and he's 30 years old now. You still love to have him on your squad though.
15.  Tom Brady: Brady put up 3,900 yards and 36 TDs in 2010. Expect a similar season out of him this year.
16.  Drew Brees: By Brees standards last year was an off-year, but that is only because of the number of interceptions. The production will be there and the turnovers will decrease.
17.  LeGarrette Blount: This kid doesn't have anyone taking goal line carries from him—now they're throwing him the ball out of the backfield.
18.  Darren McFadden: Run DMC has the skill set to be an elite running back in this league. Repeating what he did last season will put him on that path.
19.  Philip Rivers: He'll sling it to anyone in a powder blue jersey. He doesn't care who it is—it's going in the end zone.
20.  Steven Jackson: A tough schedule to start out may frustrate owners, but you will see results later on in the season.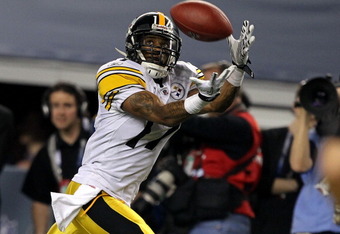 Al Bello/Getty Images
21.  Larry Fitzgerald: Fitz has really looked good in the preseason. He and Kevin Kolb are going to do some big things this year.
22.  Frank Gore: People draft him too high for how often he's injured.
23.  Peyton Hillis: He's a nice fit in Cleveland and will put up similar numbers from a year ago.
24.  Hakeem Nicks: Nicks will see even more targets now with the departure of Steve Smith.
25.  Mike Wallace: A bigger, stronger, and just as fast a version of DeSean Jackson.
A notable name that has been left off the list is Peyton Manning. According to ESPN 1070 The Fan, Manning will need another surgery and will remain out indefinitely. That slides him down pretty far until we all know otherwise.
Check out all my latest rankings:
Updated Top 25 Quarterback Rankings
Updated Top 25 Running Back Rankings
Updated Top 25 Wide Receiver Rankings
Updated Top 25 Tight End Rankings
Also check out Out Of My League every Thursday for your weekly fantasy football rankings.