Boise State vs. Georgia: Broncos Prove They Are Worthy of the National Hype
September 4, 2011
Kevin C. Cox/Getty Images
ATLANTA, GA - The Boise State Broncos knew they had something to prove, despite being the No. 5 team in the country.
They knew they had to beat the Georgia Bulldogs convincingly in front of a national audience to gain the respect they feel they deserve.
The Broncos did that and more as they defeated Georgia 35-21 in the annual Chick-fil-A College Kickoff Game at the Georgia Dome on Saturday.
With a win like this, the discussion for Boise State in the national championship picture will heat up. Even though Boise was a favorite to win the game against the Bulldogs, there were still doubters that they would be able to hang with an SEC team.
Georgia was bigger on the offensive and defensive lines, and the Bulldogs were much faster at the skill positions.
But the reason Boise State won the game is the same reason they defeated Virginia Tech last year: They know how to play football.
Fans who know little about the Broncos have heard of quarterback Kellen Moore because he is a Heisman Trophy candidate. But they don't know about players such as running backs Doug Martin and D.J. Harper or defensive end Shea McClellin who had 2.5 sacks in the win against Georgia.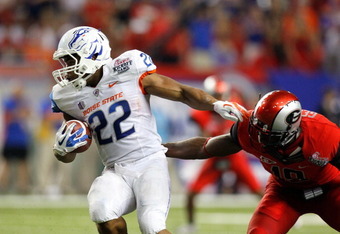 Kevin C. Cox/Getty Images
"They've got a bunch of well-coached, great athletes who just played a great game tonight," Georgia quarterback Aaron Murray said.
Martin, Harper and McClellin aren't household names and they weren't highly recruited. But it's not about getting the best players in the country to build a great football team. It's about getting the right players to fit the system that the coaches run.
And Boise head coach Chris Petersen has been able to do just that and more.
"It means a lot to us," Petersen said. "We have a tremendous respect for the conference and UGA. Last time we were down here, it wasn't even a game."
The Broncos did come out slow, going three-and-out on the first three offensive series. But once Boise State got its feet wet and settled down, Moore was able to play pitch and catch with his receivers and the defense were able to make plays.
"It's always great to win the first game," Martin said who rushed for 57 yards and one touchdown. "But we have to go back to and practice and keep getting better and better."
Despite all the crowd noise and the pressure to win, the Broncos were not phased at all.
"I love playing early in the season in games like this," linebacker Brian Hout said. It's a taste of what of big bowl game can be like with this type of atmosphere. If you do the right thing you can find yourself in another event like this at the end of the season."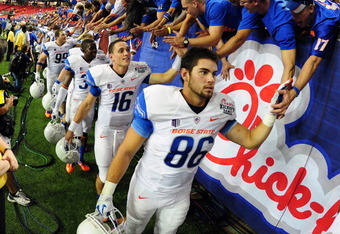 Scott Cunningham/Getty Images
With the win, there's a really good chance the Broncos could go undefeated. With teams such as Toledo, UNLV and San Diego State on the schedule, odds are Boise will be heavy favorites in each of those games, as well as the rest of their games they play.
But getting that first win was vital for the Broncos to not only gain more respect, but to get their season off on the right foot.
"It's important to win your first game," Petersen said. "If you win, you come off on a good note and that gives you a lot of confidence."
But there's also the reality that Boise could go undefeated and not reach the title game because of their schedule. All the Broncos can do is win, win and win again, and the rest will take care of itself.
This was more than a must-win for the Broncos. This was a chance to show the entire nation Boise State is here and they are not going anywhere anytime soon.
Brian Jones is a Featured Columnist for Bleacher Report. Unless otherwise noted, all quotes were obtained first-hand.