Baltimore Orioles: Kevin Gregg Has More Than Proven That He Isn't a Closer
September 6, 2011
Greg Fiume/Getty Images
How much longer are us faithful Orioles fans going to have to suffer through this, Buck Showalter?
No, I'm not referring to the 14 consecutive losing seasons. This is something that isn't as major, but certainly can be a contributing factor.
Buck, when will you realize this man is not a closer?
Last season, you said you didn't believe in the "save rule," but that you believed in the "win rule." Yet you continue to trot Captain Chaos out there in the ninth when the game is close.
If that nickname doesn't tell you what you need to know about Gregg, then nothing will.
But this article isn't about how Showalter (whom I agree with most, if not all, of the time) continues to misuse Gregg.
It's about Gregg's continued inability to close out games.
It's about Gregg's knack to load the bases nearly every time he takes the mound.
It's about how Gregg is a middle reliever who's been miscast as a closer for the past few seasons.
Clearly, Kevin Gregg doesn't deserve to be closing out games when his team has the lead in the 9th. His current stats easily make him the worst reliever holding a closers job in the game today: 20 for 26 in save opportunities, a 4.33 ERA, and through his 52.0 innings pitched, he's allowed 50 hits while walking 36 batters and striking out only 42. That's all through the action on September 5th.
Seriously, 42 K's to 36 BB. That's pretty atrocious.
And as if that weren't enough, take into account his career ERA: a 4.06 clip. Not exactly the ERA of a good closer.
He's consistently blown save throughout his career, usually around the six mark every year.
He's bounced around between four teams within the last four years, and lost his closer job in August of 2009 with the Chicago Cubs after a series of terrible appearances.
He is not a closer, and he is not worth $10 million over two years.
Granted, it's not like the Orioles have better options. Setup man Jim Johnson was shaky as a closer in 2009 after lefty George Sherrill was traded, and there's talk of him being converted back into a starter. Outside of him, there are no other good, not even solid bullpen pieces for the Orioles.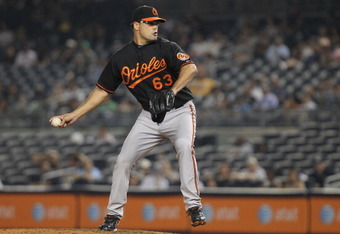 Nick Laham/Getty Images
To go along with that, there's the old "A losing team's last problem is having a good closer." As true as that may be, there have been at least six games the Orioles should have won, but didn't due to Gregg's reluctance to attack the strike zone.
A game that's blown late can be a morale killer, especially for such a bad ballclub. It brings about that "Here we go again" mentality, something that is obviously not needed after a game.
Many times after Gregg would blow a game, the Orioles would go on an extended losing streak and/or a streak of games where they would lose significantly more than they would win. Coincidence? I think not.
Look, Kevin Gregg isn't a bad guy or a bad pitcher overall. He works hard, does his best to help the younger guys in the bullpen and cares deeply about his team's performance as well as his own.
Have him be a middle reliever or maybe even a setup man. He can be completely dominating for stretches. It's the fact that he can be so vulnerable during others that keeps him from being a great pitcher.
But there's a reason he's never been the closer on a playoff team.
He's simply not a closer.
I hope the Orioles provide Buck with better options going into 2012 and beyond.