2011 Fantasy Football: Week 1 Start 'Em
September 4, 2011
Stephen Dunn/Getty Images
It's that time, folks. Millions of fans around the world are finally setting their lineups for week one of the 2011 NFL season.
It's important to get your team off to a strong start and these gentlemen will help you do exactly that.
I'm not in the business of naming the obvious, so I won't be listing guys like Aaron Rodgers, Adrian Peterson, Roddy White and the like.
Good luck in week one!
Start 'Em QB
Josh Freeman vs. DET - Freeman is one of the most talented young quarterbacks in the league and he hasn't even started a full season. He proved he could lead Tampa Bay's offense in 2010 and will continue to prove that against Detroit in week one.
Kevin Kolb vs. CAR - The Panthers are primed for a pretty disappointing season this year. Kolb looked impressive in the preseason and it doesn't hurt to have Larry Fitzgerald and Todd Heap to throw to. He should be just fine in his first game under center for Arizona.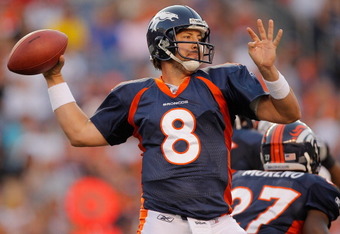 Justin Edmonds/Getty Images
Kyle Orton vs. OAK - Orton had an interesting offseason, but he's still the starting quarterback for the Denver Broncos. Their first game is at home on Monday night against their arch-rival Oakland Raiders.
Oakland no longer has the ever so annoying Nnamdi Asomugha in their secondary and the Raiders looked pretty suspect without him in preseason. Orton won't disappoint against the Raiders.
Sleeper: Colt McCoy vs. CIN - McCoy is ready to be the Browns franchise quarterback. Lucky for him, he gets the Bengals in week one. Cincinnati lost cornerback Jonathan Joseph during the offseason. Even with Joseph, they were still a mediocre passing defense. McCoy is coming into this season with much more confidence and a better grip of Cleveland's offense.
Not that I'm speaking from a personal situation, but McCoy could be an especially nice option for Peyton Manning owners in week one.
Start 'Em RB
Knowshon Moreno vs. OAK - Monday night of opening week of the NFL at home against the 29th ranked rush defense from a season ago? Yes, please. Moreno should give owners a great start to the 2011 season.
Cedric Benson @ CLE - Benson has had somewhat of a rough offseason what with the off-field issues and the jail time and what not. He'll want to come out and show that he's put the past behind him and is ready to play this season. What better way to do that than against the 27th ranked rush defense from 2010 in the Cleveland Browns? 
Beanie Wells vs. CAR - The Panthers gave up 20 rushing touchdowns last season, second worst only to the Denver Broncos. Wells is the main guy in Arizona's backfield with the season-ending injury to Ryan Williams. He should get plenty of opportunites against Carolina in week one.
Sleeper: Joseph Addai @ HOU - Addai is, for the most part, an annual disappointment for fantasy owners, but he's going up against the Texans in week one—a Texans defense that gave up an average of 100 yards and a touchdown per game on the ground last season. If Kerry Collins starts, Addai will see a lot of action in Houston. If Peyton Manning starts, start Addai anyway.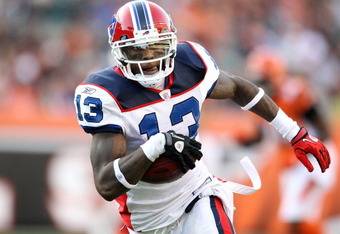 Andy Lyons/Getty Images
Start 'Em WR
Steve Johnson @ KC - Johnson is the main guy in Buffalo now that current Ravens receiver Lee Evans is out of town. The Chiefs have a mediocre secondary and Johnson has the size and moves to put up some nice numbers in week one.
Mike Thomas vs. TEN - With the departure of Mike Sims-Walker, Thomas is now Jacksonville's best receiving option. He even surpassed Sims-Walker as quarterback David Garrard's favorite target last season. The Titans ranked 29th against the pass last season, so Thomas should give owners a smile in week one.
Kenny Britt @ JAC - The Jaguars were 28th in the league in passing defense last season. Matt Hasselbeck still has some things to straighten out, but his best target is Kenny Britt. Britt should be looked to early and often in Hasselbeck's first game in the AFC.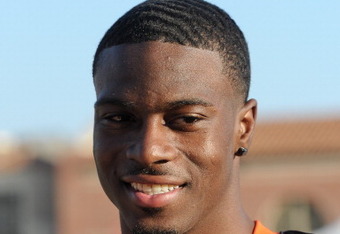 Noel Vasquez/Getty Images
Sleeper: A.J. Green @ CLE - If I was a rookie receiver in the NFL, the team I'd probably want to play against in my first game is the Cleveland Browns. Green is the Bengals biggest receiving threat and should see plenty of opportunities against a suspect Cleveland secondary.
Start 'Em TE
Tony Gonzalez @ CHI - Gonzalez is the unsung hero of the Falcons lethal offense in my book. With receivers Roddy White and Julio Jones on the outside spreading the field and taking attention away from the veteran, Gonzo should have a nice stat line by the end of this contest.
Jimmy Graham @ GB - Graham is a physical specimen who has the size advantage on any linebacker he goes up against, including Clay Matthews. With all the weapons the Saints have, Graham can get lost in the middle of the field. He's one of Drew Brees' favorite safety outlets, so start Graham with confidence for Monday night.
Sleeper: Dustin Keller vs. DAL - Mark Sanchez is going to be nervous for this game—really nervous. He wants to prove he can take the next step this season and he's going up against a new defense, with a new defensive coordinator in one of the most storied franchises in the NFL. If I was a nervous quarterback in week one, I'd throw it to my safest option—my tight end. 
Start 'Em D/ST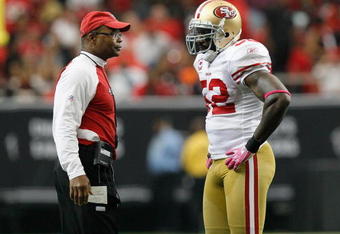 Kevin C. Cox/Getty Images
49ers vs. SEA - San Francisco probably has the best defense in the NFC West going into the season and they open up against the weakest offense in the NFC West. The Seahawks have a slew of new weapons on offense and it will take more than one game for them to build chemistry.
Eagles @ STL - The Rams do have a good offense, but the Eagles defense, and especially secondary, is scary. Philadelphia just has too many defensive weapons for the Rams to be too successful on offense. 
Sleeper: Broncos vs. OAK - This is risky, but the Broncos first team defense looked PRETTY good in their first three preseason games. Their pass rush is primed to give Jason Campbell a night to forget in Denver.