Fantasy Football 2011: Updated Top 25 Running Back Rankings
September 1, 2011
Joe Robbins/Getty Images
Chris Johnson and Arian Foster owners must be beside themselves right now.
These two guys are prime examples of why it is paramount that fantasy leagues wait until after that final preseason game to conduct their drafts (unlike the newest league I am taking part in); otherwise, you can leave yourself with some real problems.
Some players tend to skyrocket up in value, while others take the route paved by Vincent Jackson last year and plummet into the depths of fantasy obscurity.
Take Chris Johnson, for example. Instead of CJ2K getting ready for the start of the NFL season, he's sitting at home and posting tweets like this on his Twitter page: "I like to thank everyone who have me in their prayers thru my situation, it's much needed."
Without getting too far off the subject, if you would like to hear a great take on this whole Chris Johnson twitter ordeal, check out yesterday's podcast of the Doug Gottlieb Show on espnradio.com. It was spoken beautifully.
At first glance, there may be some head scratchers on this list, but before you start spewing obscenities at me and your computer screen, let it be noted that I gave fair warning.
1.  Jamaal Charles – A home-run threat every time he totes the rock.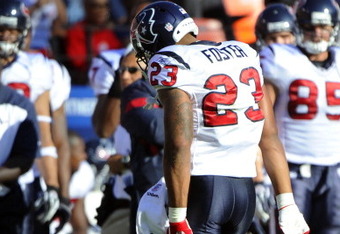 Thearon W. Henderson/Getty Images
2.  Adrian Peterson – Viewed as the safer No. 1 overall pick in a lot of people's eyes.
3.  Ray Rice – Ricky Williams may or may not be this year's Willis McGahee.
4.  Chris Johnson - He just agreed to terms on a new contract, according to espn.com.
5.  LeSean McCoy – A cause for worry when inside the five-yard line, with Vick at QB. PPR gold!
6.  Rashard Mendenhall – He'll be solid when he's not tweeting about bin Laden.
7.  Maurice Jones-Drew – He says he cares about us fantasy footballers. Prove it!
8.  Michael Turner – Second in the league in rushing touchdowns last season.
9.  LeGarrette Blount – Quickly moving up the boards. Not getting goal line carries taken away.
10.  Darren McFadden – Welcome to the NFL, Run DMC. 
11.  Arian Foster – Hamstring injuries are cause for concern. He could miss the next four weeks.
12.  Steven Jackson – He has one big season left in him.
13.  Frank Gore – Oft injured and he just got paid. A recipe for fantasy disaster. PPR stud!
14.  Peyton Hillis – Madden curse?
15.  Ahmad Bradshaw – Brandon Jacobs eats too many carries.
16.  Matt Forte – His points come mostly out of the passing game. PPR machine!
17.  Knowshon Moreno – You have a running coach in John Fox. Prove you're a real running back.
18.  Shonn Greene – Are you going to figure it out this year?
19.  Ryan Grant – Rumors of getting cut out there, and James Starks breathing heavy down his neck.
20.  Felix Jones – Good passing game in Dallas, but that team goes as far as Felix takes them.
21.  Jahvid Best – Last year it was foot injuries. This year it is concussions. What next?
22.  DeAngelo Williams – Nothing in the Carolina Panther backfield looks good.
23.  BenJarvus Green-Ellis – Too crowded of a backfield to duplicate his 2010 season.
24.  Fred Jackson – May be his last chance to shine as a starting running back. Look out!
25.  Mark Ingram – This kid is on the uptick.
If you like this article, feel free to check out my other articles: http://bleacherreport.com/users/45586-brian-dezelske
Feel free to become a fan...  I won't get upset.