College Football 2011 Week 1: Three Games to Watch for
September 1, 2011
Well, it's time for the third season of my Three Games of the Week installment. 
For those of you new to the series, each Wednesday evening/Thursday morning I will post three games that I have chosen that I believe are the must see games of the week. One game will be the Biggest Game of the Week (a game that is a no-brainer heavyweight showdown).  
The second the Most Intriguing Game of the Week (a "hmmm" game that you find when you first look at that week's schedule). Finally my Upset Alert. As with previous years I will predict the first two, and the Upset Alert is just that, an alert, no prediction will be given on that.  And as always, this is strictly for entertainment purposes, what you do or won't do with this is strictly up to you.  Now then, here we go for Week 1 of the College Football Season (Yahooooo!).
Biggest Game of the Week
#3 Oregon vs. #4 LSU - Dallas, TX - ABC - 8:00 pm EST - 9/3
Duh!  What else would you expect here?  This is almost an identical spot that Oregon found itself in last January, but in a bit better scenario.  With LSU losing Sheppard, Dworaczyk, and Jefferson, isn't good for LSU, but talent and athleticism isn't going to win the game for LSU anyway, even with them losing their guard Josh Dworaczyk, LSU still should dominate the trenches.  
If I do the math, like I did in January, LSU averages 305.6 pounds per lineman (counting the backup guard).  Oregon averages 268.75 pounds per defensive lineman, about a 37 pound difference.  Conversely Oregon's offensive line averages 293.6 pounds per lineman, LSU's defensive line averages 273.5  pounds per lineman deference being about 20 pounds.  
Therefore, I think Oregon can hang with LSU, unlike they did with Auburn, but the wear down of a grind-it-out game with take its toll.  Chip Kelly is stuck in a bad spot, if LSU's defense can get a push, he can't run the 5th gear offense, risking quick three-and-outs and turnovers, and putting a small defense in a real bad shape.  He will have to stay controlled and take calculated risks, and then if he is in striking distance kick it into overdrive in the 4th.  But in the end I think LSU cobbles enough to win and move on.
LSU 31  Oregon 27
Most Intriguing Game of the Week
#5 Boise St. vs. #19 Georgia - Atlanta, GA - ESPN - 8:00 pm EST - 9/3
Gary Danielson on the Paul Finebaum Radio Network, brought up a great overall point to this game.  The SEC really wants Georgia to win, because if they do, then they can begin to make an argument that they have all tiebreakers, and possibly say that their 12-1 SEC Champion is better than any undefeated team and deserves to leapfrog another team.  I agree, if LSU beats Oregon, Georgia beats Boise St., and next week Alabama beats Penn State.  If that happens, then I do believe that an 12-1 SEC Champion will leapfrog a team eventually.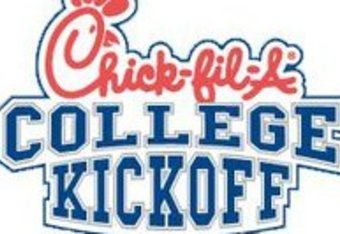 For Boise St., it is simple beat Georgia, beat TCU, and you have a great case for New Orleans.  Simple, but much more difficult to do.  First there is Georgia, and there is so much going against them in this game, one being its a virtual home game for the Bulldogs.  Second, the trenches, I know it is mundane again to go that, but if you are to be a top tier SEC team you will have to man up and neutralize one of the biggest strengths of the conference.
Georgia's offense line averages a monstrous 327.4 pounds, Boise State's defensive line...281.25 pounds.  That's a massive advantage for Georgia, when you have a near 46 pound advantage holes will be wider than the double-wides parked outside the Georgia Dome, and Aaron Murray will have oodles of time to throw.  Conversely, Georgia only has three d-linemen, but they average 321.7 pounds, to the Broncos' 288.6 pounds, (that's with 5 linemen folks).  That being said, I don't see how Georgia loses this game, with that big of an advantage off and on the field.  Kellen Moore is a great quarterback, but I don't see how he will be able to move against a massive Georgia defense.  They'll hang around, but Georgia pulls away late 3rd/early 4th.
Georgia 35  Boise State 14
UPSET ALERT
SMU at #8 Texas A&M - College Station, TX - FSN - 7:30 pm EST - 9/4
The only reasons I put the Aggies on alert, is that, this was a rivalry game back in the old SWC days, so the Mustangs will be ready.  Second, there is a lot of distraction going on with conference re-alignment part deux, so the Aggies maybe distracted a little bit.  Let us not also forget that this is pretty much the same team that got housed in Dallas by LSU on New Year's.  
Also, don't sell June Jones short, he is a great coach building these small guys to fight with the big guys, remember he gave Alabama a real scare in 2006, as Chris Berman would say "I rememba' cause I was there".  Plus SMU might be trying to audition themselves for a Big XII spot in the future.  So, not saying that A&M will lose, but the conditions are there for an upset.