Owen Hargreaves Signing Makes Sense for Manchester City
August 31, 2011
Alex Livesey/Getty Images
For the past two seasons, Owen Hargreaves has been one of the most talked about players in the world, yet never managed to play 15 minutes in a competitive first team football match.
After getting diagnosed in late 2008 with tendinitis in both of his knees, Hargreaves has appeared in two matches for Manchester United—at the end of the 2009-2010 season in a cameo versus Sunderland, and a start against Wolverhampton last November that saw Hargreaves replaced 10 minutes in due to a hamstring injury.
Now, Hargreaves was a fantastic player before his long bout with injuries started in 2008. Hargreaves was a part of two English World Cup squads, with many people believing he was the best player on the English squad in the 2006 World Cup.
In domestic football, Hargreaves was able to star for both Bayern Munich and Manchester United.
However, Hargreaves' injuries have prevented him from returning to United and he was allowed to leave the Red Devils this summer with his contract ending.
This summer Hargreaves took the interesting approach of putting videos of himself doing various forms of training, such as running on a treadmill and doing agility drills. 
Doing these drills is always a great thing to see and Premier League teams have taken an interest in getting Hargreaves back.
Today, Hargreaves was signed by Manchester City to a one-year deal, giving Hargreaves not only the chance of once again playing in the Champions League, but also a chance to win the Premier League again.
Many people will think that this transfer is a dumb one considering what has happened to Hargreaves over the past few years, but I think Manchester City might have made what could be one of the best moves on the transfer window's final day.
This move for Hargreaves brings Man City another defensive-minded midfielder and a viable option for City once Yaya Toure leaves City for the African Cup of Nations this winter. Hargreaves will have four months to get himself into shape to replace Toure in January.
Additionally, Hargreaves brings in a winning attitude into City's locker room. Hargreaves has won the Premier League and the Champions League—two trophies that City have their eyes focused on this year.
Furthermore, Hargreaves can replicate the role that Patrick Vieira used to hold for City by coming late in matches to provide a solidifying role.
Hargreaves' body will not be able to take a full Premier League match for at least several months, so these cameo appearances will allow Hargreaves to get his body ready for the physicality of English football.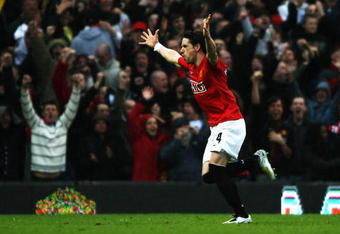 Clive Brunskill/Getty Images
At the end of the day, this move by Man City is low risk, high reward.
If Hargreaves gets injured and never plays, it's not like City is paying him lots of money to begin with. Instead, it will show that they gave him a chance and saw that he might never play again.
But if Hargreaves succeeds, it will be embarrassing for Manchester United to see a player they let go of succeed for their crosstown neighbors.
Also, Hargreaves will be able to further strengthen himself to not only regain a spot for the English national team, but to also get a big contract in the summer of 2012.
Follow me on Twitter!!!: @Andrew_Jordan