Falcons at Steelers: Observations on Pittsburgh's 1st-Team Defense
August 31, 2011
Justin K. Aller/Getty Images
If Mike Tomlin had been able to dial up the exact game plan that he wanted Atlanta to follow, I can't imagine it would have been much different than what Mike Smith put on the field. It was a perfect opportunity for Tomlin to try out our young cornerbacks against an excellent QB and an outstanding group of receivers.
As you might imagine, given that QB Matt Ryan had a whopping 42 pass attempts in the first half, the vast majority of the Atlanta first-team snaps were passing plays. They ran the ball only eight times, and Ryan scrambled twice.
So how did the young guys do? Let's just say that they have undoubtedly been watching the game tape over and over in the past few days. Although they managed to hold a very good Falcons offense to one touchdown and three field goals, it would have been even better to just get off the field.
After the first two series they had a lot of trouble doing that, as you can see from the time of possession. Atlanta evenly split the TOP with the Steelers offense in the first quarter, but ended up with the lion's share in the second quarter—11:16 vs. 3:44.
This meant that the starting defense was on the field a lot longer than the offense—59 snaps as opposed to 27 snaps for the first-team offense.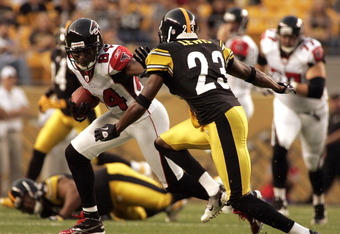 Justin K. Aller/Getty Images
Mike Tomlin made no bones about why they were on the field so long—he was waiting for them to get it right. "I'd like to see us get off more consistently on third-down defensively, put more consistent pressure on the quarterback and have tighter coverage in the secondary...[Atlanta] kicked three field goals or so in the first half. They were able to move the ball in open grass a little bit. We need to be more consistent in terms of the pressure we provide on third down. We have to be closer and challenge more potential catches."
The results of the seven series the starting defense played are as follows:
1:  one first down, punt
2:  two first downs, interception (Lawrence Timmons)
3:  five first downs, field goal
4:  three first downs, touchdown
5:  four first downs, field goal
6:  three first downs, field goal
7:  two first downs, punt (This was the first series of the third quarter, and Atlanta had their backup QB taking the snaps)
The run defense was about what you would expect from this bunch of guys. Michael Turner's first run was his longest—11 yards. The remaining seven runs netted an additional 11 yards. But run defense is seldom a concern for the Steelers. The much bigger question mark is the pass defense.
The Falcon's first play, at 13:30 in the first quarter, was a thing of beauty from the Steeler's vantage point. LaMarr Woodley ran essentially unchecked at Ryan, who quickly tried to dump the ball off to Julio Jones. The pass was niftily broken up by William Gay. All in all, just what you want to see.
The next snap looked to be more of the same, with Lawrence Timmons getting right in Ryan's face. However, this time Ryan lobbed the ball to Roddy White for a 12-yard gain and a first down, although Keenan Lewis and Woodley converged to take him down almost immediately. The final snap of this series was incomplete, with coverage provided by Lewis and Clark. I'm hoping to see more of this tandem, just for the great name!
As the game unfolded, though, while the front seven and occasionally even the DBs worked hard to get pressure on Ryan, he's a pretty cool customer who is able to get the ball out of his hands quickly. He did have a number of incompletions, though—20 of them in his 44 attempts. Overall he had a 65.6 passer rating.
For the third series, Ryan went no-huddle, and this seemed to rattle the defense a bit. They went back to the overly soft coverage and continually got burned for short completions. 
However, Keenan Lewis was there when it counted, and broke up a pass to White in the end zone, at the cost of his own knees. Hopefully the injury was, as Tomlin reported, relatively minor.
Crezdon Butler came in for Lewis, and made some good plays. He jumped up and tipped a ball intended for Jones. Troy Polamalu tried to secure the errant ball, and was obviously annoyed that he didn't manage to snag it.
It didn't help that the triumvirate of Roddy White, Julio Jones and Tony Gonzales are strong enough to push away a defensive back and keep going. They frequently made a short dump-off into a first down by getting those few extra tough yards.
Perhaps one factor in the lack of consistent disruption was that James Harrison wasn't playing at 100 percent. The big question is whether he was not playing at 100 percent, or whether he couldn't play at 100 percent. It was a bit alarming when he tweeted the next day "I'm feeling it this morning, guess it's going to take a little longer to get back to normal than I thought!"
An article in this morning's Post-Gazette makes it evident that he couldn't play at 100 percent. Harrison told Gerry Dulac "...it really fatigued me out there, I'm not going to lie." He later noted "[Being in game shape is] something that will come with time. The longer I'm out there, the more I get reps in games, the better it will get."
But, awesome as he is, Harrison is only human. Fortunately he is only one player. Whether he is able to play every down of every game is ultimately not the issue.
The coaches may be looking for Jason Worilds to step up to the plate sooner and more frequently than anyone expected this year to give Harrison a chance to heal. And, as Tomlin so frequently notes, "The standard is the standard."
When you're talking about someone like James Harrison, though, you have to feel some sympathy for his replacement.
Note: My observations on the starting offense in this game can be found here.