Track and Field World Championships: Winners and Losers from Day 4
August 30, 2011
Ian Walton/Getty Images
One of the best parts of following track and field is that new stars are always being born right before our eyes.
While the marketing of major track meets like the Olympics or World Championships inevitably focuses on established names that hold prestige in mainstream sports circles, each meet also sees the rise and coronation of the next batch of big names.
Day 4 of this year's Track & Field World Championships in Daegu, South Korea, was a time for the youth to inherit their crowns.
In the men's 400-meter dash, an 18-year-old phenom stole the spotlight while making the defending world champion—only 25 years old himself—look like an aging vet. In the men's 800 meters, a 22-year-old who already owns the world record added WC gold to what will surely be a heavy collection of medals he'll win during his career.
Meanwhile, defending champs and reigning stars in other events went down in decisive losses, while previously unknown names became famous.
Notables from Day 4:
WINNERS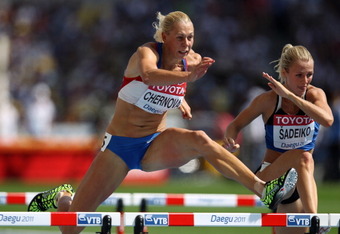 Chris McGrath/Getty Images
Russia—Even with their country's most marketable and successful track star falling short of expectations, the Russian women still dominated Day 4.
Tatyana Chernova won the heptathlon gold medal, posting season-best marks in the javelin and 800-meter run, and hitting the best long jump of the competition.
Yuliya Zaripova not only won gold in the 3000-meter steeplechase, she won in dominating fashion despite coming in as an underdog. Zaripova crossed the finish line at 9:07.03, four seconds ahead of silver medalist Habiba Ghribi (Tunisia) and over 10 seconds faster than her closest Kenyan competitor in a race expected to be another Kenyan coronation.
Natalya Antyukh won her semifinal heat in the 400-meter hurdles, upsetting defending World and Olympic champion Melanie Walker (Jamaica). And then teammate Elena Churakova finished second in her semifinal heat, ahead of current world leader Kaleise Spencer (Jamaica). The Russian pair had the second- and third-fastest times in the semis behind medal favorite Lashinda Demus (USA).
Meanwhile, as her teammates shined, the biggest Russian track star of all time flopped.
Yelena Isinbayeva, the world record holder and four-time Olympic and WC gold medalist in the pole vault, finished a disappointing sixth place in the finals of these World Championships. After clearing 4.65 meters, Isinbayeva couldn't get over the bar at 4.75 or 4.80 meters.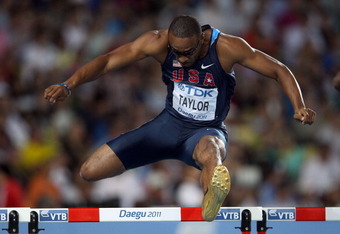 Chris McGrath/Getty Images
Considering that she set the outdoor world record at 5.06 meters just two years ago and has a season-best of 4.76 this year, a gold was certainly within her reach.
Kirani James (Grenada)—Television analyst Ato Boldon put it best the moment James crossed the finish line in the men's 400-meter final: "The future is now."
At just 18 years old, James is the fastest rising young star in track, cementing that status by winning the gold medal in a race where he had to come from behind in the last 200 meters to knock off '09 world champ LaShawn Merritt (USA).
James had the fastest 400-meter time of the year before Merritt beat it in the WC qualifying heats, so the kid stepped up and turned in a personal-best 44.60 seconds in their 1-on-1 showdown.
James' win also gave Grenada its first-ever World Championship medal.
David Rudisha (Kenya)—If you'd been listening to the men's 800-meter coverage from the qualifying heats to the final, apparently the other runners shouldn't have bothered showing up to race against Rudisha. Or maybe they should have held their own secret race to decide the title of the world's second-best over two laps.
Rudisha won decisively, as expected, coming across the line in 1:43.91 with rival Abubaker Kaki (Sudan) firmly in his rearview.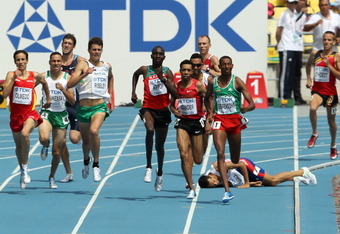 Chris McGrath/Getty Images
Rudisha is only 22 years old, yet he's already broken the 800-meter world record twice. For the foreseeable future he'll fill the role as the Usain Bolt of distance running. Whether he wins races won't be as important as his ability to make history each time he steps on the track.
Angelo Taylor (USA)—For all he's accomplished in a decorated athletic career, Taylor had never made it to a World Championship final in the 400-meter hurdles. He's won two Olympic gold medals in the hurdles (2000, 2008) and added three more Olympic and WC golds in the 4x400 relay, but today was the first time Taylor earned himself a shot at a WC individual medal in his best event.
Taylor finished third in his semifinal heat and had to wait to see if his time (48.86 seconds) would be good enough, which it was. He'll be a long shot to reach the medal podium in a final field that includes Bershawn Jackson (USA), Javier Culson (Puerto Rico), Felix Sanchez (Dominican Republic) and L.J. Van Zyl (South Africa), but at least he has an opportunity that may not come again for the 32-year-old.
The Cover Curse—The official World Championships program that is being distributed in Daegu is destroying athletes at a faster rate than the Madden cover.
On Day 1, the cover subject was '09 WC men's pole vault gold medalist Steven Hooker (Australia). Later that day, Hooker failed to qualify for the finals. On Day 2, it was a photo of Usain Bolt bursting out of the starting blocks. You know what happened later that night. On Day 3, the cover featured Dayron Robles (Cuba) before he was DQ'd in the men's 110-meter hurdles final.
The unlucky winner on Day 4 was Yelena Isinbayeva, the Michael Jordan of the women's pole vault. After her appearance on the cursed cover, Isinbayeva performed more like Michael Olowokandi and finished sixth.
LOSERS
Hyleas Fountain (USA)—She went into the WC as a solid pick to challenge Jessica Ennis (Great Britain) for the women's heptathlon gold medal, and through the fifth of seven events was still in bronze-medal position.
Fountain dropped to fourth place after the javelin, meaning she'd need a good showing in the climactic 800-meter run to get back on the medal podium. Less than a lap into the race, though, Fountain grabbed her leg and limped off the track with an injury. She finished 25th overall.
Mehdi Baala (France)—In the second of three qualifying heats in the men's 1500 meters, Baala was in the gaggle of runners coming off the last turn when he was either clipped from behind or tripped over his own feet and fell face-first onto the track. He got up, but finished a good 30 seconds shy of what it would have taken to qualify for the semifinals.
Baala is the reigning bronze medalist from the '08 Olympics, but he's always had problems at the World Championships: In '07 he won his opening heat but was later disqualified for causing two runners to fall; in '09 he made the final but finished in seventh place; and this year maybe he received some karmic payback for the '07 incident.
At 33 years old, this might have been Baala's last realistic chance at a medal on a big international stage.
Yelena Isinbayeva (Russia)—The last two WC meets have been disastrous for Isinbayeva. After her '09 disappointment, however, she bounced back a short while later by breaking the women's pole vault world record (again). How will she respond to this year's developments?
Kerron Clement (USA)—He had struggled all year in the men's 400-meter hurdles, finishing no higher than fifth in his Diamond League appearances and ranking 15th in the world going into the World Championships. But as the defending WC gold medalist, Clement had to be considered a factor.
Clement looked good for most of his opening heat before losing his form on the last hurdle and barely qualifying for the semifinals, and in his semi race today, he got smoked and finished in last place. His 52.11-second mark was the slowest of any semifinalist, an eternity behind the competitors in his heat, as Clement looked like he didn't even belong on the track with professionals.
Piotr Malachowski (Poland)—Having claimed silver medals in the men's discus at the '08 Olympics and '09 World Championships, Malachowski was building a reputation as a career bridesmaid. He seemed on his way to winning that breakthrough gold when he posted the best distance in qualifying, but in the finals he went from bridesmaid to not even being in the wedding party. Malachowski's 63.37-meter mark was only good enough for ninth place.
Universal Sports announce team—I'm really not trying to pick on them, and as a fellow media member, I understand that even your smallest mistakes get magnified in front of a big audience. That said, it would be an understatement to say it's been a shaky few days for the US coverage team.
During the morning session of Day 4, there was a series of problems with Ato Boldon's Skype connection during crucial times when he was trying to talk about Allyson Felix's 400-meter experience. You could actually hear one of the Universal announcers growl in frustration during one of the times when Boldon's connection was lost.
During one of the men's 1500-meter heats, a Universal announcer described Hamza Driouch (Qatar) as the runner wearing a "white singlet with purple shorts." Go look at Qatar's flag right now and tell me where you see purple.
NOTE: The only competition scheduled for Day 5 of the World Championships is the women's 20K race walk. I'll be back for Day 6 with more winners and losers.