Big XII Expansion: Why Memphis Will Be Passed Over...Again
August 30, 2011
Andy Lyons/Getty Images
The Big XII is looking to expand as another conference realignment is on the horizon, and Memphis fans are on the edge of their seats with excitement.  Memphis is a city on the edge of SEC country with a big-time basketball program and a loyal fan following. 
Unfortunately, Memphis fans will be let down once more as another BCS conference overlooks them in favor of other programs.  Why can't the Tigers break into the upper echelon of NCAA athletics?
Memphis basketball fans are some of the most avid fans in the country, following their team anywhere they play, despite their relatively small local following.  Memphis is a medium-sized town with no real professional sports team to follow. 
One may argue that Memphis has the Grizzlies, but to the Grizzlies' dismay, they'll always play second fiddle to the Tigers, which is still an upgrade from playing in Canada.  While Memphis fans are loyal, they also treat the football program as a second-rate citizen.  As a city and a fan base, Memphis also lacks the money of schools in the SEC or Big XII. 
The fans are loyal, but they won't part with their money to help any program except the basketball program.
After his firing, Tommy West unleashed a flurry of criticism on the media for its lack of support of the football program, and West indirectly criticized the fans, as well.  Disgruntled as the ugly step-child of the university, West lost interest in recruiting and, ultimately, coaching.  West was in his sunset years with a comfortable payout, so he no longer needed the football program, after coaching the most prolific offenses ever seen in the city.  West's offenses included stars Danny Wimprine and Carolina Panther Deangelo Williams, who regularly filled the seats of Liberty Bowl Memorial Stadium every game day.  That golden age of Memphis football soon faded, however.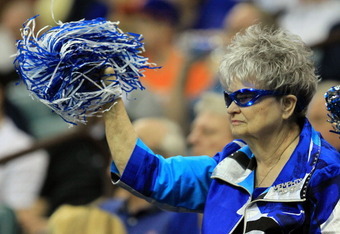 Ronald Martinez/Getty Images
By contrast, Memphis is poised to be the worst team in college football in 2011.  Why?  After the firing of Tommy West, Memphis had no choice but to ask its single most lucrative donor FedEx CEO Fred Smith for help.  In doing so, Smith formed a committee of his own corporate elites to search for a new coach to lead the Tigers. 
Many of the candidates saw the writing on the wall—a football team lacking depth and a donor who appeared to the outside world expected concessions in return for taking the head coaching position.  At one time, it looked like Washington Redskins defensive backs coach Jerry Gray would accept the position, with multiple media outlets citing sources to that effect.  Gray turned down the position, however, and led Smith and the Tigers to LSU assistant Larry Porter, a former Tiger running back with little to no experience coaching.
2010 saw Porter play Smith's son Cannon at quarterback, but after miserable performances, Cannon was usurped by Ryan Williams who appeared light years ahead of Cannon in every performance.  Porter, however, continued to find reasons to put Cannon on the field until he was eventually injured to such a degree that he could no longer play. 
Fast forward to 2011 where Memphis is projected to be the worst program in the country and Cannon Smith is slated to play at safety after his dismal performance at quarterback in 2010.  As someone who's seen Smith play six years of high school football, I can tell you he isn't qualified to play at any Division I program, at any position, unless he's a remarkable long snapper.  So, why will the Big XII overlook Memphis?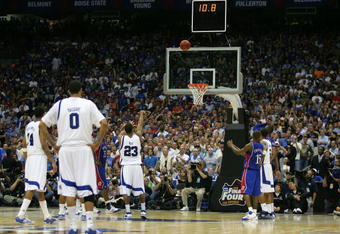 Ronald Martinez/Getty Images
Memphis is in fertile recruiting territory, has a strong following, and a nice television market.  It has one of the nation's elite basketball programs, and it has new facilities.  It sits at the western edge of the Big East and the eastern edge of the Big XII. 
Why wouldn't a major conference want Memphis? 
Memphis gives major conferences every excuse not to choose them. 
The fans have a small-town mentality, focusing solely on basketball, while refusing to donate real money to a football program that could use a major upgrade of football facilities.  Any time the Tigers need money, the program is forced to turn to the town's single provider—FedEx.  In return for selling its soul, the Tigers have to afford Fred Smith concessions for his generosity. 
It's not the fault of the fanbase, however.  Memphis is not a city made of money.  It's a town that lets the entitled drive its politics, while sucking the county dry with corrupt and ineffective policies.  The recent school consolidation is just another example of a poorly run political system looking for more money from the county to waste or feed to corrupt political allies. 
Memphis isn't willing to do what it takes as a city to be better, so the University of Memphis feels the effects.  Instead, the money that's available is funneled into failed policies or the money leaves, because people with real values simply tire of the city, despite their love of the University.
That said, Memphis will never be considered as a member of a major conference, because it refuses to do what's necessary to be a major program.  It's head coach is appears beholden to the highest net worth individual in the city, and the alumni and fans refuse to part ways with the cash required to show major conferences that the school is worthy of a position in the BCS. 
As such, Memphis will continue to suffer consequences of regular recruiting losses and poor performance on the field.  And, despite the choice by starting quarterback Ryan Williams to depart for Miami, who will likely see the death penalty, he still has a higher probability of landing on his feet in a major conference than Memphis.