Utah Utes Football 2011: A Look at Utah's Offensive Starters
August 29, 2011
Utah Utes Coach Kyle Whittingham has thought long and hard to come up with a starting lineup. The season opener against Montana Sate is a mere three days away and it is time to get serious. I know we all want to rush ahead to the USC game, but the Bobcats are in front of the Utes right now, and here is a look at the team that will play them.
Starting at quarterback is Jordan Wynn, who is an exceptional 93% in the red zone. Wynn started 10 games in 2010 and finished with an 8-2 record. He has racked up a career 3,663 yards and is ranked 12th among Utah quarterbacks. His career high for a single game was 362 yards against San Diego State. Wynn did start as a true Freshman and will bring a lot of experience to the field this year as a Junior.
Starting at running back is John White IV. White was the Central West Conference Offensive Player of the Year. He set numerous L.A. Harbor College records from 2009-10. Among them were most rushing yards (2,527) and most rushing touchdowns (34). White had 41 total touchdowns and 248 total points. He concluded his two year career at L.A. Harbor College with 3,767 all-purpose yards.
Starting at fullback is Luke Matthews. The Phoenix, Arizona native is considered to be the team's strongest receiver, but is actually a hybrid of a receiver and a fullback. Matthews has started 14 games over the past two seasons for the Utes and last season he had 18 catches for 289 yards and three touchdowns.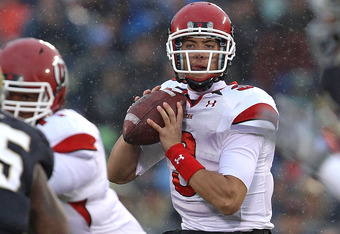 Starting at wide receiver-X is Devonte Christopher. Christopher led Utah in receiving yards last year with 660, averaging 55 yards per game. He also had six touchdowns.
Starting at wide receiver-Z is Reggie Dunn. Dunn saw quality time as a backup receiver last season. He was also a major threat as a kick returner on the first unit. Last year he tied with Ryan Lacy for the title of the team's fastest player, running the 40-yard-dash in 4.32 seconds. Dunn is explosive and motivated. He was the first Ute in 25 years to return a kickoff 100 yards for a touchdown. He did so last year in the Utes blowout against Iowa State.
Starting at tight end is Kendrick Moeai. Kendrick played twelve games with eleven starts last season.
The offense has a lot of big play potential. Whether or not that potential comes to fruition is also based largely on the effectiveness of the offensive line.
The Utah offensive line is big. The starters on the line are listed by position.
At left tackle is John Cullen. The 6'5", 300 pound, Senior, started all 12 regular season games of 2010. He was unable to play in the bowl game against Boise State due to an arm injury.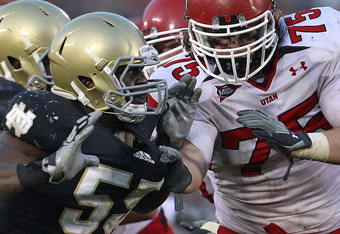 At left guard is Vyncent Jones. The 6'3", 300 pound, Sophomore played 4 games last season and won 58 of 66 plays.
At center is Tevita Stevens. The 6'3", 300 pound, Junior started all 13 games of 2010 and made 10 starts in 2009.
At right tackle is Sam Brenner. The 6'4" 300 pound, Junior played in 12 games in 2010 and started in the bowl game against Boise State.
At right guard is the well known veteran Tony Bergstrom. The 6'6", 315 pound, Senior was an All American candidate and earned honors as one of the Second Team All Mountain West Conference linemen. Bergstrom started in 26 games over the last two years including the bowl game against Boise State.
The offensive line is reasonably experienced, although Bergrstrom is clearly the most experienced, followed closely by the Center Tevita Stevens. Wynn should have decent protection, but against the PAC-12 defensive linemen he will need a quick release.