Track and Field World Championships: Winners and Losers from Day 3
August 30, 2011
Stu Forster/Getty Images
The third day of the 2011 Track & Field World Championships was a display of perfect timing.
For casual track fans, and even the die-hards who had become too wrapped up in the aftermath of the men's 100-meter finals controversy, a reminder needed to be issued that this sport does not live and die with Usain Bolt.
So from the emotional final of the women's 100-meter dash, the most anticipated three-way showdown of the year in the men's 110-meter hurdles, the latest chapter in the unbelievable story of Oscar Pistorius, and Allyson Felix's bid at history, Day 3 provided plenty of drama and intrigue that had nothing to do with the world's fastest man. (Sorry, Yohan Blake, I'm not talking about you.) There was also another incident of an elite superstar being disqualified in spectacular fashion.
Notable performances from Day 3:
WINNERS
Carmelita Jeter (USA)—She was like a caged jaguar set free for the chance to run just one race. In that race, the world's most talented women's 100-meter specialist over the past three or four years finally earned the jewelry to match her ability.
Every time I'd seen Jeter this season, she was bouncing on her toes, her eyes hard and unblinking. Every interview I watched, she kept it brief like she was late for an appointment. She was focused, and everything was leading up to this track meet and the opportunity to redeem herself from disappointing bronze-medal finishes in the '09 and '07 World Championships. She won the gold medal this time, running 10.90 seconds into a headwind.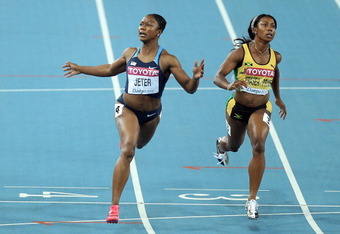 Michael Steele/Getty Images
After it was over, she finally dropped her cool to allow herself to smile a lot and cry a little.
Now that the 100-meter elephant is off her back, will Jeter stay focused enough to snatch a medal in the 200 meters and the 4x100 relay?
Amantle Montsho (Botswana)—She was only one lane to the right of Allyson Felix (USA), but Montsho might as well have started the women's 400-meter final a mile away.
Despite being the best in the world in her event and turning in the world's fastest time this season, Montsho was a secondary story at best going into the World Championships. The focus was on Felix, who was going for a historic gold medal sweep in the 200 and 400.
When the talking was over and it was time to race, however, Montsho got the best of Felix and edged her by the slimmest of margins at the finish line. Her time of 49.56 seconds earned her a WC gold medal after she finished eighth in the 400 at the '09 Worlds.
Jason Richardson (USA)—Imagine if at the end of LeBron James, Dwyane Wade and Chris Bosh's first season together in Miami, the team's MVP was Mario Chalmers.
That's what happened in the men's 110-meter hurdles final. For at least the last year, track fans were waiting for a Daegu showdown between David Oliver (USA), Liu Xiang (China) and Dayron Robles (Cuba). Oliver had gone undefeated in 2010, Xiang is the '04 Olympic gold medalist and Robles is the world record holder who won gold at the '08 Olympics.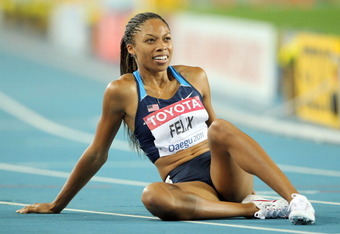 Andy Lyons/Getty Images
Somebody took their eyes off the VIP list and let Richardson in the door. A South Carolina alum who was still running in youth competitions in '08, Richardson looked better than anybody during the qualifying and semifinals. He crossed the finish line second in the final after Robles, but was later awarded the gold medal after the Cuban was disqualified.
Puerto Rico—In its history of World Championship competition, the United States has won over 250 medals. Kenya has more than 80 medals. Belarus has 32 medals.
Puerto Rico has one. That was a silver, claimed by men's 400-meter hurdler Javier Culson in 2009. Following the qualifying rounds at this year's WC meet, Culson kept his country's hopes of doubling its medal count alive, winning his heat easily in 48.95 seconds.
Valerie Adams (New Zealand)—The pre-meet favorite in the women's shot put delivered with a gold medal, but it was how she did it that will make headlines. Adams' final throw of 21.24 meters tied a WC record, broke her own national record, and put her about four feet ahead of second-place finisher Nadzeya Ostapchuk (Belarus) for the widest WC-winning margin in history.
Veronica Campbell-Brown (Jamaica)—Maybe a silver medal at the WC won't be considered a personal victory for a reigning Olympic gold medallist, but I was thoroughly impressed with Campbell-Brown's resiliency and ability to even finish second in a race that could have been a disaster for her.
Campbell-Brown was placed way out in Lane 8, far from attention-grabbers Shelly-Ann Fraser-Pryce (Jamaica), Carmelita Jeter and Kelly-Ann Baptiste (Trinidad & Tobago) in Lanes 3, 4 and 5. At the gun, Campbell-Brown reacted the slowest of anybody in the race, but the veteran ripped off a strong finishing kick to grab the silver.
LOSERS
Dayron Robles (Cuba)—It's a question that crosses all sports: Does it feel worse to lose a heart-breaker at the last second, or get blown out and never have a chance?
Whereas Usain Bolt's 100-meter DQ was akin to a blowout, as he false-started himself out of the picture before the gun and never got a chance to run, Robles' experience in the 110-meter hurdles final was like losing on a referee's call after you thought you'd hit the game-winner.
Robles came across the finish line first, beating Jason Richardson and Liu Xiang while leaving world leader David Oliver in the dust. But after reviewing the tape, IAAF officials disqualified Robles and stripped him of his gold medal because he made contact with Xiang near the end of the race.
It would have been a crazy result in any World Championship final, but even more in this case because Robles is the most technically sound hurdler in the world. His form is usually flawless, so any ruling that says he was reckless to the point of costing himself the race is massively uncharacteristic. Robles did hit a few hurdles with his feet this time, and apparently his hand-to-hand contact was enough to obstruct Xiang.
Allyson Felix (USA)—I can't be clear enough in saying that no athlete, not even one as great as Felix, should have any reason to feel bad about a silver medal at a major competition. But considering that Felix's only reason for running the women's 400-meter dash at the WC was to win an unprecedented double-gold along with the 200, she has to be disappointed and maybe even regretful.
Felix's favorite event is the 200. The main reason she took so long to commit to running the 400 in Daegu was that she didn't want the extra physical burden to sap her energy while going for an (again) unprecedented fourth straight WC gold medal in the 200.
Even though Felix was literally an inch or two short of upsetting Amantle Montsho (Botswana) for the 400-meter gold, anything less than No. 1 for Felix could seem like wasted time when she's feeling the fatigue later this week in the 200.
Oscar Pistorius (South Africa)—The inspiring story of Pistorius' path just to compete in the World Championships saw an anticlimactic ending as "Blade Runner" finished in last place in his 400-meter semifinal.
Everybody is going to say that winning wasn't the point, and Pistorius himself said all the right things after his race. And yet, while I don't want to seem insensitive, as a competitor you know he can't be happy with finishing at the back of the pack. If nothing else, I'm sure Pistorius would rather be judged as an athlete than a novelty.
Kerron Clement (USA)—The defending gold medalist in the men's 400-meter hurdles, Clement appeared on his way to a qualifying-heat win over current world leader L.J. Van Zyl (South Africa) before the final hurdle ate him up.
Clement completely broke his stride and took four or five choppy steps before clearing the hurdle. He eventually finished the race in fourth place, barely qualifying for the semifinals. At this level, that kind of mistake in the final can be the difference between a medal and last place.
Sanya Richards-Ross (USA)—There was a brief moment when it seemed Richards-Ross could turn in a clutch performance and upset Montsho and Felix to reclaim her crown as the world's best 400-meter runner, but the '09 world champ drew a tough Lane 1 assignment and was never really in the medal hunt while finishing seventh.
Renaud Lavillenie (France)—The top-ranked men's pole vaulter in the world had a lot on his plate, from being the pre-WC favorite to his abnormally short stature (5'9") for an athlete in his event to being France's best shot at a gold medal in Daegu.
Whether it was the pressure, tired legs or simple technical problems, Lavillenie botched his three attempts at 5.90 meters and finished in third place for the bronze medal behind Pawel Wojciechowski (Poland) and Lazaro Borges (Cuba).