2011 TCU Defense Preview: Can the Frogs Reload Once Again?
August 30, 2011
Kevork Djansezian/Getty Images
TCU and defense go hand-and-hand under head coach Garry Patterson.  Five times, Patterson's Frogs have led the nation in defense, including the last three seasons.
And every defense was different.
The 2008 TCU defense was death against the run, giving up only 47.8 yards per game and only 612 yards for the entire season and could ruin a quarterback's day with the well-timed blitz.  And TCU blitzed a lot. 
Former Arizona Cardinal QB Max Hall had a very horrible day on DE Jerry Hughes' coming out party in 2008.
A lot of folks suspected that TCU would take a huge step back in 2009, given that the Frogs lost five starters in its front six, returning only Jerry Hughes.
While the Frogs took a step back in its front six in 2009, its pass defense improved, and the overall defense remained the best in the country.  Once again, Patterson took the players he had and reworked the defense to shut down opposing offenses again and again, taking TCU to the Fiesta Bowl.
Last season, many folks and experts once again thought TCU's defense would fall apart without Hughes and LB Daryl Washington, now with the Arizona Cardinals.
And the rushing defense fell back once again without Hughes and Washington, dropping to a little less than 100 yards per game.  Three teams, SMU, AFA and Wisconsin, rushed for over 180 yards against the Frogs, combining for 611 yards in just three games.
But TCU again led the nation in total defense, as well as pass efficiency defense, scoring defense and pass defense.
TCU will put the hurt on teams once again on defense, but losing so much talent once again has made a lot of doubters come out and think TCU will take a big step backwards.
Coach Patterson's prime focus for the defense is limiting opportunities for opponents. 
The TCU offense is not just to score points, but to control the ball and limit time of possession for opponents.
The TCU defense leads the nation in third-down percentage, stopping opponents drives before they can reach the red zone.
The 4-2-5 defense that is Patterson's hallmark was designed to utilize speed and leverage to stop opponents.
The heart of this season defense will be LBs Tank Carder and Tanner Brock. 
Tank was the star of the Rose Bowl, highlighted by his knockdown of the pass attempt on Wisconsin's two-point conversion attempt at the end of the game.
Brock, who led TCU in tackles last season, first gained nationwide notoriety as a freshman on special teams.  His helmet-less block on a Jeremy Kerley return against SMU in 2009 was featured on ESPN.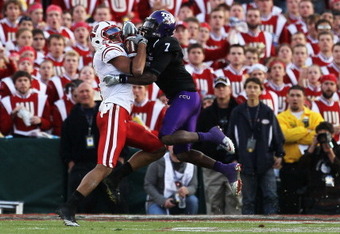 Stephen Dunn/Getty Images
The front four will be led by sophomore DE Stanley Maponga, who unexpectedly earned a starting spot last season.
He will be joined at DE by senior Braylon Broughton who has yet to live up to his tremendous potential.
In the secondary, TCU will feature an almost entirely new crew, with only CB Greg McCoy and WS Takerrein Cuba having every previously started.
So, the huge question remains:  can this very young TCU defense continue its dominance? 
Expect teams to try to exploit the inexperienced secondary, but opposing QBs will have to avoid strong defense pressure to find open receivers.
I suspect that this defense will likely resemble the 2008 version, which means good luck trying to run the ball on the Frogs this year.