Terrelle Pryor vs. Cam Newton: Which Player Will Have the Better NFL Career?
August 26, 2011
Terrelle Pryor and Cam Newton were two of the more intriguing and talented quarterback prospects in college football last season. For Cam Newton, his college career ended with a Heisman trophy and a National Championship ring.
As for Terrelle Pryor, he had his entire 12-1 2010 record banished from the record books and was eventually banned from having any contact with the Ohio State University football program for the next five years.
Two similar quarterback talents; two completely different paths to the National Football League. 
Cam Newton went on to become the No.1 overall pick in the 2011 NFL draft by the Carolina Panthers. Terrelle Pryor, on the other hand, was forced to fight the NFL just for a chance to enter the NFL's supplemental draft.
After weeks of speculation and what became the most hyped supplemental draft of all time, Terrelle Pryor was selected in the third round by the Oakland Raiders.
Now that both quarterbacks know where they will be playing football for next four years, which player has the best chance at succeeding in their given organizations?
First, let's take a look and compare some of Newton's college games vs. those of Pryor.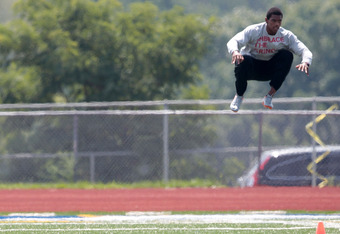 University of Oregon:
Both Pryor and Newton played the Oregon Ducks; Pryor in his sophomore year and Newton during his junior season. 
Terrelle Pryor: 266 yards passing, two touchdowns, 70 yards rushing.
Cam Newton: 265 yards passing, two touchdowns, 65 yards rushing.
Arkansas University:
Both Pryor and Newton faced the Arkansas Razorbacks during their junior seasons and their stats were as follows:
Terrelle Pryor: 222 yards passing, two touchdowns, 115 yards rushing.
Cam Newton: 140 yards passing, 188 yards rushing, four total touchdowns.
As you can see, when Pryor and Newton played nearly the same competition, their numbers were shockingly similar.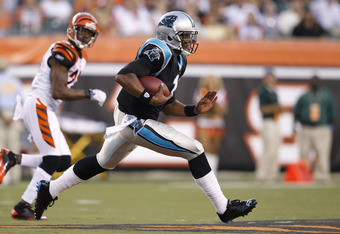 Physical Attributes:
Terrelle Pryor: 6'6'', 235 pounds, 4.36 40-yard dash, 31-inch vertical leap. 
Cam Newton: 6'5'', 245 pounds, 4.59 40-yard dash, 35-inch vertical leap.
All physical measurements and college comparisons aside, both of these quarterbacks have unheralded potential and possess an elite athletic ability that is rare to see at the quarterback position. 
As for their current NFL situations, Cam Newton looks like he will be the starter from Week 1 for the Carolina Panthers. 
Newton has shown flashes in each of his three preseason games, though his passing is still a ways away from being anything consistent. Newton is a combined 17-26 when throwing to either a tight end or a running back, which is respectable. The stat that stands out in an alarming way is 4-26. Those numbers represent Newton's success when throwing to a wide receiver. 
For Terrelle Pryor, he obviously has not seen any NFL action to this point. He is doubtful for the Raiders' third preseason game Sunday against the Saints, so we don't have any actual stats to compare the two as of now. 
It's hard to imagine Terrelle Pryor struggling to connect with his receivers any worse than Cam Newton has to this point, though.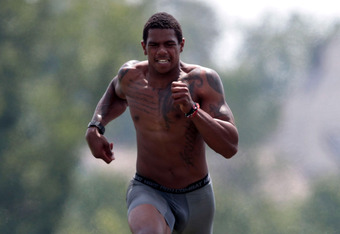 Newton will gain valuable game-day experience starting for the Panthers from Week 1 as a rookie, but on the other hand, Terrelle Pryor will have a year to sit behind Raider starter Jason Campbell and learn Oakland's system and, more importantly, Pryor can continue his development as a quarterback.
Jason Campbell will be a free agent in 2012, so Pryor may have his shot to run the offense in Oakland as soon as next season. If that's the case, Pryor will have a chance to show the world that the Raiders acquired a first-round talent with a third-round pick.
Which player will have the better NFL career? To this point, your guess is as good as mine.
The notion that Cam Newton is on a different level than Terrelle Pryor as a quarterback always gets a good chuckle out of me. 
The two present a similar style of play, and I expect both to have similar successes in the NFL when it's all said and done.
That being said, three years from now I feel strongly that Terrelle Pryor will be the better of the two quarterbacks.
Both have great upside, both are great athletes—I just like the upside of Terrelle Pryor a bit more than that of Cam Newton.