Why the San Francisco 49ers Traded Taylor Mays to the Cincinnati Bengals
August 23, 2011
Taylor Mays had one of the greatest defensive college careers in recent history.
In four seasons with the USC Trojans the hard-hitting safety dominated opposing offenses and sent fear down the spines of receivers. His playing style often drew comparisons to another USC alum, Ronnie Lott. 
In four collegiate seasons Mays was named to the All-American Team multiple times, won praise as the Pac-10 Freshman of the Year in 2006 and would lead one of the Nation's best defenses in 2008 as USC beat Penn State in the Rose Bowl. 
The hard-hitting safety would finish his USC career with 268 tackles, five interceptions and a forced fumble. 
However, his college career wasn't without issue.
Mays pressed head coach Pete Carroll to switch up how he was utilized prior to his senior season. Instead of playing "center-field" in USC's defense, Mays was utilized more as a strong safety and played a lot in the box. This raised eyebrows considering one of the few knocks on Mays was his coverage ability.
It seemed that he was attempting to disguise the one perceived weakness rather than improve upon it.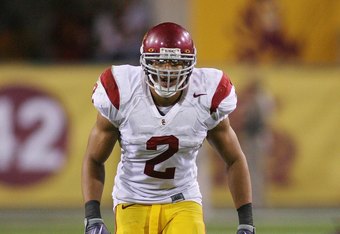 Despite recording 88 tackles as a senior and receiving All-American accolades, Mays saw his draft stock plummet. Prior to the 2009 draft he was destined to be selected in the top 10 of the draft. One year later, Mays fell all the way to the middle of the second round. 
What caused him to fall?
Obviously there were concerns about his ability to cover in the NFL. Despite exceptional physical ability, Mays seemed to get turned around far too often, and took poor angles to the ball while it was in the air. We saw this at times during his career at USC. Other knocks on Mays were that he wasn't passionate about improving on this weakness. Instead he decided to take the easy way out. Whether or not I agree with this point is irrelevant. That is what scouts saw in regards to Mays heading up to the 2010 draft.
Multiple teams in need of safety help passed on Mays in the first round of the draft. Pete Carroll, who had coached Mays at USC, took Earl Thomas ahead of his former player with the Seattle Seahawks.
It is hard to imagine such an elite athlete not going in the first round, but as draft day continued it was apparent that Taylor Mays' stock was dropping steeply.
The 49ers, who were in need of help in the secondary, didn't hesitate to pick up the talented safety. Some within the organization, namely Mike Singletary, viewed it as acquiring another first round pick.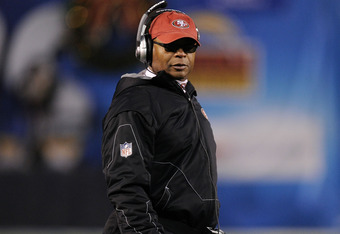 But the front office was split.
Earlier this month, Michael Lombardi over at the NFL Network reported that Mike Singletary "was the only person in the 49er brain-trust who wanted to draft the safety" 
After Singletary and most of his coaching staff was replaced following a disappointing 2010 season it became apparent that the front office was attempting to distance themselves from some of the decisions of the past; this included the pick of Taylor Mays. 
Enter into the equation recently promoted general manager, Trent Baalke. While, Baalke was in the war room during the 49ers selection of Mays, it became obvious the pick was "made" by Singletary. 
With an entirely new coaching staff and general manager, the 49ers made wholesale changes on defense: Takeo Spikes, Manny Lawson, Aubrayo Franklin and Travis LaBoy were not re-signed, while Nate Clements was released.
The skill-sets of these players did not fit the new defensive philosophy of the 49ers.
Then, earlier this month the 49ers sent out a mass e-mail to the other 31 NFL teams announcing that Taylor Mays was available via trade. This surprised a lot of people; it wasn't business as usual in the NFL.
Just over a year after Taylor Mays was the 49ers third selection in the 2010 draft, they appeared to have no use for him.
Why did he fall out of favor so quickly?
The Mike Singletary-San Francisco 49ers marriage did not end peacefully.The 49ers front office was disgusted by a lackluster 2010 effort, that saw the team regress from 8-8 to 6-10. Singletary appeared to lose his team and that became obvious on the field.
San Francisco sought to do everything in their power to start anew. They replaced pretty much every coach from the prior regime, implemented new schemes on both sides of the ball and utilized a different draft philosophy.
Simply put Taylor Mays did not fit into their plans.
Once the 49ers were able to sign both Madieu Williams and Donte Whitner as well as re-sign Dashon Goldson, it was imminent that Mays would soon get the boot.
Earlier today, San Francisco defensive coordinator Vic Fangio stated that there were five "NFL caliber" safeties on the 49ers roster, and Taylor Mays was not one of them. This had to be an indication of a pending move.
Then it was announced that Taylor Mays was traded to the Cincinnati Bengals for an undisclosed pick (most likely of the late-round variety), thus ending a strange one year tenure for the former All-American defensive back.
It is a sad ending to a San Francisco career that began with so much promise. Mays had started relatively early, scored a touchdown against the Atlanta Falcons and looked poised to become another standout in the heralded history of San Francisco 49er safeties.
But it wasn't to be.  
In reading comments from around the internet one thing is for sure. San Francisco 49er fans do not seem too upset that Taylor Mays is no longer on the 49ers roster. This has to be a sign of how quickly Mays fell out of favor in Northern California. 
Taylor Mays now gets a chance to start over with the Cincinnati Bengals, but expectations cannot be that high. Teams do not give up on high draft picks after just a year for no reason. Vic Fangio has been coaching in the NFL for decades now and has an idea of what it takes to be a NFL caliber defensive player. Obviously, he did not see that in Mays.