Roger Federer: What He Needs to Do to Get Tennis' No. 1 Ranking Back
August 23, 2011
After losing to Jo-Wilfried Tsonga in the Cincinnati Quarterfinals, Roger Federer was asked during his press conference what he would need to do to get back to the No. 1 ranking.
This was his response:
"Yeah, I mean, I know what I need to work on. Definitely comes with winning big tournaments and getting some momentum going and having big confidence. That will definitely help. But in the game itself I know what I need to work on, and that's what I'm going to try to do coming up now, and then sort of after the US Open."
Analyzing what he has said, one can see that he has not yet given up on that top spot. He wants to continue improving, which I think is a positive sign for Federer fans.
After he said that he knows what he needs to work on in his game, I've been trying to figure out where he could probably step it up from here.
First, here are a few telling signs:
Federer hasn't won a slam since the Australian Open 2010.
If we look at all of his losses since then, especially in the Grand Slams, most of them have come against big hitters. He has been overpowered when he played guys like Tsonga and Tomas Berdych. He no longer moves quickly, and he seems to have lost quite a bit of power in his shots.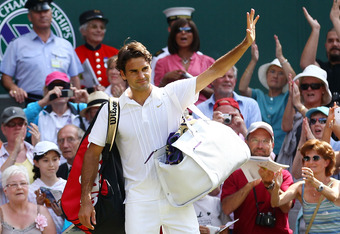 His tie-break record has been extremely poor this season. Just three out of 11 won in total. Surely, that has hurt him a lot.
And, of course, he's 30 now.
I am writing this article mostly as a brainstorming piece of work trying to figure out what he needs to do to get back to winning Grand Slams and reaching that No. 1 spot that he has owned the past seven or eight years.
I could think of a few things:
Getting to the net more often
He has done that pretty consistently this year, but it isn't helping him win matches by itself, although he still needs to keep this strategy around.
Improving his backhand
This is an area where he could still improve. A stronger, more powerful backhand would not only allow him to hit winners or at least force a weaker response from the opponent, but also enables him to finish points faster which is very important at his age. At this moment, his backhand is more of a shot to keep the ball in play, which could be put to a much more effective purpose.
Using the slice more
I think he has stopped using this weapon for quite some time now. He was using it consistently four or five years back, but it has slowly gone down and has been replaced by the drop shot. I believe he needs to use the slice a lot more. This would certainly help him against the big hitters and give him more time to adjust to his next shot.
Getting more first serves in
He needs to make at least 60 percent first serves in. This would help his cause a great deal in getting some free points.
Converting break point opportunities
One of the main reasons why Federer has not been able to win against Rafael Nadal many more times is his break points conversion rate, which had been pathetic last year.  It seems to have gotten better this year, but he needs to consistently convert break chances to win those big matches.
Stop being stubborn
I think another big issue Federer needs to fix is to adapt his playing style against these big hitters. He seems happy to battle them head on. Back in the days, he used to thrive against big hitters, hitting winners day in and day out, but he's not the same anymore, and he needs to change or at least stop being stubborn.
I think consistently getting better in all of these areas could help him get back the top spot.
What do you think?