Chris Paul Would Make the New York Knicks Better Than LeBron's Miami Heat
August 22, 2011
A Big Three of Chris Paul, Carmelo Anthony and Amar'e Stoudemire would be more balanced and ultimately more effective than Miami's trio of LeBron James, Dwyane Wade and Chris Bosh.
The truth of that statement will depend on whether or not New York's potential Big Three would be willing to put the same effort and energy in at both ends of the floor. Right now, Miami is an elite defensive team. New York is pitiful.
The Knicks' problem on defense is lack of leadership. Head coach Mike D'Antoni is notorious for being either unwilling or unable to inspire his players to defend. It plagued him and his squads in Phoenix and now it's a problem in New York. I'm not necessarily saying a change has to be made at head coach, but the team definitely needs a strong defensive mind next to D'Antoni on the bench.
The leadership problem extends onto the floor too. New York's two best players, Carmelo Anthony and Amar'e Stoudemire, have always been very interested in dominating offensively. They've never seemed interested in using the full scope of their talent and athleticism on the other end.
Enter Chris Paul. Whether the Knicks acquire him in a trade (which might be tough considering their assets) or during free agency in 2012, the prospect of this player in this system is an exciting one.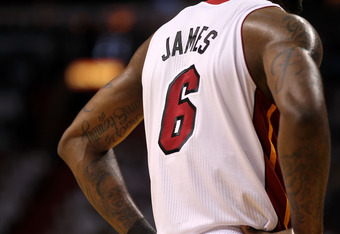 Paul could be exactly the kind of leader New York needs on the floor. What he would do for them offensively is obvious. He's been an All-Star in four of his six NBA seasons, led the league in assists twice and his career average in that category is 9.9. In Mike D'Antoni's high-paced system and with Anthony and Stoudemire to pass to, I wouldn't be surprised to see Paul average over 13 assists a game.
Paul, Anthony and Stoudemire would be much more effective than Miami's Big Three offensively because the players' styles would be more complementary in New York. Chris Paul would highlight and accentuate the strengths of his teammates. LeBron James and Dwyane Wade are so similar that they often impede upon what the other is doing (which is why they should trade LeBron for Dwight Howard).
Defensively, there's no question Miami is one of the best teams in the league and New York is nowhere near their level. But that's without Paul. He would be a leader on that end of the floor as well. He's as competitive (if not more so) than anyone discussed in this article and that carries over to defense for him. His tenacity has helped him lead the league in steals three times (he's averaged less than two for a season only once).
His example and attitude on defense could go a long way toward motivating Anthony and Stoudemire to bring it on both ends as well. There's no denying the elite athleticism of either of those players. Physically, they have what it takes to be good defenders. They just need a little more prodding. Perhaps Paul could deliver that.
In terms of overall talent, Miami would probably still have a slight edge (James and Wade are arguably the two most individually talented players in the world). But New York's balance could potentially erase that slight edge. After all, Paul isn't terribly far behind Wade, Anthony is no slouch compared to James and Stoudemire is just better than Bosh.
The real question with all of this is: How exactly can the Knicks land Chris Paul?
Like I said at the start, a trade would be tough. Paul would essentially have to hold the Hornets hostage the way Carmelo Anthony did with the Nuggets (let everyone know you want out and that there's only one team you'll sign an extension with).
If the Hornets were desperate enough, a deal centered on Chauncey Billups' expiring contract and Landry Fields could do the trick.
Because of the potential seismic shifts coming in a new collective bargaining agreement, the more likely route to getting Paul isn't a sure thing either. Assuming he doesn't sign an extension this year, he'll be a free agent in 2012. I'm sure he'd love to sign with New York, but that may be next to impossible if the owners get the lower and "hard" salary cap they're after. The Knicks already have a ton of money tied up in Anthony and Stoudemire's deals.
Either way may be a long shot, but ones definitely worth taking for New York. If they landed arguably the game's best point guard to go along with two of the best forwards, they could contend for a title right away.
Andy Bailey is on Twitter. Follow @_Andy_Bailey