College Football Rankings 2011: AP Top 25 Poll Puts the Auburn Tigers at 23
August 20, 2011
The Associated Press just released its Top 25 poll this morning, and the Auburn Tigers are at 23, four positions lower than their USA Today Coaches' Poll position of 19.  
That really shouldn't come as bad news to Tiger fans. If you remember last year, Auburn was ranked at 22 in the AP preseason poll, and 23 in the USA Today Coaches' poll. In 2010, nemesis Alabama was a clear No. 1 in both preseason polls, with a staggering 54 and 55 first-place votes, respectively. 
I think we all know who was and wasn't in the BCS National Championship game last year. For the record, Oregon was at No. 11 in the AP preseason poll of 2010. 
Now the AP, of all the polls, is considered probably the most objective, even though the voters are sportswriters. I can make that crack because I am one. But the AP is a prestigious grouping with its roots going all the way back to 1934. 
I won't bore you with the math that goes into the tabulation, but the AP poll does have some very specific guidelines as to how those voters should measure their vote. Any deviance, or even a hint of favoritism, will get a writer cast off the committee, and this is a coveted spot to hold. 
The AP Guidelines go something like this (and this comes from the AP): 
—Base your vote on performance, not reputation or preseason speculation.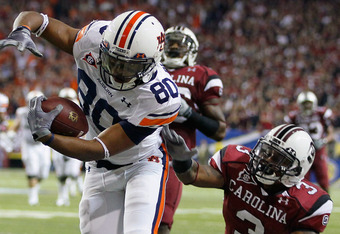 —Avoid regional bias, for or against. Your local team does not deserve any special handling when it comes to your ballot.
—Pay attention to head-to-head results.
—Don't hesitate to make significant changes in your ballot from week to week. There's no rule against jumping the 16th-ranked team over the eighth-ranked team, if No. 16 is coming off a big victory and No. 8 just lost 52-6 to a so-so team.
—Teams on NCAA probation are eligible for the AP Poll.
The Auburn Tigers like being in the underdog position, as I've mentioned in another article here on B/R, so I don't want to be redundant. But it's a good place to be with no place to go but up. I'll be here with some commentary on placement as we go through the season.
Oklahoma and Alabama now share the No. 1 and No. 2 spots, respectively, in this year's preseason AP Top 25. The pressure is on them right out of the gate. As reigning national champions, eyes will be on the performance of the Auburn Tigers, that's true.
But the pressure on them will not be like that on the current top five of the AP Poll. They have the responsibility to try and stay there every week if they even remotely want to make a run for the BCS national title.
See the next-to-last rule of the bullets above. "There's no rule against jumping the 16th-ranked team over the eighth-ranked team."
If Auburn can make a clean getaway with three victories at the top of the season, past Utah State, Mississippi State and Clemson, you'll see sportswriters grabbing for that rule. I believe Auburn could be in the Top 15 at least, and dare I say, the Top 10, after Week 3. 
The trick is to stay there, and for Auburn maybe the top 10 is not such a good place to be.  
After Week 4, there is a scrub board from Week 5 to 8, when they have to deal with South Carolina, Arkansas, Florida and LSU. Whether the Tigers can stay even in their preseason position after Week 8 depends on their performance during this streak. 
I think Auburn fans have to measure it week to week, much like last year. But these AP rules are good to carry week after week, if for no other reason than to not get upset with the sportswriters if you don't like where the Tigers place in the AP Poll.
Like Auburn fans, the writers will have to take it objectively, one game at a time.