Fantasy Football Draft Strategy: Why Ray Rice Must Be the No. 3 Overall Pick
August 19, 2011
The Baltimore Ravens' Ray Rice is the only option you should consider if you own the third overall pick in your fantasy football draft.
I'm well aware that I am not proving myself as some kind of soothsayer, but hear me out. Mock drafts have Baltimore Ravens' running back Ray Rice having an ADP between 4.8 and 5.3. So you aren't going to hear an argument from anyone about whether or not he is a first round selection. No one is going to question that he is one of the few elite backs in the fantasy football draft this year.
But this article is for those sitting with pick No. 3 or four in their draft. This article is for the few people who are passing up on this man and letting him fall to pick five or six. I'm out to prove why Ray Rice should be… nay… must be the third running back on your fantasy football draft list.
1) The Baltimore Ravens' Personnel
The Baltimore Ravens have a team this year. They have potential every year, but that was mainly because they have a solid defense. This year though, the offense is going to be something to behold. They added Lee Evans, a much needed receiver to go opposite Anquan Boldin, making a receiving duo that is going to force defenses to not crowd the box, a problem that Ray Rice encountered heavily last year.
Quarterback Joe Flacco loved dropping the ball off to Ray Rice in the passing game in 2010, making Ray Rice a huge PPR league threat, not to mention the Ravens cutting ties with Todd Heap, which will likely give Rice more short looks. The Ravens also lost Willis McGahee and Le'Ron McClain, guys who would often take carries and touchdowns away from Rice. With Ricky Williams as his only prominent running back competition, Rice should see higher scoring and yardage numbers.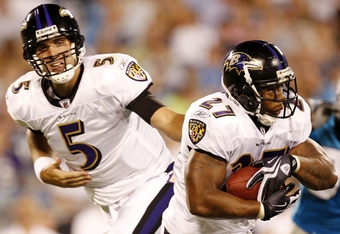 And probably most importantly, the Baltimore Ravens picked up fullback Vonta Leach, one of the most underrated players in the NFL. I've never been a big guy on blocking. I watch football for touchdowns, catches and hits. Like most Americans, if it's not worth putting on Sportscenter, it's not worth too much. Nobody wants to see a pancake on a highlight reel. But this guy is something special. Arian Foster came out of nowhere last year, largely in part to the lead blocking of this man. He is the best fullback in football right now and will be the plow that Ray Rice needs to get the ball to the next level.
2) Ray Rice's Statistics
Ray Rice is 24 years old. He has been a top fantasy drafted running back for three years in a row. That's moderately impressive, I think.
He does not get hurt. At all. 16 games in each of his past two seasons. 13 in his rookie year only because he wasn't a starter yet.
Do you know how many times Ray Rice fumbled the ball last year? If you guessed zero, you are correct! Not a single turnover on more than 300 carries.
Ray Rice had 63 receptions last year, third-highest of all running backs. And that was down from his 2009 numbers when he had 78 receptions! If you are in a PPR league, there is no question that he is your No. 3 pick.
Finally, Ray Rice averaged 111 yards per game last year. Meaning that Rice was getting you 11.1 points per game last year—without counting his touchdowns or receptions.
3) Fantasy Strength of Schedule
NFL teams get a strength of schedule every year, averaging the winning percentages of the last season of the teams they will be playing in 2011. So why not run the same statistic for fantasy football players? Rather than running the teams overall record, we will look at their NFL ranking in the particular statistic of the fantasy football player in question. Do you follow? No? It's OK, it gets easier.
In the case of Ray Rice we will look at how many rushing yards per game the teams that he will be facing this year gave up in 2010. And what do ya' know? Ray Rice has a pretty piece of cake schedule.
The Cincinnati Bengals were the 19th best defense against the run last season, the Cleveland Browns were the fifth WORST team against the run. And the Ravens will face each of those teams twice. They also face the Cardinals (ranked 30th), Colts (ranked 25th) and Jaguars (ranked 22nd). And their NFC schedule this year pits them against the NFC West, the worst division in football.
Only five of the games that the Ravens are playing this year will be against teams that were in the top 10 in rushing yards allowed per game.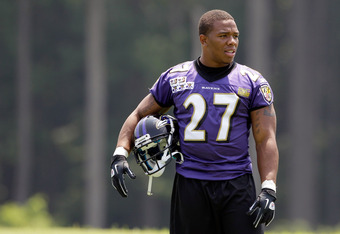 10 of the games that Rice is playing in this year are against teams that were in the bottom half in rushing yards per game allowed. Meaning that 10 of the games Rice will be playing in are against teams that gave up over 112 rushing yards per game.
And seven of the teams that Rice and the Ravens are facing this year were in the bottom 20 in yards allowed per game.
So there you go. As if the Ravens being a good team, and Ray Rice being a phenomenal runner weren't enough to sell you on Rice as the third overall fantasy football draft pick, we can add to the equation that they are facing one of the most running back-friendly schedules in the NFL.
Like this article? Find more like it at godhateslosers.blogspot.com. The only place you need for one-on-one fantasy football advice, player rankings, player profiles, draft strategy, sleepers, busts, pick'em and much more. God Hates Losers - Incomparable Fantasy Football Information, So You Stop Sucking.