Miami Football Scandal: Are We Really Surprised by Another NCAA Controversy?
August 17, 2011
Doug Pensinger/Getty Images
Another high profile college football program is now under investigation for improper benefits it's players allegedly received. Although this isn't the first time the Miami Hurricanes football team has been involved a controversy like this, these headlines are becoming all too common for the NCAA.
It wasn't too long ago that the Ohio State football scandal was on the minds of college football fans. In fact it was only last Friday when the former head coach Jim Tressel and the school met with NCAA officials about their infractions.
It began with the suspension of five players in December for the 1st five games of the 2011 season, but that was only the beginning.
As the scandal and accusations grew so did the consequences for the Buckeyes. On Memorial Day weekend Jim Tressel resigned as head coach. A few weeks later Terrelle Pryor left school and is now trying to find his way on an NFL roster.
These series of events have generated plenty of headlines on ESPN and other media outlets, but it is far from the only incident that has put a black eye on the NCAA.
Last month,North Carolina fired Butch Davis after a scandal-ridden season that included the suspension of 13 players for the season opener against LSU. Three of the team's star players; Robert Quinn, Marvin Austin, and Greg Little missed the entire season.
The reigning Pac-12 and BCS Title Game runner up could face similar scrutiny if the allegations of Willie Lyles are true. Lyles is the owner of a Texas-based recruiting program who was paid by the Oregon football team. He has connections with two of the team's players, Lache Seastrunk and Dontae Williams. LSU also has tied with Lyles.
Last month an NCAA told Auburn football coach Gene Chizik that the program is still being investigated for it's recruitment of Cam Newton.
Last season, Mississippi State officials accused Newton's father Cecil of $180,000 pay-for-play scheme. Newton was declared ineligible by the NCAA, after evidence was found a pay-for-play scheme. Shortly after the suspension was lifted. Cam Newton went on to win the Heisman Trophy and lead Auburn to the program's first national title since 1957.
The Cam Newton controversy came only several months after several smaller scandals in the SEC last season. Former Georgia wide receiver A.J. Green was suspended for the Bulldog's first four games for selling his jersey on eBay.
Marcell Dareus sat out two games for the Crimson Tide after receiving improper benefits for attending a party hosted by an agent.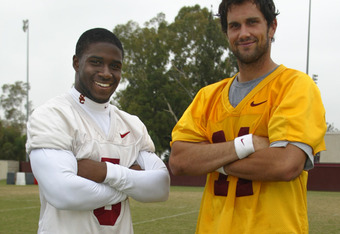 Christian Petersen/Getty Images
South Carolina lost tight end Weslye Saunders for the entire season after he was suspended indefinitely after receiving improper benefits in relation to staying at the Whitney Hotel in Columbia, South Carolina. 
This all occurred after the NCAA had just finished it's lengthy investigation involving Reggie Bush and USC. The sanctions imposed by the NCAA infractions committee on the Trojans football team were suppose to bring in a new era of stern discipline in college athletics. Instead, it just seemed to open a Pandora's box that revealed more misdeeds occurring at universities around the nation.
The revelations of Nevin Shapiro's past involvement with the Miami Hurricanes athletic department is just the latest chapter of NCAA corruption.
Shapiro is currently serving 20 years in prison for his involvement in $930 million Ponzi scheme.
In all likelihood more incidents like this are going to surface in the future. Many big time college football programs are supported by wealthy boosters and it's not hard to believe something similar is happening at another school right now.
Those players may not be receiving the same benefits, but the NCAA has yet to see it's final scandal involving improper benefits.
In his revelations, Shapiro talks about hanging out with former Hurricane players in high scale South Beach restaurants and night clubs.He also lets players stay at his house and use his seven-figure yacht.
Shapiro also put out bounties on former Florida State quarterback Chris Rix and former Florida quarterback Tim Tebow, claiming he would pay $5,000 to the player who knocked one of them out of a game. This was similar to the arrangement Luther Campbell made with former Hurricane players in the late 1980's and early 1990's.
Shapiro had close relationships with well known players including Devin Hester, Kellen Winslow Jr., Vince Wilfork, Jonathan Vilma, and Willis McGahee. There are now pictures surfacing of him with some of these players.
The most damaging fact may be the level of connections he had to the university's administration. He had a close relationship with Miami University president Donna Shalala and former athletic director Paul Dee.
Dee is the same person who was in charge of the NCAA infractions committee involved with the USC football and Memphis basketball scandals.
Nevin Shapiro's claims are only the beginning of the controversy. The investigation is just getting started and if past incidents haven proven anything, the NCAA seems to take it's time with these scandals. After all it took four years before a punishment was handed down to USC.
Those early Larry Coker teams that were loaded with NFL talent may now have a tarnished legacy like the Matt Leinart/Reggie Bush-led Trojan teams and for some, Cam Newton and the 2010 Auburn Tigers.